All Of The Looks From The 'KUWTK' Season 11 Promo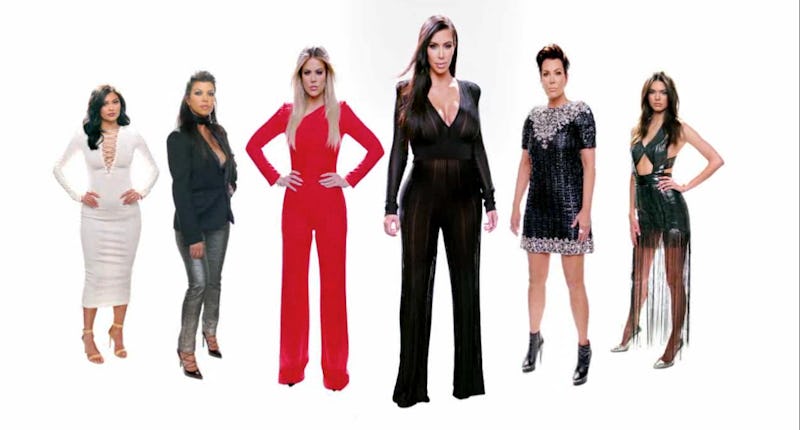 In case you just can't get enough of the Kardashian-Jenner clan (which, I mean, isn't that all of us?), the Season 11 Keeping Up With The Kardashians promo is here — and boy, is it flashy. That's just as well, obviously, since I don't think any of us would want it any other way. Bring on the glitz and the glamour, Kardashians. I can handle it.
The promo video is packed with high fashion and special effects, such as kaleidoscopic patterns and split screens (which really do make it a little hard to "keep up" with what's going on). You have to appreciate a video that's so true to life, though. Of course, all of the ladies are featured in the sneak peek, but what's even better is that each of them has an outfit change. Lucky for us, there are plenty of opportunities to see the family's style come out, which only gets me more excited for all of the #OOTDs that Season 11 has in store for us.
It's great to see how much the outfits stay true to everyone's sense of style as well. For example, Kim K rocks a black bodycon dress while Kendall Jenner works a low-cut jumpsuit. Both are just so them. Let's take a moment to check out all of the ensembles from the video and get excited for the upcoming season, shall we?
1. Kim Kardashian
A black form-fitting turtleneck is definitely a Kim K thing to wear.
And it wouldn't be KUWTK if a semi-sheer jumpsuit wasn't in the realm of possibilities as far as outfits go.
2. Khloé Kardashian
She looks amazing walking across in this flowing dress.
Khloé is also the only Kardashian shown in a color besides white or black. It's very like this blonde bombshell to stand out from the rest of the crowd.
3. Kourtney Kardashian
Leave it to Kourt to rock a fierce all-black ensemble.
She's been doing some different things with her look lately, so I could totally see her sporting a plunging neckline and shiny pants IRL.
4. Kendall Jenner
Kendall loves a good jumpsuit, and who can blame her?
She's worn a lot of different things with all of her runway-walking, so I could totally see her in something this out of the ordinary.
5. Kylie Jenner
Soft curls and a dress with roses on it? I wouldn't put anything past this Jenner.
Doesn't she look amazing in this form-fitting white dress to boot?
6. Kris Jenner
This mom of six isn't afraid to own a mini dress, and why should she be?
This time she's dressed in a sparkly version, and I don't mind it one bit.
Who's ready for Nov. 15? I know I am!
Images: E! (13)