Will 'Dance Moms' Season 4 Meet Expectations?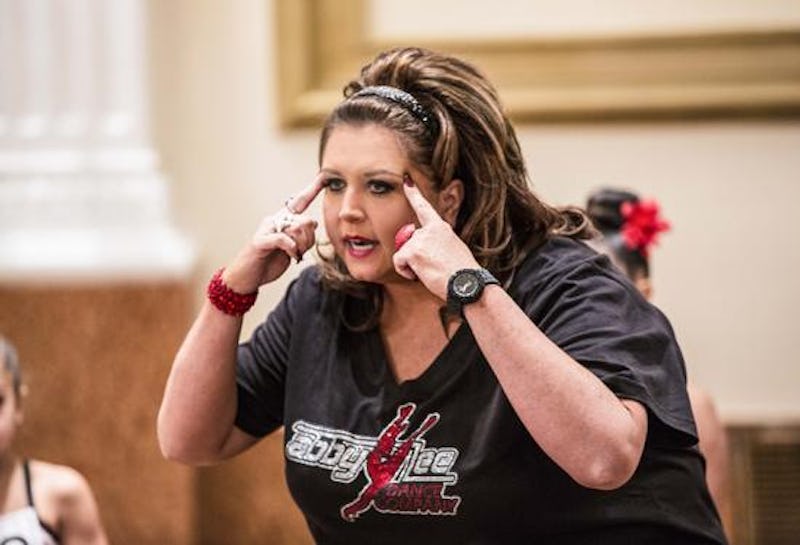 I am READY for Dance Moms to come back. Season four of the Lifetime reality show commenced Jan. 1 and the promos have me fouetté-ing all over my living room. EW, don't be nasty. A fouetté is a dance move. Not whatever you thought it was. And okay, okay. You caught me. I cannot actually do a fouetté turn. I can barely manage climbing up a step stool without losing my balance. Abby Lee Miller would cut me from the Abby Lee Dance Company the moment I walked through the door and clumsily dropped all of my belongings. "You KLUTZ! Get OUT! No time for that nonsense here," she'd scream while I scrambled to pick up my water bottle and gym bag. "Also, your turnout is TERRIBLE, you goblin!"
Fortunately, I can watch Dance Moms in the comfort of my own home without stressing out over whether or not Abby will criticize my posture or leg extensions. Instead, I will stress over whether or not the season will meet my expectations. Because I expect a lot from this reality television program. The bar, er, barre is HIGH. What do I want from season four? Here are a few of my Dance Moms-related hopes, dreams, and wishes:
MORE CANDY APPLES
I might be alone in this, but few reality TV characters bring me joy quite like Cathy. All of the apple-themed puns? I'm in. The shameless gloating? YEP. You might find the Cathy/Abby conflict exhausting, but it continues to entertain me. They're both so CUTTHROAT and INTENSE. Brilliantly cast adversaries.
MACKENZIE & VIVI-ANNE FINALLY LIVING THEIR LIVES
Vivi-Anne seems like she'd rather be anywhere but the rehearsal studio.
And Mackenzie doesn't share sister Maddie's "LIVE4DANCE" attitude.
Hopefully, seas four is a season full of tacos and chips and whatever else it is that Mackenzie and Vivi want.
DID VIVI EVER GET THAT PUPPY?! OR WAS IT AN EMPTY CANDY APPLE PROMISE?
THE MOMS STICKING TOGETHER
Yes, I am a big fan of the Abby/Cathy rivalry, but that doesn't mean I like all of the Dance Moms fights. Season three featured a LOT of in house bickering between the Moms, and it really tuckered me out. The yelling and the raging wasn't fun. And it was a bit cyclical. I NEED A BREAK.
But if the Moms do argue in during season four (who am I kidding? They're totally going to argue during season four. It's like I've never watched a reality show), taking Holly's side is probably the best bet. Holly runs circles around the other Moms.
MORE OF THE SERIOUS CHOREO THEMES
Abby Lee loves her some Very Important Issues. And her choreography is often inspired by current and historic events. Are they particularly tasteful? Debatable. I wonder if/how season four will top the texting and driving routine or the DADT dance.
ABBY BEING ABBY
Abby can be the harshest critic.
Like, brutally harsh.
But if Abby Lee Miller decides season four is the season she starts mincing her words, I'm out.
I'm done with the show.
YEEEEAH, SEASON FOUR!
Images: Lifetime; fyeahdancemoms/tumblr; dancerforlifefool/tumblr; kajacana/tumblr; dancemoms/tumblr; realitytvgifs/tumblr (6)