14 Ways Life Changes When You Move From LA To NYC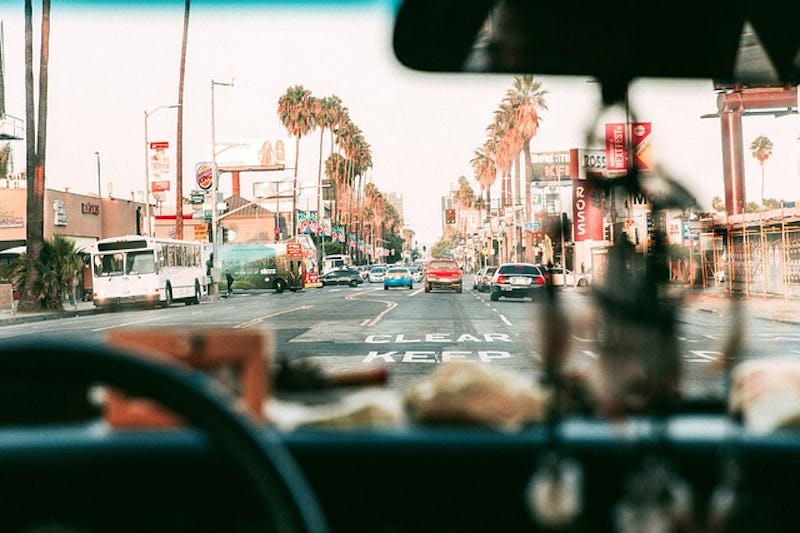 The phrase "no offense" is a verbal cue that is almost always followed by something offensive. We all know this. It's basically there to cushion the blow. Whoever says it, doesn't want to catch you off guard, and at the same time is daring you to get offended. So no offense but —when I moved to this country, I won the geographical lottery and everyone else can suck it.
New York City is where I pretend I was born, and where I plan on dying. Morbid? Hell yes. But ultimately it's true and very New York of me. So it was with a heavy heart that I decided to move out to Los Angeles last August, and I continue to marvel at just how fundamentally different everything here is. I also started to notice that I'm slowly changing. I'm drinking the Kool-Aid, I'm conforming, I'm doing more LA-ish things. It's not like I don't like Los Angeles. It's fine. It's nice. But it's not New York. My roommate calls me "Dasha The LA Hater". But I don't think that's fair. I don't hate LA — I just find it to be different, and I feel myself being different because of it. I think a lot of people who made that same East Coast/West Coast move get what I mean.
I'm not here to start another beef between LA and NYC. Mostly because I am not a rapper, but also because I have my opinions and people who disagree can TOTALLY disagree. They are wrong. But they can disagree. I kid, I kid. Anyway, here is a list of ways I feel like a different person in LA vs New York City:
1. You Suddenly Have To Drive, Like, Everywhere
Before Los Angeles, I didn't understand the concept of driving. Why waste money on gas and car insurance when I can take the subway or the bus? Unfortunately, not driving in LA isn't an option unless you are comfortable with never leaving a four block radius. So that's what I do. I drive now.
2. You Develop An Impressive Amount Of Road Rage
People in LA don't understand what signaling is. Or what driving in a safe manner is. They just don't give a flying f*ck. That's why I've developed road rage that rivals Dennis Reynolds.
3. You Are Surrounded By People Who Are Tanner Than You
The sun is everywhere, you cannot escape it. Somehow in a year of living here I am still ghost white. But most of the people are tan. When people came back for homecoming at my college, you could right away tell which ones spent their semester in Los Angeles.
4. You Are Suddenly Pressured To Live The #BeachLife
Weekend? Beach. Weeknight? Beach. Holiday? Beach. The beach is always nice and relaxing. So why not drive to Malibu and watch surfers rip the waves? Orchard beach was a pile of trash in comparison to the paradise that is LA #beachlife.
5. You Learn About All Kinds Of Weird Workout Trends
People in LA, on average, are more glamorous and trendy than anywhere else in America — which is why they have all the new-fangled, new age ways of working out that the rest of the world hasn't heard of yet. That is just a burden this city has to bear. I had about a two months kick where I went to the gym regularly, but then I realized I hated it and stopped.
6. You Cannot Escape The Infinite Salads
Everything has to be organic, grass fed, and full of age-fighting particles or vitamins. It is everywhere. Not that I'm not complaining, because anything that makes food better for me to eat is OK in my book.
7. You Get Sucked Into Namedropping Culture
In a town that's all about the entertainment industry, it's no wonder that you or your friend knows someone famous. You'll be telling the same story over and over about them. You might name-drop, it will happen. I know it sounds icky, but my friend George Clooney said it was fine.
8. You Learn About Different Kinds Of ~Fashion~
Layers. Bohemian layers. Maxi dresses. Shorts. People look like they are constantly on vacation. I haven't seen a man wear a suit outside of a red carpet in months.
9. You Have No Idea What To Do With All The Extra Space In Your Apartment
The cost of living in LA in comparison to NYC is better. Only because having a car opens up the opportunity for you to live farther away and pay less money. For the amount of money I'm paying for my three bedroom apartment, someone in New York would be living in a studio on the LES.
10. You Start To ... Chill
Unlike New Yorkers, LA People tend to be more relaxed in their demeanor. They don't get mad when people are late because, well, traffic is always a thing. They walk slower and they smile more. But don't let that fool you, because when LA people get angry, they will turn into monsters.
11. You Learn What LA People Really Think About NYC
I haven't talk about NYC as much in my entire life put together than how much I talk about it once I moved to LA. Every other person I meet is from there. Usually it's to say they like it better, or they are moving there. See! I'm not alone!!
12. You Mourn The Loss Of Your Superior Pizza And Chinese Food
I've searched and searched for a good slice in LA and I have come up short. My theory is that they don't have good sauce. Then I went to Lucifer's, and learned that good pizza exists, and it's in West Hollywood. (My search for good Chinese is still ongoing.)
13. You Start To Believe In The "Impossible"
The one thing about LA changed about me that I really like, is the way that I look at my work. Growing up we are told our passions in the entertainment industry are out of reach and impossible. Here, in LA, those dreams can be yours if you do something about it or wait long enough. I've been told to "give it five years" by multiple people. That's not something I was ever told in NYC.
14. Avocados Become Your Religion
You will start to eat these three times a day in LA. As a snack. A full meal. Whatever. You won't be able to get away. And why would you?
Images: Pixabay; Giphy (6)