Best Cosplay Fashion At New York Comic Con 2015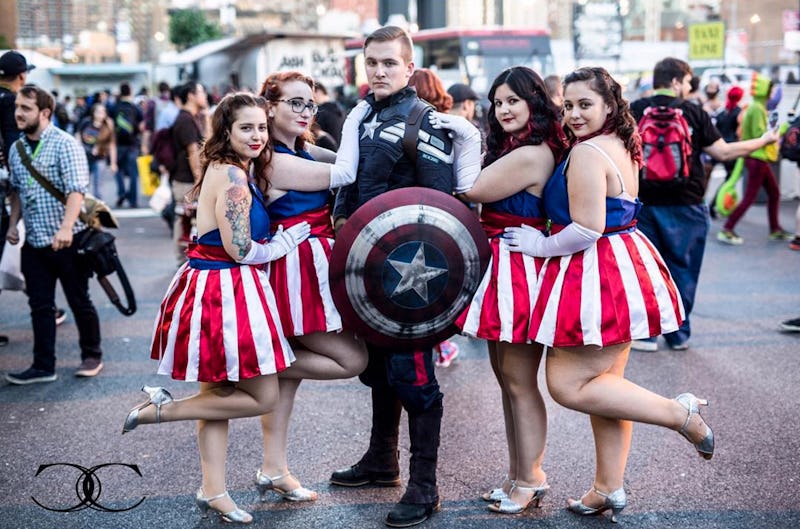 Time to dust away the neon wigs and retire those superhero (and villain) capes. New York Comic-Con 2015 has come to a close, but not without a stylish exit — only in this world, fashion is defined by chainsaws, masks, and helmets. Designer threads: you have been dethroned. Every year, the attendees of Comic Con smash the cosplay game with their extraordinary costumes. At San Diego Comic-Con, Beetlejuice and Snow White were among the guests. And this past weekend, Jared Leto went full-on primate mode (I'm not kidding).
The cosplay at NYCC will forever be colorful — from fans dressing up as beloved TV characters to gender-bent comic book heros, nothing is left untouched. These costumes are a unique twist on an otherwise familiar style, outfits that bring characters to life and off the fictional pages and screens. So don't be alarmed if you spotted Harley Quinn or a Stormtrooper roaming the city recently — NYCC is the nexus of nerd culture, and the fans have come out to play in proper fashion.
An important reminder: Halloween is dawning upon us, and the incredible cosplay at NYCC can double as inspiration for your next costume. Ready to nurse those post-Comic-Con withdrawals? Check out some of the best cosplay looks NYCC rolled out this year!
1. Avengers Assemble!
The gang's all dressed up to overthrow Ultron — but not without posing for a necessary photo op first. Now, the important question is: what Instagram filter is Marvel superhero-approved?
2. The Real Prisoners of Litchfield
Look out world: the inmates have broken free of prison. This group perfectly nailed the Orange Is The New Black cosplay, straight down to Pennsatucky's signature gray hoodie and Pornstache's trademark stance.
3. Gotta Catch Them All
The family that cosplays together stays together — especially in Pokemon attire. Ash and Misty are ready to dive into their next gym battle, and with precious Squirtle by their side.
4. (Girls) Kick-Ass
Have no fear Hit Girl, because you've just met your fellow female fighting accomplice. Aaron Taylor-Johnson may have captured our hearts as the adorably awkward Kick-Ass, but the gender-bent version is a complete game changer.
5. When Marvel Meets Legend of Korra
A popular component of NYCC cosplay every year is the fusion of fictional universes. That's right — combining two characters into one ultimate costume, and these cosplayers have opted for a Marvel and The Legend of Korra combo. Meet Thorra, the hybrid of Thor and Korra, and Iron Asami, the product of Iron Man and Asami Sato. Crossovers have never been better.
6. Welcome to Luigi's Mansion (Or Better Yet: Luigina)
Gender-bent Luigi may have just melted my heart. And yes, lace gloves and hair bows necessary.
7. A Fairytale Situation
No NYCC is complete without a dose of Disney (and a sprinkle of pixie dust). Here, Cinderella and Prince Charming indulge the whimsical formula to couple cosplay. Don't forget the glass slipper!
8. The Punk Rock Duo of Gwen and Mary Jane
Ah, Gwen Stacy and Mary Jane Watson — Peter Parker (and Spiderman)'s beloved sweethearts. Only this time, they've hit punk rock status — think fishnets, distressed denim, and combat boots.
9. A DC/Marvel Love Story
Romeo and Juliet? Allie and Noah? Forget about it. The future of romance stories should center on Harley Quinn and Spiderman, one a villain from the DC universe, the other a web-slinging hero in the Marvel world.
10. May The Force Be With You
While the upcoming Star Wars flick won't be hitting theaters until December, you can satisfy your craving with one ingredient: channeling your inner Jedi. Start prepping those light sabers now.
11. Keeping Up With The Belchers
Move over Kardashians — television's next golden family happens to run a burger joint, and comes complete with food puns too! The Belcher children from Bob's Burgers makes for the perfect trio costume. The recipe is simple: stick on a burger outfit for Gene, add Louise's classic bunny ears, and accessorize with Tina's frames (bonus prop: a notebook for the inevitable erotic friend fiction).
12. Dragon Whisperer
Game of Thrones is no foreign face to the NYCC world, and Daenerys Targaryen is no exception. Braiding game always on-point.
13. Under The Sea
Create an aquatic splash Little Mermaid style with seashell chokers and fish scale patterns. Seaweed optional.
14. She-Hulk
She-Hulk: making green the new black since 1980.
15. The Voices Inside My Head
These cosplayers went Disney/Pixar chic as the characters of Disgust, Anger, and Fear from Inside Out. No one tell Riley (and Joy), but some of her emotions may have escaped and entered the real world.
16. Life, Liberty, and the Pursuit of Steve Rogers
Red, white, blue, and Captain America — all the essentials for showcasing your patriotism.
Want more fun fashion? Check out the video below, and be sure to subscribe to Bustle's YouTube page for more hacks and tricks!
Images: strhombus, christopherryates, karenmayc, lovesheena_, mary_mukh, mjdarling_, defend_brooklyn, kamera_man, mikittyvicious, clemente_knows_photos/Instagram; Richie S (1, 2), Baldwin Saintilus, Liz Swezey, Marnie Joyce, istolethetv/Flickr