This 'Shark Tank' Item Will Wipe Away... You Know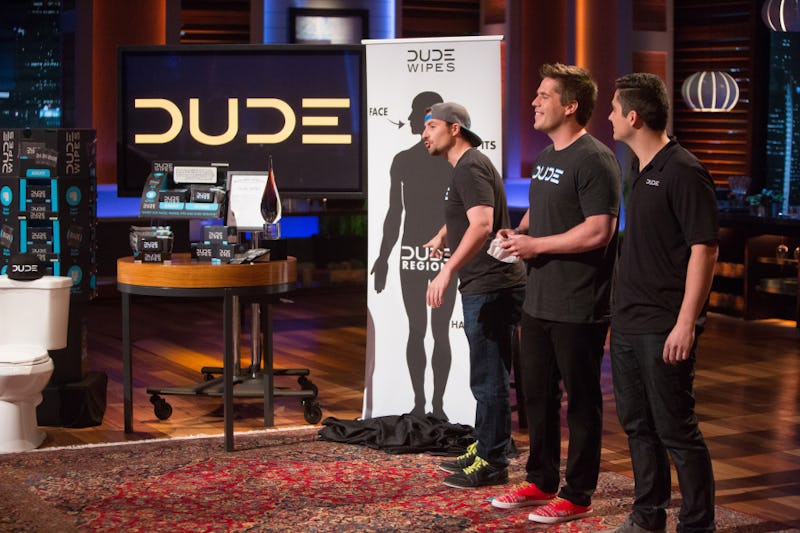 I know what you're thinking. Dude Wipes just sounds gross. And yeah, what this upcoming Shark Tank product is used for is probably something you don't want to be thinking about while you're eating lunch. But if you do decide to one day buy Dude Wipes, you'll see that the point of them is to ultimately make you less gross.
Three of the five Sharks appearing on Friday night's episode of Shark Tank will be men, so the entrepreneurs behind Dude Wipes already have members of what appears to be their intended audience. But when you finally find out what Dude Wipes are used for, you'll realize that despite the name, women could use them just as much as dudes.
Still, I feel like it's going to be hard for the Sharks to get past that name. I mean, it does alienate more than half of the population right off the bat, and that could mean making 50 percent less sales, which no shrewd Shark is going to be a fan of, man or woman.
On the other hand, the name is whimsical and it does set the company a part from the competition, which is always a good thing. And there's plenty of other ways Dude Wipes stand out.
DUDE Wipes , $8, Amazon
It's Toilet Paper For Tough Guys
Well, that's the idea, at least. In all actuality, Dude Wipes really just seem like baby wipes targeted toward adult males. These flushable wipes are meant to give you, shall we say, a more pleasant experience at the toilet, and I don't think there's anyone out there that doesn't want that.
You Can Buy These Now, Dude
If you feel like cleaning up your act, you can buy Dude Wipes now online through the company's official website or the websites of retailers like Amazon, Target, and Walgreens, or in a store IRL, such as Kroger, Ralphs, and Bass Pro Shops. Dude Wipes start at a retail price of $6.99, which seems kind of pricey for some TP. But then again, I'm not a dude and have no problem using the cheapest toilet paper from the convenience store down the block, so I don't think I'm the target consumer anyway.
There's More To Them Than Meets The Wipe
So what makes Dude Wipes so special, anyway? The wipes are biodegradable and contain Vitamin E and aloe, which is what makes them so soothing. They're also unscented and can be used to clean your dirty self all over the place, from your face to hands to armpits.
There Are 4 Dudes Behind This Company
Sean Riley, Brian Wilkin, Ryan Meegan, and Jeff Klimkowski launched the Chicago-based company Dude Products and its first item Dude Wipes in 2012. The dudes got the idea for this product after using baby wipes along with toilet paper in the apartment they shared after college. Is that just a dude thing, or nah?
Be A Dude, Not A Doofus
Dude Wipes comes off as a very bro-y company to me, but it's apparently not that bad, you guys. In fact, Dude Wipes is surprisingly altruistic. The company supports a few causes, such as the Scott Whisson Memorial Scholarship, and sends care packages to support our troops. Dude Wipes even donates 10 percent of purchases made in the company's online store to The Colon Club, which is a non-profit dedicated to raising awareness of colorectal cancer. All of this really puts your bathroom troubles in perspective, doesn't it?
Image: Michael Desmond/ABC