How To DJ A Wedding With Your iPod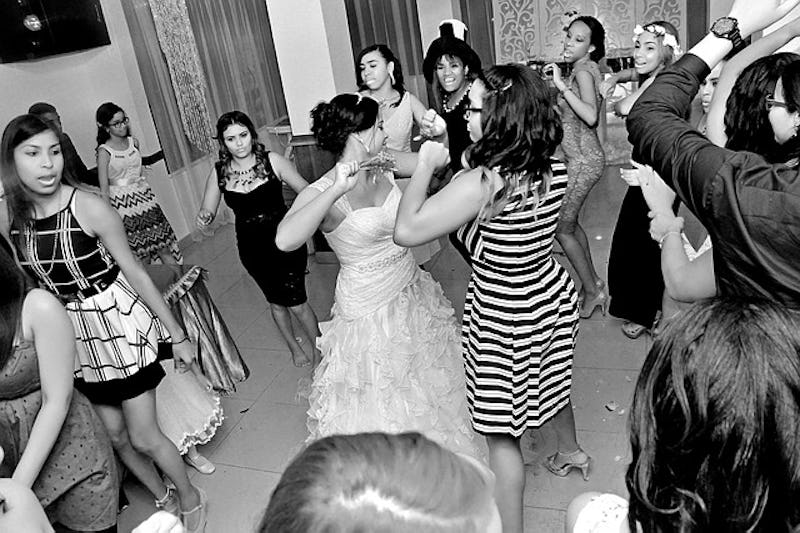 Clients I work with are often wondering how to use an iPod to DJ a wedding, and I totally understand why — not only is using an iPod a huge cost saver, it also allows you to have a lot more control over the exact songs that are played on your wedding day. This was exactly our rationale when my now-husband, Rick, and I decided to use an iPod for our own wedding reception.
Being a musician and having particular strong opinions about music, Rick was not keen on handing over all the music for our reception to someone else. He spent a couple months crafting the perfect reception playlist, and all was going seemingly well with our decision to iPod our wedding until days before the wedding, when I accidentally deleted the playlist he had created (whoops!). Though I searched for hours online for ways to bring back the playlist, it was permanently gone forever.
Thankfully, Rick was able to recreate the playlist pretty much from memory. On our actual wedding day, things went pretty smoothly with our iPod rig made up of the iPod, Rick's professional speakers, and his microphone. The only time the music stopped during the reception was when I tried to turn up the volume in the middle of "Walking on Sunshine," and pressed the wrong button (whoops again!).
Needless to say, now when I coordinate weddings for couples and they are using an iPod or smart phone for their music, I tell them right off the bat that I am not a tech person at all. However, despite my complete lack of knowledge about the technical side of using an iPod at a wedding, I absolutely have come to know the logistical side. In fact, about 50 percent of all the weddings I now coordinate have an iPod for some part of the wedding.
When it comes to the logistical side of using an iPod at a wedding, I'm super Type A (actually, I'm Type A when it comes to all aspects of weddings, but I guess that also comes with being a wedding coordinator), and these are my top recommendations for making sure the whole iPod thing works out at your wedding. Follow these tips, and I promise you'll be in great shape.
1. Think through each part of the wedding
Often when people decide to iPod their wedding, they are generally thinking about one part of the day — the ceremony, cocktail hour, or reception. If you're only using an iPod for one part of the wedding day, it generally has an effect on the other pieces. For instance, if you're using an iPod for the wedding reception, who will bring mics for the ceremony and reception announcements? And who will emcee the wedding and make those announcements? If you're having a band for the reception, who will handle setting up the sound equipment when you use an iPod for the ceremony and cocktail hour? There are always solutions to be found, but to avoid last-minute stress, it's good to think through the music, sound, and audio for the entire day, and plan accordingly.
2. Get the right equipment
Of course, everyone these days has an iPod or a smart phone that's capable of holding all the music you need for your wedding. It's the other equipment such as speakers, microphones, and all that sound equipment that's not as common. When you think through your event in full, determine all the sound equipment you'll need in addition to an iPod. Will you need a mic? A wireless one? A PA? An extra long wire? If you're like me — and know next to nothing about sound equipment — a musician is always a great person to consult.
3. Appoint a sound person
Pick one person (and it cannot be you or your partner, because you'll be busy, you know, getting married) to be responsible for setting up the equipment, and controlling the playlist and sound. Your sound person should know a thing or two about the equipment, sound levels, feedback, and all that good stuff to ensure that if there's a complication, he or she can troubleshoot the issue smoothly. The best appointed sound people I've seen at weddings are the ones who always take their role super seriously, and know how to prevent issues before they become a problem. If my husband and I were to get married all over again knowing what I know now, this time around I'd take my own advice and steer myself completely clear of the iPod during the reception, and leave it in someone else's capable hands.
4. Make a playlist for each section of the wedding
For the ceremony, you'll likely have two to three songs picked out, and your ceremony playlist can be as simple as that. The rest of the day can be chunked into playlists that fit the mood for that part of the wedding. Playlists can be made for cocktail hour, introductions, dances (such as the first dance, father-daughter dance, and mother-son dance), dinner, group dancing, and the after party.
5. Make longer playlists than you think you need
Make longer playlists than you think you need for the cocktail hour and reception, as those are the two parts of the wedding that can be challenging to predict exactly how much music you'll need. Sometimes things run long, sometimes short, but either way, you want to make sure you have some extra music at the end of each play list. For example, if your cocktail hour is one hour long, it's a great idea to make a playlist that's an hour and a half.
6. Build momentum with the music
As you make your playlists (particularly for the reception), think about how all the songs build on each other so that you eventually get to the point where no one can help but be on the dance floor. For instance, toward the end of dinner, make sure you're playing some music that puts your wedding guests in the dancing mood, then after that consider some music that's appealing to all ages when the dancing starts to get everyone on the dance floor. Then increase the momentum throughout the rest of the night.
7. Do a sound check — once, twice, three times
The sound check is really the whole crux of iPod-ing your wedding successfully. Never underestimate the fact that sound equipment — particularly in a venue you've never set up sound equipment in before — can be incredibly finicky. In order to ensure there are no bumps, set up the sound equipment in the days before the wedding to test it out, and also test it out again on the morning of the wedding as early in the day as possible. If you have an inclement weather plan for your wedding where it may require that the ceremony, cocktail hour, or reception be moved in the event of rain, test out the equipment in the rain location as well. Sound checks — multiple times and in multiple locations — is the only way to ensure the music is ready to go.
8. Know where the local electronics store is (just in case)
When you're DIY-ing any part of a wedding, it's always a good idea to note down where the closest stores are that can help solve potential problems. For sound-related issues, know where the nearest electronics store is so that the appointed sound person can run out to the store if all doesn't work out as planned during the sound check. It's happened more than once at weddings I've coordinated where the sound check didn't go as planned, and someone had to run out to buy an additional cable.
And lastly and most importantly — don't delete the playlist!
Images: OmarMedinaFilms/Pixabay; Somerby Jones Photography (3); Taken/Pixabay; Unsplash/Pixabay; Andi_Graf/Pixabay; tookapic/Pixabay