How To Dress Like 'BTTF's Marty McFly In 2015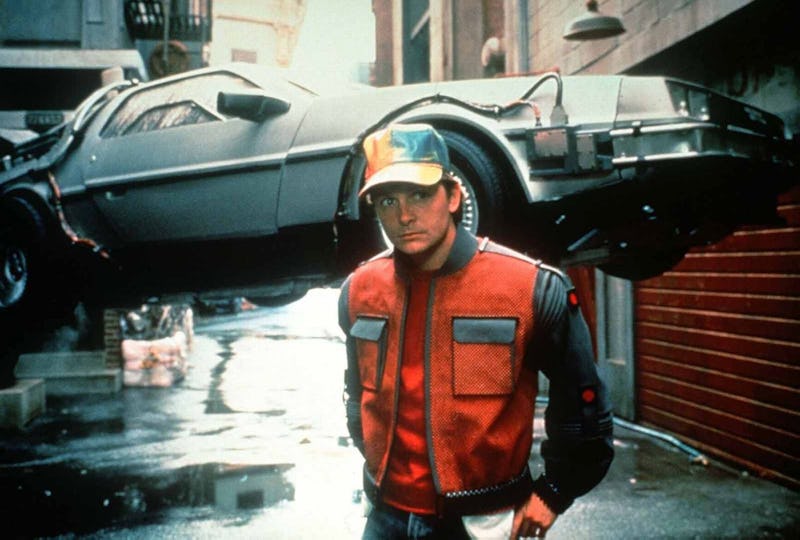 With the exact date that Marty McFly traveled to in 2015 in Back to the Future Pt. II just days away (October 21, 2015, of course!), I can't think of a better way to celebrate than by dressing up like Back to the Future's Marty McFly in 2015 for Halloween this year. Because, what's not to love about the 2015 version of Marty from Back to the Future Part II? He's a pop culture icon that everyone at any Halloween party would recognize in a heartbeat, so you can't go wrong — that is, as long as you have the right costume pieces and accessories, of course.
Because, isn't that the point of a good Halloween costume? Picking someone or something that is instantly recognizable? There is nothing fun about picking something obscure and then having everyone asking you "Who are you?" the entire night.
So, I can't think of a better, or more recognizable costume than Marty when he visited the year 2015. The outfit is so ridiculous and so memorable that pretty much everyone and their mother will be able to recognize the outfit — and, what makes it all the better is that there are just a few elements required to make the costume work flawlessly.
1. A Rainbow Hat
If you can find one that is iridescent, all the better. But, because the actual 2015 didn't quite pan out like Robert Zemeckis envisioned, you might have to settle for a regular rainbow.
Marty McFly Rainbow Hat, $20, Amazon
However, if you want to go full out McFly, pick up this replica available on Amazon. No one will mistake you in a flashy-looking hat like that.
2. A Self-Adjusting Jacket
Back To the Future Self Adjusting, $60, Halloween Costumes
OK, so there are actual replicas of Marty's jacket available on sites like HalloweenCostumes.com, but just in case you want to make yours from scratch (and not spend a fortune on it), try this instead.
Take an oversized gray sweatshirt like the one from Universal Textiles above, and wear a burgundy vest like the one from New York and Company over it. Bonus: you'll keep warm while roaming the streets looking for candy.
3. Loose-Fitting Jeans
Ahhhhh, remember the '80s when everything was oversized and more comfortable than your Saturday morning sweatpants? When finding the right pants for this outfit, look no further than the relaxed fit section at your local jean store.
L.L Bean Relaxed Fit Jeans, $40, llbean
Or, just order these jeans from L.L. Bean and be done with it.
4. Self-Lacing Sneakers
I know I'm not the only one who hoped self-lacing sneakers would become an actual thing in 2015 to honor the film's anniversary — but, even if they're ever released, I'm assuming those are going to be crazy expensive and not worth buying for a Halloween costume.
Gray High Top Vans, $60, Vans
So, instead, how about a simple pair of gray high top sneakers from Vans? Those will definitely do the trick.
And there you have it: The perfect Marty McFly from 2015 costume for your Halloween this year.
Image: New York and Co.; Universal Textiles; L.L. Bean; Vans; Amazon.com; Giphy; Universal Pictures (3)