11 Disney Princess Hair Tutorials For Halloween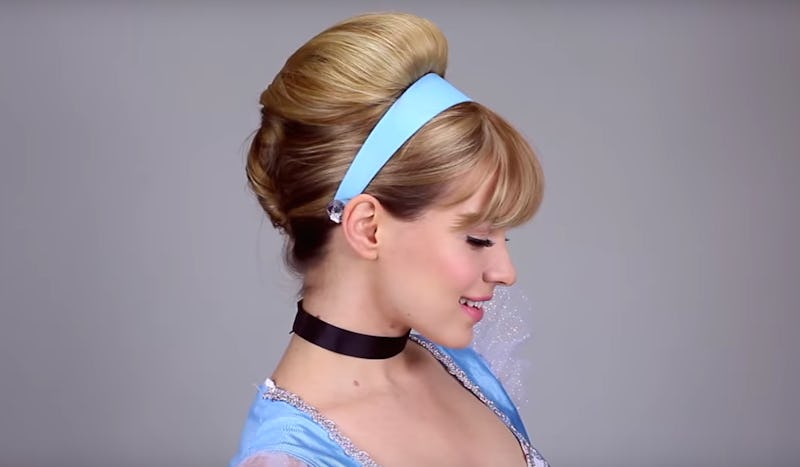 We are only a couple of weeks away from Halloween (cue the panic), so if you haven't nailed down your perfect costume yet — you might want to get on that, STAT. No worries, though, because I've rounded up some Disney princess hair tutorials to help you totally channel Aurora. Or Belle. Or Cinderella. You get it — whoever your inner princess may be.
I'm not shy about the fact that Disneyland might be my favorite place on earth, and as a kid I always alternated between dressing up as different Disney princesses each year (for Halloween, and, you know, every day life. I was a really cool kid, guys). But as amaze as the pretty princess dresses are, they are only one part of the equation. I mean, Jasmine just wouldn't be Jasmine without her double scrunchie ponytail. Ditto Alice and her headband. And Belle with her half top knot. So if you really want to get into character, you have to nail the signature hairstyle, too.
Don't stress if you're hair-challenged, though, because below you'll find 11 of the best Disney princess hair tutorials to get you inspired for Halloween night. And don't forget your Disney princess makeup, either.
Have the happiest Halloween on earth...
1. Belle
Not only will this tutorial help you nail Belle's half-up, flowing curls — it will also give you serious hair envy.
2. Aurora
If you want to go a bit more bohemian and romantic, then try Aurora's twist-back from Maleficient. Bonus: you can totally wear this look in real life.
3. Jasmine
This tutorial shows you two ways to get Jasmine's hair.
4. Ariel
Stuck on how to style Ariel's swoop bang? There's a tutorial for that.
5. Rapunzel
If you're like me and can barely french braid, then Rapunzel's five strand braid is probably intimidating. No worries, because this tutorial will walk you through it.
6. Cinderella
Fact: take off the headband, and this could double as a Breakfast at Tiffany's up-do.
7. Elsa
I'd want to learn how to do this one whether it was Halloween or not.
8. Pocahontas
This tutorial shows you how to quickly add some texture to your hair — and it'll even moisturize your hair in the process. Win-win!
9. Alice
Just make sure you buy a black headband first.
10. Snow White
Snow White was rocking the faux bob long before Hollywood made it cool.
11. Anna
Her braids are easy enough, but you may need some help with the up-do.
Images: YouTube