'Star Wars' Tickets Are Going On Sale Early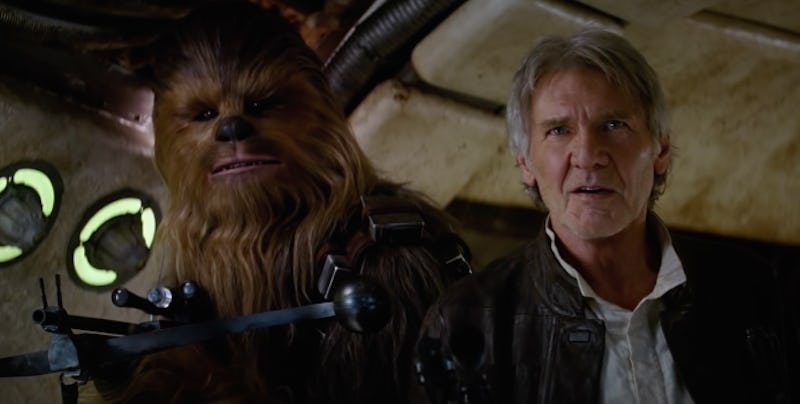 It's weird to think that we're looming so dangerously close to the new Star Wars installment, with The Force Awakens hitting theaters in nearly two months. And, though there are a lot of mysteries that won't be solved until the official release (who is Daisy Ridley's character Rey, how is an aging Chewbacca able to keep his fur without a speck of gray), there's one imperative question that needs answering. Everyone and my brother (oh, especially my brother) is wondering how do you get tickets for Star Wars: The Force Awakens ASAP? Well, don't worry, fellow Jedi knights, because I'm gonna tell you in a hot second.
First of all, get psyched because there's going to be a lot of fanfare happening beforehand. Another official poster for Force Awakens is going to be released Sunday, Oct. 18, along with an official logo. Will it be another beautifully drawn compilation of the characters, or are they going to go full 2015 and do the poster in emojis? Time will tell. Then, on Oct. 19 around 8 p.m. EST, a brand new trailer for Force Awakens will debut, reportedly during a Star-Wars-themed Monday Night of Football on ESPN.
And, following that trailer, the tickets for Force Awakens will go on sale Monday, Oct. 19 at 8:30 p.m. EST. Tickets will be available for showing as early as 7 p.m. on Dec. 17, and you'll be able to buy tickets for showtimes up until Jan. 3. You know, just in case you have anything better to do besides witnessing a historic event in pop culture history, one that may even make up for Jar Jar Binks (but let's not get our hopes up).
So, make sure to wait at your local theater with your lightsaber at the ready or, you know, check in on the usual suspects like Fandango and MovieTickets.com. Good luck, and may the force be with you.