Hillary Clinton Is Meeting The "New" Colbert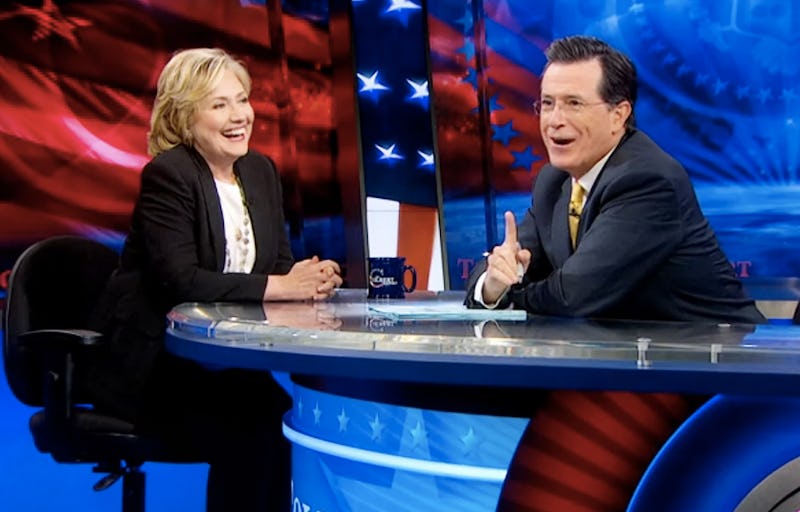 Well, this is going to be awkward. It was announced on Friday that Hillary Clinton will be visiting Stephen Colbert on The Late Show. The democratic presidential front-runner is scheduled to appear on the comedian's show on Tuesday, Oct. 27, and the pairing promises to be a good one. Honestly, I'm more nervous for the exchange than I am excited, mainly because Stephen Colbert has poked fun at Clinton since the beginning of his time on The Late Show. And while the tension that has been brewing between them via late night television might be the perfect opportunity for some amazing comedy, you can count on Clinton to at least address some of the jabs that Colbert has been taking at her in his latest segments. Not to mention the fact that the last time the two were paired up in an interview on Colbert's former show The Colbert Report on Comedy Central, Clinton and Colbert engaged in a name-dropping battle of epic proportions.
So, whether you're a huge Clinton fan or just love a good dose of tension, you'll want to watch these previous clips of Clinton and Colbert going head-to-head to get a sense of the beef that has been brewing between the two, before Oct. 27's showdown.
Their Epic Name-Dropping Battle
If they reinstated this challenge and Clinton upped her game by actually bringing Oprah on the show, I wouldn't be mad.
When He Made Fun Of Her Height
You can't call a girl out and not deal with the consequences. I really hope this comes up during their Late Show interview.
That Time His Audience Cheered For Bernie Sanders
Awkies.
When He Called Out Her Emoji Outreach
An interview after running multiple segments of making fun of a candidate's campaign strategy sounds like something straight out of hell to me. But to Stephen Colbert, it's probably comedy gold.
When Her Husband Talked About What Made The Other Candidates So Popular
I think that's kind of defeating the purpose of your appearance, Bill, but whatever.
With that much past beef between them, you can be sure Clinton's visit to The Late Show is going to be an epic one. Expect lots of fake arguments and a ton of one-upmanship.
Image: Comedy Central