Is Tinker Bell Coming Back To 'OUAT'?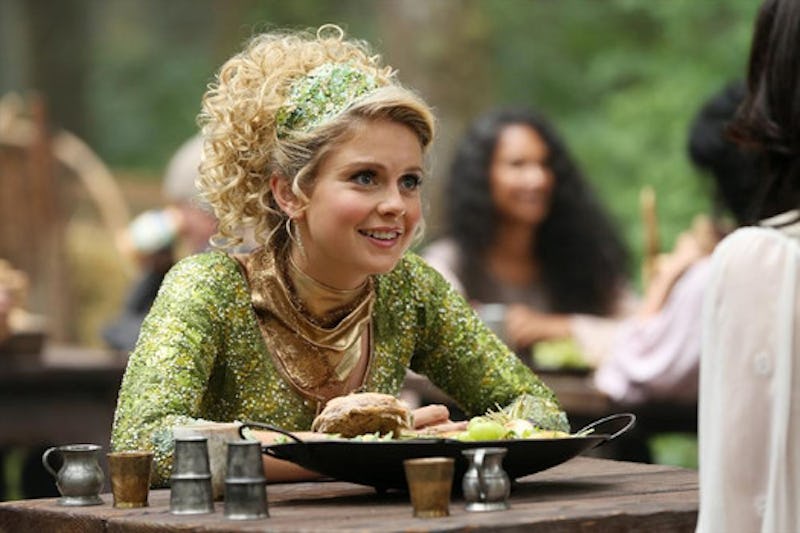 While it's certainly true that Once Upon A Time Season 5 seems largely focused on Emma's transition from Savior to Dark One and all the complications that come with such a harrowing experience (for Emma herself and those around her), that doesn't mean there isn't room for Storybrooke's secondary characters. We know, for instance, that we'll see Mulan and Ruby again this season, and it's about time. There's one other supporting player that fans would love to see return to the series, and according to executive producers Eddy Kitsis and Adam Horowitz, it might not be too far off. That's right: Tinker Bell may return to Once Upon A Time , and sooner than we think.
The last time we saw Tink was in Season 3 Episode 19, "A Curious Thing", though she was mentioned as recently as Season 4 Episode 20, "Mother". Tink not only played a pivotal part in the Neverland arc, but perhaps more importantly, we know she's the one responsible for telling Regina that Robin Hood is her soulmate, based on some stolen fairy dust predicting that the former Evil Queen (who wasn't quite so evil back then) would end up with someone with a lion tattoo. Now that Robin and Regina are together-ish, at least for now, what does Tink think about it? Well, we'd have to find a way to bring her back before we can find out, and as Kitsis and Horowitz told Entertainment Weekly on Friday, that all depends on actress Rose McIver's availability.
KITSIS: You know what, we absolutely can hope. We just saw her in Vancouver. We're trying to figure it out. We want her back, she wants to come back. She has a hectic schedule, but we're going to do our best.HOROWITZ: We're going to try to make it happen.KITSIS: It'll be the second half of the season, but we're absolutely trying.HOROWITZ: Hopefully the stars will align and she can return, because we all want it to happen.
So basically, nothing's for sure, but it could happen, and it should happen, so let's do this thing. Assuming that McIver is able to fit Once in her schedule again with how busy she is over at iZombie, we can then begin thinking what she'll actually end up doing once she gets back on screen. Tink was wasted under the Blue Fairy's tutelage (and frankly, I have never trusted Blue anyway, and still don't) and she's got a lot more potential to be helpful and to really shine all on her own. Could she take part in the Dark Swan storyline? I'm not sure what a fairy's limitations are in the Once world, but she could be integral in restoring Emma to her former self and banishing the darkness if she really focuses.
Of course, we're getting totally ahead of ourselves in even talking about this, but that's just because the prospect is pretty exciting. Not only could she be a great, neutral female friend and ally for Regina despite their messy history, but she could also really spread her wings now that she has them back and become a better fairy and a bigger presence in Storybrooke. I guess we'll have to wait and see if it comes to pass.
Image: ABC