Tracy Morgan Brings Back Astronaut Jones On 'SNL'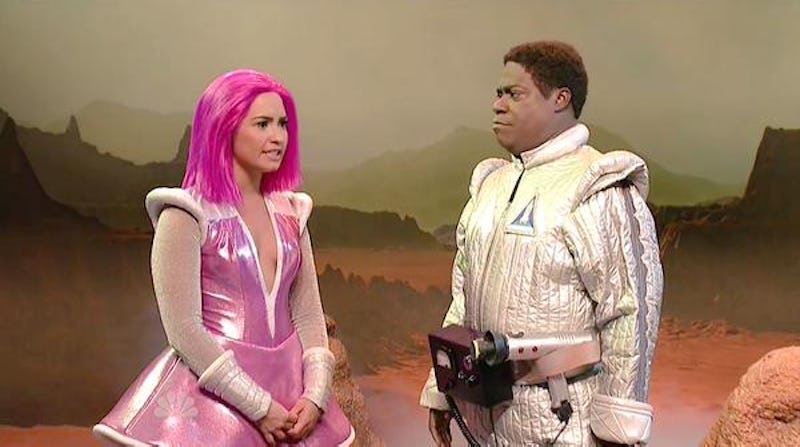 On Oct. 17, returning host Tracy Morgan started and ended Saturday Night Live with two of his best recurring characters. Earlier in the evening, we were re-introduced to Brian Fellow, the exuberant animal enthusiast who doesn't really understand anything about animals. The last sketch of the night also brought back a familiar face: Astronaut Jones, this time accompanied by Demi Lovato, the musical guest of the evening.
SNL used the thinnest of news pegs to resurrect Jones: It was framed as a spoof of Ridley Scott's The Martian. That takes place in space, the recurring Astronaut Jones sketches took place in space, so I guess a mash-up was totally inevitable. Except there's the pesky fact that the Astronaut Jones sketches always involve the title character hitting on a hot alien lady, which certainly does not happen in The Martian, where the whole point is that the main character is up there alone.
But, it doesn't matter if the sketch makes sense or not. Astronaut Jones is just always funny. Demi Lovato got to dress up in a shiny pink alien costume, and Morgan got to hit on her, like he did with Britney Spears way back when. (I don't know why that gets me every time—it's another one of those sketches where the punchline never changes — but it still makes me giggle to this day.)
The weirdest thing about the sketch is that there was a pre-filmed credits sequence, and the show used the same one that they used way back when Morgan was a cast member. You can really see how much he's changed since he left the show. The aging process happens to everybody, but not all returning hosts have their old images thrown back at them the way Morgan did during this sketch. Especially since this past year he's had to focus on recovering from his accident, not pumping iron or whatever. But, since much of the episode was about looking back on Morgan's SNL days, this was a good note to end on, and funny as always.
The full video is below: