How To Throw A Last-Minute Halloween Bash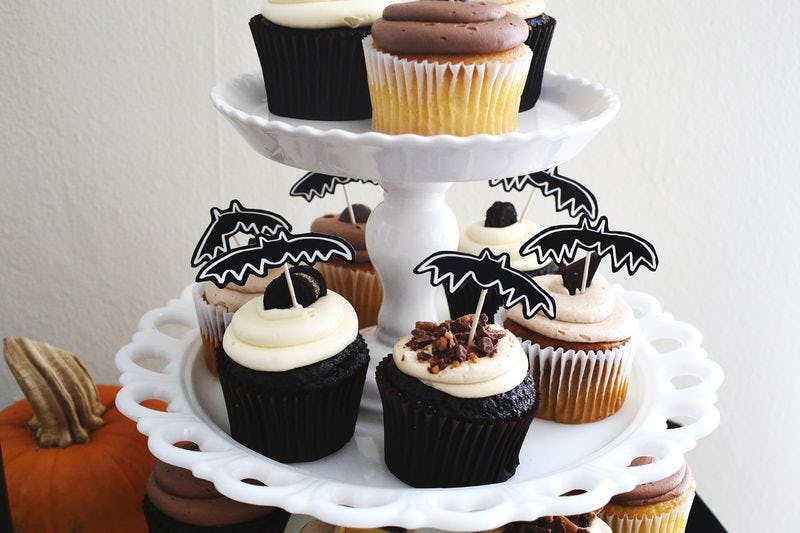 Halloween tends to sneak up on me every year. I want to be the kind of person who puts out creepy Halloween decorations, carves my own jack-o'-lanterns, and remembers to buy candy for trick-or-treaters, but I'm the type who usually ends up scrambling for last-minute Halloween party ideas that aren't totally lame. I'd like to be the person who can throw a party that scares all my friends, and maybe even has its own Instagram hashtag full of spooky and hilarious photos. But then, inevitably, it's the night before Halloween, and I'm scrambling to put a costume together with whatever is in my kitchen junk drawer. Which reminds me, can I make any costume out of old Mentos wrappers and a stray pipe cleaner?
In a perfect world, I'd throw a party that has blood dripping from the walls, a smoke machine, creepy appetizers, and spiked punches. But when I can't even realize it's Halloween season, how am I expected to prep for it? Well, the good news is that there are many easy decor options for the party procrastinators (and party forgetters) in all of us. I gathered up 16 party decor and food ideas that you can throw together with only a few materials to kick your party up a notch.
1. Easy Eyeball Balloons
StudioDIY is a balloon genius, and these creepy eyeball balloons are perfect for a Halloween party. Grab some white balloons and your markers for simple and fast decor. For the full tutorial, visit Studio DIY.
2. Ghost Emoji Balloons
Speaking of balloons, is there anything cuter than these ghost emoji balloons from AwwSam? The full DIY can be found here.
3. Orange and Black Anything
The easiest way to transform your space into a Halloween wonderland is with orange and black anything. Line a banister or a door frame with some balloons like these, and you'll be in the holiday spirit in no time.
4. Trick-Or-Treat banner
This free Halloween printable from A Beautiful Mess can be strung up quickly, and more importantly, at the last minute.
5. Rat Decals
Rats are gross and creepy, so these rat decals ($22, etsy.com) are sure to spook your guests, or at least your cat.
6. Cupcake Toppers
Pick up a pack of cupcakes, top them with these printable bats from a Beautiful Mess, and BOO(M)! — you've got Halloween desserts.
7. Poison Warning
Drink labels can be put together with some paper and tape, and they hide the fact that you haven't planned for the party at all.
8. Barfing Pumpkin
The only thing barfing at your party will be this appetizer tray.
9. Witch's Brew
Freeze some water in a latex glove, toss it in some punch, and suddenly you have a very creepy witch's brew.
10. Instant Jack-O'-Lantern
Have an overhead light? Make it spooky with a cheap trick-o- treat basket.
11. Pun-Kins
These insanely easy and very funny pun-kins from StudioDIY make great pumpkin decor, and require zero carving.
12. Meatloaf Mice aka Pizza Rats
It's the perfect time for pizza rats, made out of meat of course.
13. Mummies In A Blanket
These mummy dogs will be a hit with adults and kids alike. All you need is to wrap some biscuit dough around a hot dog, and bake.
14. Tissue Paper Bats
for the decor procrastinator in all of us, I present this simple tissue paper project from A Beautiful Mess.
15. Mummy Quesadilla
Quesadillas are so easy to make, and can be Halloween-ified by just slicing the top tortilla into bands.
16. Haunted House
This Halloween bunting banner ($4.20, etsy.com) is cheap and available for an instant download, so you are only a couple minutes away from a spooky banner.
For more Halloween ideas, visit Bustle on YouTube.
Images: Mary Costa Photography for StudioDIY; A Beautiful Mess (3); StudioDIY