Take A Tour Through America's Most Haunted City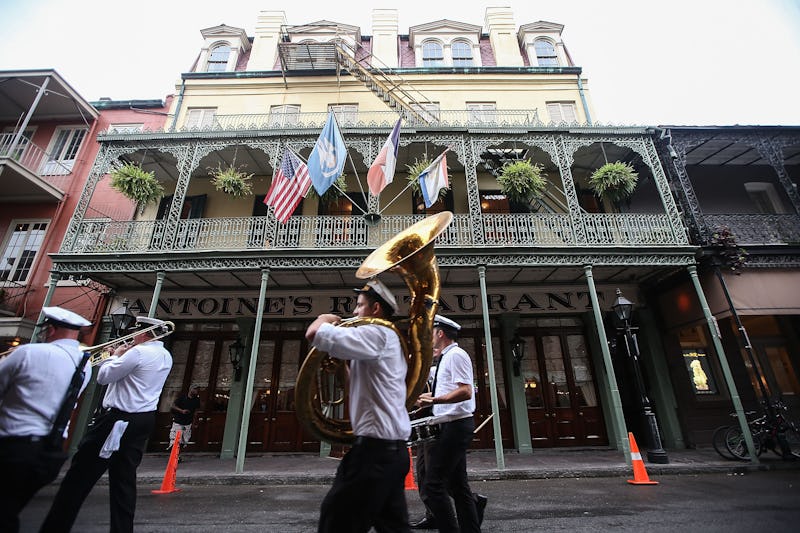 Mario Tama/Getty Images News/Getty Images
Everyone loves a few good ghoulish tales of harrowing haunts especially around Halloween, but if you want to try your chances at coming face to face with a ghost IRL, you might want to consider a trip to the Big Easy. Yahoo! Travel editor-in-chief and A Broad Abroad star Paula Froelich teamed up with New Orleans psychic Cari Roy for a spooky New Orleans ghost tour, where they made stops at some of NOLA's most notorious haunted places. Even if you don't believe in the supernatural, I'm willing to bet that some of the stories folded up in New Orleans' rich history will still give you chills. Crazy socialite serial killers, anyone?
For the spooky installment of her Yahoo! Travel web series, Froelich started off her tour at Muriel's, a restaurant in New Orleans' Jackson Square that is allegedly home to a hole host of spirits, including a territorial ghost who isn't above throwing plates and silverware when he feels like people aren't paying enough attention to him. (Incidentally, this is a trick my sister also occasionally likes to pull at brunch, and let me say from experience that it is indeed effective).
After downing a Bloody Mary, the two sauntered over to the former home of Madame Delphine LaLaurie, a woman who is said to have tortured and killed people in her attic during the 19th century before being run out of town by an angry mob of neighbors. They then concluded their tour at an above-ground cemetery in the Ninth Ward. Oh, and they weren't the only ones there, either.
"There's just a random spinning lady who comes through here, and she just spins," Roy casually pointed out — because that's not a big deal, or anything. Sounds like pretty interesting company, if you ask me. Not terrifying at all.
For more of Froelich's adventures, check out A Broad Abroad on Yahoo! Travel.
Images: Mario Tama/Getty Images