New 'Star Wars' Teaser Trailers Are So, So Good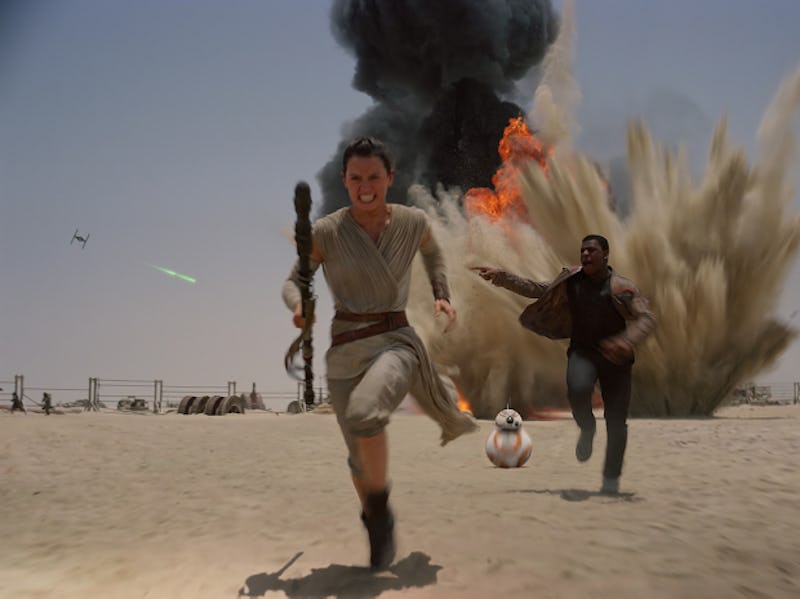 How do you send millions of Star War fans into a tizzy within a matter of hours? Well, George Lucas and company seem to know just how, as on Sunday, they released a flood of new Star Wars images and media. First they revealed the new official poster for Star Wars: The Force Awakens on Twitter and the fanboys and fangirls were like, "OMG," and were totally freaking out. Then they announced that the first full-length trailer for Force Awakens , the seventh installment in the Star Wars series, will premiere during ESPN's Monday Night Football's broadcast of the New York Giants and the Philadelphia Eagles game. It has been six months since the last teaser trailer for the film was released, so this info sent the Interwebs into hyper-drive.
And that's not all. In addition to announcing the premiere of the full-length trailer, the official Star Wars and Disney Studios Twitter accounts began posting a series of additional teaser trailers! Fans already know which members from the original cast are returning, the fact the film will take place 30 years after Star Wars Episode VI: Return of the Jedi, and that our heroes will be battling a shadowy organization called "First Order," but almost all other details about Star Wars: The Force Awakens has been kept under lock and key. Thanks to the new info, it feels like Pandora's box is finally being opened, and soon even more things about the film will become clear.
Let's take an in-depth look at the latest teaser trailers to see what information we can gleam.
A Tease Of New Faces
This short 16-second clip gives a brief introduction to some of the new characters in the film. Thankfully, that is just long enough to get a little slice of essence as to who these characters are.
Rey, the first character shown, is played by Daisy Ridley. Rey is seen sitting in a desert vehicle similar to an ATV vehicle. Her hair is unkempt and she is covered in dirt. There is a bustle of activity behind her, so she's clearly at her hometown's market or city square. While the environment she resides in looks very familiar (i.e., Luke Skywalker's home planet, Tataooine), the actress has previously revealed in an interview that her charter comes from the desert planet Jakku. Ridley described Rey as self-sufficient and solitary, and that description matches the hardened expression she wears in the clip.
Oscar Issac's Poe Dameron is the second character to appear. Poe is seen in shadow brandishing a weapon and looking into the distance at something. Unlike Rey, his hair is coiffed and his face is clean. This fits with what we know about Poe. He is a military man and, specifically, an X-Wing pilot.
The new droid BB-8 even makes an appearance in the teaser trailer. He is seen peering around the corner in a spaceship corridor. It looks like this little droid is about to go on an adventure.
The next character shown in the clip is Finn. He was the first character shown in the original Star Wars: Force Awakens teaser trailer and his journey seems to be the anchor for the new film. It has already been revealed that Finn starts the film as a stormtrooper, but it is clear he begins down a different path. In the clip, Finn is seen wearing a leather jacket and walking among a group of rebel pilots preparing for or returning from battle. It is clear from this short clip that Finn feels like an outsider among the Rebel forces (which makes sense he was formally a stormtrooper), but it will be interesting to see how his outsider status affects his actions.
The final character shown in the "Fresh Face" teaser trailer is arguably the most mysterious of the five. It is Kylo Ren (played by Adam Driver), and he's a member of the bad-guy organization called the "First Order." A few things can be concluded from this clip. First, Klyo Ren is clearly a creepy guy who hangs out in forests in the middle of the night. Secondly, and possibly the most important, is that his light saber has a modification that gives it the look of a knight's sword. First that means that Klyo Ren might have something to do with the order of the Jedis (hence the light saber), and also that he might be a fervent believer in whatever he is fighting for since knights were noted for their code of ethics and honor.
Rey And BB-8 Tease
This 10-second clip give a little more insight to Rey and BB-8 relationship. Are they friends? Are they foes? I'm not sure yet.
The beginning of the clip shows Rey in a forest. This is curious because as the previous teaser showed and as the actress playing her has stated, Rey is from a desert planet. It also reveals that there is a spectacular air fight occurring above Rey's head, so at the time of this clip, it appears she isn't fighting for either side.
The final scene from the clip reveals BB-8 to be in the forest with Rey. This leads to many questions about their relationship. Is BB-8 Rey's personal Drone (like R2-D2)? Or has she been sent to Rey to offer assistance (more like C-3PO)? I guess only time will reveal more.
Finn And Poe Teaser
This teaser shows an interaction between former stormtrooper Finn and current Rebel X-Wing pilot Poe. And it is very, very interesting.
The clip begins with Poe jumping out of his X-Wing jet. It is clear that the Rebel forces have not changed uniforms in 30 years, and that Poe is a man with loads of swagger.
Poe then runs into Finn and places his arm against Finn's shoulder. This isn't a simple "hello" gesture. It would appear that these two characters have met previously and have some kind of ill will toward one another. Does Poe know Finn was a stormtrooper? Does Finn not like how cocky Poe is? Or am I reading too much into this and this is the first time the characters meet? I guess I won't know until the full trailer comes out.
The clip ends with the same scene from the earlier teaser trailer. It gives the scene greater context and explains Finn's uncomfortable look. Of course he feels like an outsider — that Poe dude was just a total jerk to him.
These clips may be short but they are lighting up my excitement for the full-length trailer!
Images: Walt Disney Company; Maura O'Malley/Bustle (10)