These Are 'The Voice' Season 9 Frontrunners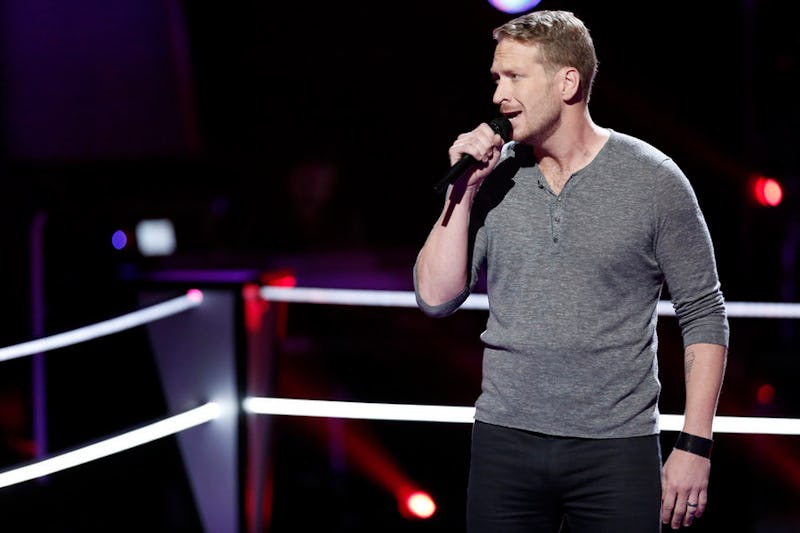 The Voice Season 9 is almost done with its Battle Rounds and the first eliminations are being made. It's sad to see talented singers go, but it's exciting to see who moves on, gets stolen by another coach, and/or emerges as a frontrunner in the competition. But, who are The Voice Season 9 frontrunners so far? Based on the Battle Round and all those four-chair turns during the Blind Auditions, I think it's safe to say a few vocalists have received that status early.
The great thing about the Battle Rounds is that viewers get to see the contestants go head-to-head with each other and sing a coach-selected song that'll (hopefully) play to both voices' strengths. Jordan Smith has certainly charmed the coaches, viewers, and even NBC (based on all those promos starring him) with his stellar Blind Audition and by winning his Battle. Coaches have called Barrett Baber's voice one of the most record-ready ones in the competition. In the Blind Auditions, coach Adam Levine had declared that Amy Vachal could indeed win it all with her angelic vocals and guitar talent. It's a tad too early to tell who could and will win it all this season, but I think these frontrunners have a pretty solid chance.
1. Jordan Smith
Smith is the clear frontrunner — I mean, if NBC is using you in promotional commercials, it's pretty obvious. But, it's a deserved spot for the singer, who stunned coaches and viewers alike in his gorgeous Blind Audition rendition of Sia's "Chandelier," and then he won a battle against fellow Team Adam singer Regina Love (who was stolen by coach Gwen Stefani) as they sang Sam Smith's "Like I Can" in the Battle Round (above).
2. Barrett Baber
The classically-trained vocalist and teacher shined in the Blind Auditions with his cover of Jeff Healy Band's "Angel Eyes" and he edged Dustin Christensen in their Battle Round cover of "Walking in Memphis" (but don't worry, Levine stole Chirstensen for his team). Coach Blake Shelton said that Baber has "incredible vocals. It's a hard thing to put your finger on. You just have that thing nobody can explain, but clearly we all like it."
3. Amy Vachal
Vachal stunned coaches with her vocals and guitar skills in her Blind Audition cover of "Dream A Little Dream." She got a three-chair turn, but only because Levine's team was already full. Still, that didn't stop the coach from declaring her as a singer would could possibly win the entire competition. She ended up on Pharrell Williams' team, and she'll compete in the Battle Round this week.
4. Blind Joe
Yes, Blind Joe is actually blind and he himself made the "it's literally a Blind Audition" joke, but when you watch his cover of "If It Hadn't Been For Love," it's clear that his voice is incredible and he is not letting anything him stop him. Joe is pretty rad on the guitar, too.
5. Siahna Im
This 15-year-old quirky wunderkind shined in her cover of the sultry and jazzy "Fever" in her Blind Auditions and won the battle against fellow Team Pharrell member Ivonne Acero (who got stolen by Stefani) in their cover of The Supreme's "You Keep Me Hanging On."
6. & 7. Andi & Alex
A duo on The Voice! It can totally happen. These two angelic singers impressed the coaches with their harmonies in their cover of Dido's "Thank You" during the Blind Auditions and they'll battle it out this week to secure their spot on Team Adam.
But really, right now it's anyone's game in a tough competition. May the best voice win.
Image: Tyler Golden/NBC