6 Jordan Smith Covers Voice' Fans Should Hear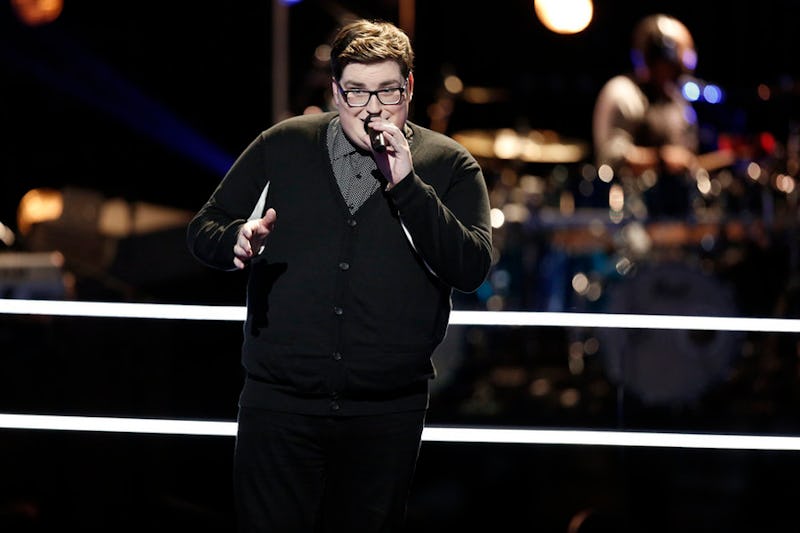 If there's anyone who has stood out on The Voice Season 9 it's Jordan Smith. The Harlan, Kentucky native stunned coaches during the Blind Auditions last month, earned a four-chair turn, and landed on Adam Levine's team. You can judge his talent for yourself by watching the best Jordan Smith covers from The Voice and even before he appeared on the NBC vocal competition show. Last week, Smith aced the Battle Round against teammate Regina Love, signing Sam Smith's song "Like I Can." "We wanted to make it so that the coaches had no excuses to get rid of either one of us," Smith told Kentucky.com and that's just how it went down — Gwen Stefani wound up using her steal on Love.
"I was intimidated and I was super excited. Most of all, I knew we were going to do something special," Smith said of the Battle Round. He is currently a student at Lee University in Cleveland, Tennessee, but is taking this semester off and working as a substitute teacher, you know, just in case he needs to head to Los Angeles for the live shows round, according to Kentucky.com. But, even if he doesn't make it that far, that doesn't mean he's not mega talented. On The Voice and before the show, Smith has been singing come killer covers of songs that must be heard. Check out some of the best below.
1. "Chandelier"
The one that started it all. This cover of the hit Sia song blew the coaches away, turning all four of their chairs, and it even inspired a reaction video by Korean TV.
2. "Like I Can"
One Smith covering another — Jordan Smith told Kentucky.com that his and Love's goal for this song was to give Levine a very hard time choosing between them. "We spent a lot of personal time together, and honestly we became really great friends," Smith said of Love. "We have similar beliefs and come from similar backgrounds. We prayed together a number of times."
3. "Take Me To The King"
Back in Kentucky, Smith was part of the Southeast Kentucky Mass Choir. In 2014, he led the choir as they sang this gospel song originally sung by Tamela Mann.
4. "Didn't I"
According to the video's caption, Smith sang this tune in church in May 2010.
5. "Stay"
In this 2013 video, Smith sang the Sara Barreilles song at his college and totally killed it. The video is shot from the back of the auditorium, but his voice carries everywhere and he even gets many cheers from the audience when it comes to the high notes.
6. "Jingle Bells"
Here's Smith covering an oldie, but goody with his college a capella singing group in a 2014 video. Perhaps a holiday album could be in his future!
Image: Tyler Golden/NBC