11 Great Halloween Films From Your Youth, Ranked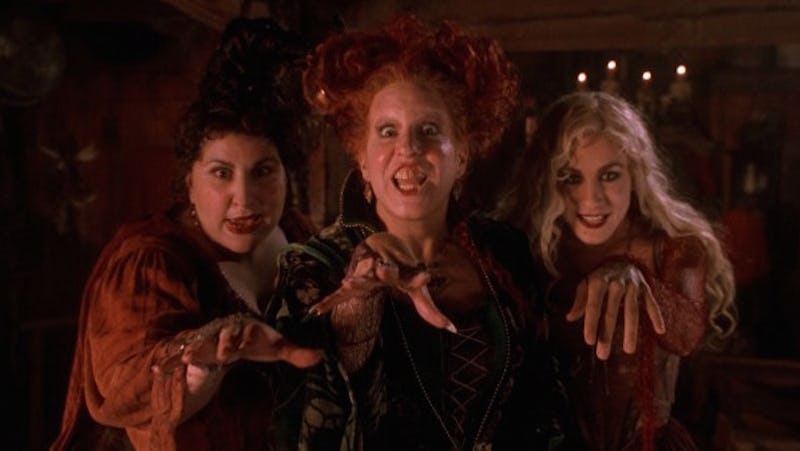 There's something about the Halloween season that really brings out your inner child. That's why, every year, you want to plug in some of your favorite Halloween '90s movies and relive all the psuedo-spookiness of claymation skeletons and baby witches. However, time sometimes isn't kind to the things you once loved, and that's why it's fair to say that some Halloween films don't age as well as others.
Whether it's a depleted scare-factor or too much hokiness, some of your old-time favs just don't hold up like they used to. And, in fact, I decided to rank a selection of Halloween flicks to judge their rewatchability. Now, mind you, I followed a set of rules when determining which films to judge. For one thing, no sequels are allowed on the list, because I'm not going to rank 23 Halloweentown films. I'm just not. Also, the film has to at least dedicate some screen time to Halloween, or the idea of Halloween, even if it isn't the core element of the movie. Finally, the film had to be under a PG-13 rating, which all of the following definitely are.
So here are a handful of childhood Halloween-themed flicks. Here is how they stack up in the lens of a grown-up.
11. Wallace and Gromit: Curse Of The Were-Rabbit
Halloween is more-so hinted in this film (plenty of pumpkins) rather than it being the focal point. Beyond that, ultimately your sense of humor falls in line with the very British and very silly Wallace and Gromit brand of comedy, or it doesn't. If it doesn't, being a child or being an adult will not affect whether you like this movie or not. Incidentally, I'm a fan, I'm just saying.
10. The Worst Witch
The Worst Witch has weird dreaminess of Tim Curry (look at the stud muffin) to the plausibility that Fairuza Balk's presence here makes it basically a prequel to The Craft... except not at all. Ultimately, though, the problem with The Worst Witch is that it is very dated, and much harder to find than your average Halloween fare. Unless you're me, you're basically gonna watch Harry Potter or The Craft, and call it a day.
9. The Adventures of Ichabod and Mr. Toad
Hey man, I love this vintage cartoon re-telling of the classic Headless Horseman story. This would rank higher (lower?) if I was being a little more subjective. However, most millennials aren't about to claim a film from the '40s as their own, and, if anything, they'll pick out Tim Burton's Sleepy Hollow if they want anything retro. I still recommend it as something to watch, though.
8. Double Trouble, Toil and Trouble
There are some genuinely charming things within the film, like the double dose of Cloris Leachman, the witches' gathering, and pretty much the entire entourage of older men. Actually, although Mary-Kate and Ashley Olsen were without a doubt the draw to watch this film as a child, watching it as an adult makes you appreciate the rest of the movie instead.
7. Casper
There's enough good in this movie (and a killer performance by Christina Ricci as per usual) to make it at least somewhat watchable when you get older... if it's already on television.
6. E.T.
E.T. is a wonderful film with a very iconic Halloween scene. Halloween isn't really the crux of the movie, but, with the alien and all, it still fits into the season. However, as wonderful as E.T. is, it's Halloween rewatchability as an adult is tricky. It's not really on the short list of Halloween must-watches, and, more than that, it's likely to either make you recoil (when E.T. gets sick) or bawl (when E.T. goes home).
5. Halloweentown
I feel like, every year, Halloweentown and Hocus Pocus go to fisticuffs over which is the ultimate Halloween movie, and, hey, Halloweentown puts up a great fight. I can relate to being your classic weird girl who's obsessed with this season, and I would be thrilled if I could live life like that all year (um, with it being socially acceptable). However, at the end of the day, I really feel like this film has less staying power than Hocus Pocus. Here is why.
4. Hocus Pocus
Hocus Pocus has Bette Midler.
It's also just a wonderful piece of work. Even as someone who didn't grow up with the film, I was quite (ahem) charmed by it.
3. It's The Great Pumpkin, Charlie Brown
Is this more of a Halloween special than an actual movie...? Who cares. It's an adorable classic that manages to transport you to a simpler time of Halloween. You may not always go out of your way to see it, but you're always grateful that it exists.
2. The Addams Family
OK, there's only one scene directed toward Halloween in the entire film, but the Addams family always embodied the season. Subsequently, the 1990s Addams revival movie is a perpetual must-watch pick. In fact, The Addams Family is a film that I dedicate great fanfare to every year, waiting with baited breath for October so I can really sink my fangs into it. It's ooky and spooky and everything that's right about this time of the year. But there's another film the truly takes the pumpkin-flavored cake.
1. The Nightmare Before Christmas
"What? But this is a Christmas movie." There is a great debate on the Internet about when this movie is appropriate to watch, and, in all honesty, yeah, I put it on closer to Christmas, too. However, my view is this: you get two holidays for the price of one. You have an entire world dedicated to the exquisite art of Halloween. You have baller music and stunning stop-action graphics. Nightmare Before Christmas is a fantastic movie for all occasions, and that's why it's winning the most rewatchable Halloween flick crown.
All hail the Pumpkin King.
Images: Buena Vista Pictures (1); Giphy (11)