Could Rory And Jess Reunite On Netflix?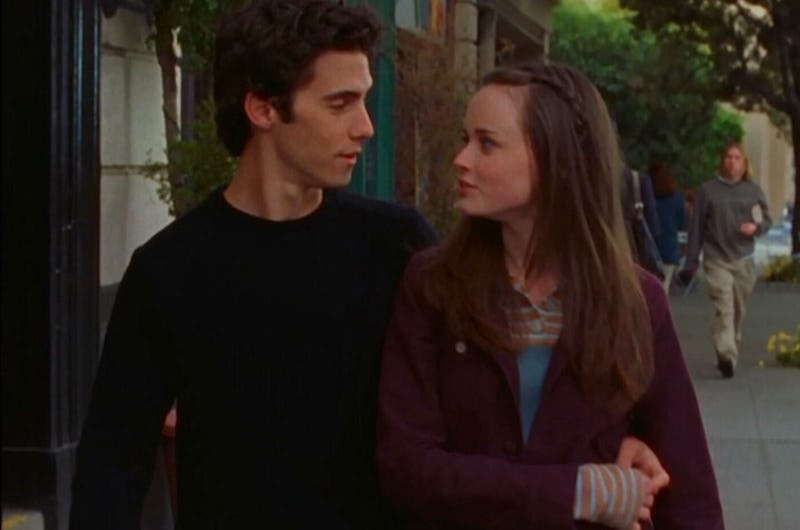 Once upon a time, shows that were cut down too soon stayed dead, and fans were left to ponder what could have become of their favorite characters who we lost too soon. Now there's an answer for all of these long-lost TV shows, and that answer is a potential revival on a streaming service. Arrested Development already got the Netflix treatment with additional seasons of the comedy being released online, and now a spin-off of Full House featuring grownup versions of the Tanner girls is also headed our way thanks to the service. But while we know that Netflix is basically the fairy godmother of cancelled television shows, nothing could have prepared us for this news: according to TVLine, Gilmore Girls is allegedly getting a Netflix revival. Though reps for Warner Bros. and Netflix have yet to confirm the news, the alleged new episodes of Gilmore Girls headed to Netflix is almost too much to bear — especially because of what it could mean for Jess and Rory. Update: TV Line reports that there will be an eight-year time jump and that all of Rory's boys will be back for the show!
Earlier: First, a refresher: Rory and Jess were star-crossed lovers who first met when Rory was still dating her sweet, but ultimately wrong for her high school boyfriend Dean. Despite her relationship with Dean, Rory fell hard for Jess due to his passionate love of books, sense of mystery, and James Dean-esque charm. (What teen heroine wouldn't fall for those things?) Unfortunately, Jess and Rory never quite made things work: Jess had his own issues he needed to deal with, and by the time he did, Rory was already in love with her college boyfriend Logan. (FYI, while I know plenty of people willing to wave their flags in the air for Dean and Rory, I'm pretty sure that even the most hardcore Dory shippers would pick Jess as the better suitor than freakin' Logan.)
But, you know: Rory and Jess forever.
So what about this alleged Netflix revival of Gilmore Girls that makes me hold out hope for a Rory and Jess reunion? Well, for one thing, if the rumors are true, this series will be penned by Amy Sherman-Palladino, the creator of the series that left due to contract disputes with Warner Bros. Sherman -Palladino left after Season 6, which was also the last season where we saw Jess pop up in Rory's life. Ultimately, she went back to Logan, but you can't deny the chemistry of this final scene:
Had Sherman-Palladino worked on Season 7, I like to think that Jess and Rory would have gotten their fair shot. Now, there's no real reason why they can't. Rory turned down Logan's marriage proposal in the series finale, ending their relationship for good. Clearly Jess and Rory were an important, vital part of the Gilmore Girls universe to Sherman-Palladino (the only person who really matters in this situation), and if the series does get a continuation at her hands, Rory could come running into Jess' independent bookstore and declare her love for the brooding (former) bad boy once and for all.
I mean, come on... I think it's time we get this back in our lives:
Bustle reached out to Netflix, who stated that they are not commenting on the Gilmore Girls revival.
Images: The WB (screenshot); Giphy (2)