Is More 'Full House' Coming Our Way?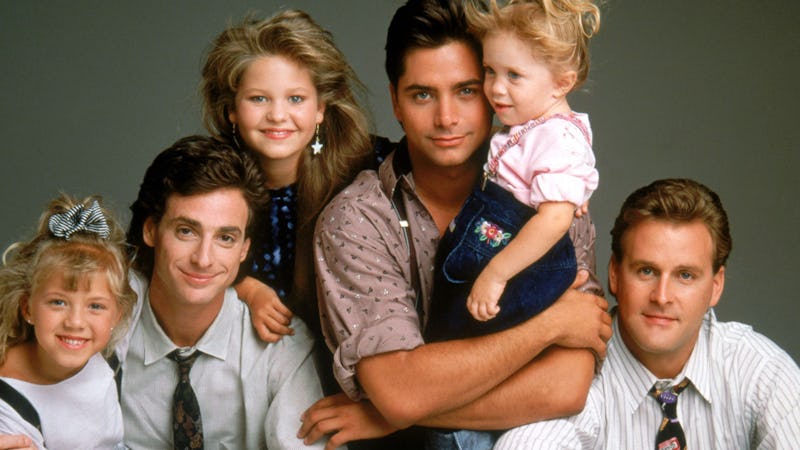 UPDATE: On April 20, John Stamos announced that Fuller House had received a 13 episode order from Netflix. It's actually happening, you guys. There's still no word on whether the entire original cast will get back together for the season premiere, but the series proper will follow DJ, Kimmy, and Stephanie after the three women move in together to care for all their children together.
After nearly 20 years, Full House and the gang might be returning to TV... but it's not what you think. A new report reveals that a Full House spinoff titled Fuller House, featuring D.J. Tanner and Kimmy Gibbler, is coming to Netflix as part of the streaming service's slate of original programming. In the past, there have been some telltale signs of a comeback, but now it looks like the show is finally ready to fulfill its promise by being "everywhere we go" and "everywhere we look." It'll soon be "everywhere we stream," we hope, but the WB and Netflix have declined to confirm the news.
The spinoff will allegedly be titled Fuller House and, according to TV Line, actresses Candace Cameron Bure (D.J.) and Andrea Barber (Kimmy) are not the only ones who will supposedly reprise their beloved sitcom roles. Original series stars John Stamos (Uncle Jesse), Bob Saget (Danny Tanner) and Dave Coulier (Uncle Joey) are reportedly being considered to return in guest appearances. Lord have mercy! Jeff Franklin, the man who created Full House, is reportedly back as executive producer, along with the show's original EPs Thomas L. Miller and Robert L. Boyett.
If you've been living under a rock, we're currently in the middle of a massive explosion of nostalgic reboots. The X-Files (ended in 2002), Twin Peaks (ended in 1991) and Boy Meets World (ended in 2000) are some of the TV shows from our younger years returning to the small screen in their respective revivals. The Disney Channel has already begun airing Girl Meets World, a sequel series featuring the children of original characters Cory and Topanga. Full House seems like another logical one to receive the same treatment.
If you think about it, though, Cameron and Barber have been making headlines in the blogosphere for being such good friends even after all these years. Stamos has also been the spokesman for Dannon Oikos, whose commercial went viral during the Super Bowl. Not to mention any time they get together — like, ever — the cast makes headlines. People love Full House . And can you blame them?
Images: ABC; Rebloggy