Bradley Cooper Is One Delicious Chef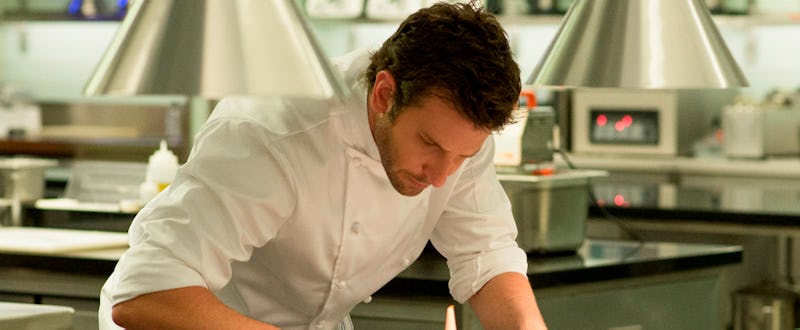 I love a man who can cook, and with new new kitchen-centric movie Burnt, Bradley Cooper further cements his place in my heart. The Oscar nominee plays a hot-headed chef named Adam Jones who loses his restaurant in Paris due to bad behavior, then moves to London in an attempt to reinvent himself and reclaim his title as a top name in cuisine. The plot certainly has the potential for a great narrative, but is Burnt based on a true story? The film makes frequent mention of the Michelin star (an actual accolade for restaurants), so it's not unrealistic to think that Burnt might be made from some real-life ingredients.
Actually, though, the film was whipped up entirely from the imagination of screenwriter Steven Knight, whose former credits include everything from Locke to Peaky Blinders to Who Wants To Be A Millionaire? Still, there are plenty of real-life chefs with big personalities who could've inspired the story. Gordon Ramsay, for example, is known for his foul mouth as much as he is for his multiple restaurants; Buddy Valastro of Carlo's Bakery has shown on Cake Boss that his temper can run as hot as his ovens. It's no surprise that networks have given shows to these rowdy restauranteurs, and the film industry has similarly made many a movie about idiosyncratic chefs. Here are a few great ones— some real, some as imaginary as a pie in the sky.
Amy Adams, Meryl Streep, and a screenplay by Nora Ephron are the ingredients for this sweet comedy. Streep's portrayal of Julia Child is spot-on.
This documentary about famed sushi chef Jiro Ono will leave you craving nigiri for days.
The subtitles are totally worth it for the mouthwatering visuals in this romantic comedy about a chef and his three daughters.
Even if you hate rodents, I challenge you to not fall in love with this adorable movie about a Parisian rat who has high culinary aspirations.
Michelin stars are also an ingredient in this comedy starring Helen Mirren (with a flawless French accent).
Don't be turned off by the cheesy promo; this famous film is a must-see for any foodie. The scene about the correct way to eat ramen is life-changing.
Fun fact: Burnt had the original title Chef until this food truck comedy was released, causing the Weinstein Company to come up with an alternate name for the Bradley Cooper project.
These movies are all both entertaining and mouth-watering, so you'll definitely want to have some snacks nearby when you watch! And if you still haven't had your fill of films about chefs (or if you just want some additional eye candy), check out Bradley Cooper in Burnt when it hits theaters Oct. 23.
Image: The Weinstein Company