Amy Vachal Wins The Dreaded 2 on 1 'Voice' Battle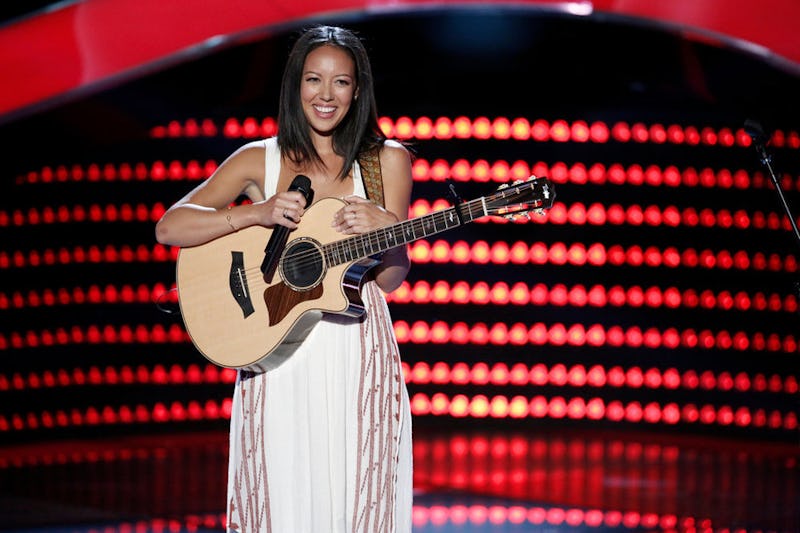 Props to any solo artist on The Voice who is forced to step into the ring of the Battle Rounds with a duo. Though it's an unfortunate fate I'd never wish on anyone, Amy Vachal handled her 2 on 1 battle against Jubal + Amanda with grace. So much grace that she knocked her performance out of the park and took home the win. Seriously, that battle wasn't easy — how is one supposed to hold their own when singing a love song with a recently engaged couple? Vachal was the third wheel, but she was that squeaky wheel that you just can't ignore. The aspiring folk singer was able to make her voice stand out in the trio to earn the win. There's no doubt that this is a sign of things to come for Vachal on The Voice — no matter what challenges come her way, she'll always come out on top.
As soon as I heard Vachal start singing in her Battle Round, I knew she would be victorious. Her sound is so pure and easy to listen to. The crisp qualities of her tone came out even more clearly when up against the raspy, country-rock sound of Jubal + Amanda. While their performance was passionate, Vachal's was angelic. Her voice rose above the duo's and was all you could hear when the three were singing in unison. In the end, it was Vachal who really earned her spot in the Knockout Rounds and coach Pharrell was right to give that chance for her.
Now that she proved she can beat out a duo, will Vachal continue to beat out the competition? She definitely has what it takes. This season has quite a few rockers, country singers and pop artists, but it's lacking artists with such a pure talent. If Vachal can make her performances stand out, then her voice definitely has the power to bring her far in this competition.
Image: Tyler Golden/NBC