Halloween Costumes For Denim Enthusiasts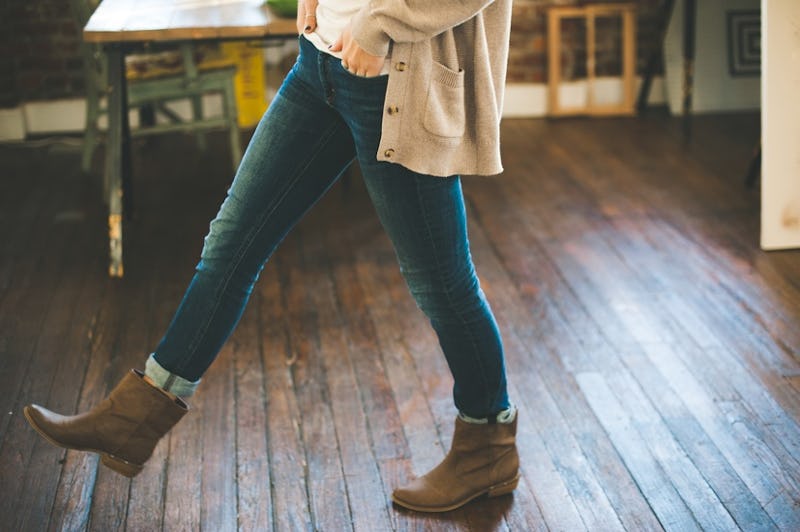 There's no denying that finding a last minute Halloween costume is stressful. Especially when not-so-helpful last minute guides suggest you just break out that ball gown you've been storing for a random occasion — except who actually has that kind of thing laying around? One thing you're way more likely to have laying around is denim. Especially with this '90s fashion obsession our generation seems to have these days, odds are you've got jeans of all styles (boyfriend jeans, flares, distressed) and denim jackets, vests, even shirts in your closet. So why not put them to good use this Halloween? They're comfortable, warm enough for the rough October weather, and can be a key part in so many different costume ideas.
Denim, in its many forms, has been the source of some seriously iconic looks — one of the best sources for a great Halloween costume. All you have to do is decide whether you're looking for something funny, something a fashionable, or a little bit of both. Denim is incredibly diverse and perfect for fall; it can be dressed up or dressed down as well. Take a look at these seven different denim-heavy looks and have your Halloween costume ready in no time.
1. Tyra Banks on Fresh Prince of Bel-Air
Although Tyra only guest starred on one episode, stylistically that was all we needed. A simple denim-on-denim get-up and we were hooked. Replicate the look with some baggy 'mom jeans,' denim vest, and no BS attitude.
The Perfect Denim
MOTO Vintage Mom Jeans, $20, Topshop
2. Rihanna in "Four Five Seconds"
This sexy, sleek look is easy to achieve and easily recognizable. Belt your favorite oversized denim jacket or shirt, throw on a pair of jeans, and grease back that hair.
The Perfect Denim
Denim Girlfriend Jacket, $72, ASOS
3. Farrah Fawcett
Be a '70s queen with some dark flared denim — and flared hair to match, a la Farrah Fawcett.
The Perfect Denim
Stevie Flare Jeans, $68, Nastygal
4. Britney & Justin Circa 2001
I don't think there is a more iconic denim moment that has taken place in our lifetime. If you have a brave companion to take on the role of JT — it's time to break out all the stops. I'm talking matching denim everything.
The Perfect Denim
H&M Lyocell Shirt Dress, $25, H&M
5. Rosie The Riveter
Fun and feminist! The perfect Halloween costume. Tie your hair up with a bandana and flex those muscles all night.
The Perfect Denim
Chambray Button-Down Shirt, $39, Urban Outfitters
6. Jessica Simpson As Daisy Duke
Tied-up plaid shirt and big curls are a must.
The Perfect Denim
Distressed Daisy Dukes Shorts, $30, Etsy
7. Madonna
An image of '80s perfection. Tease your hair and distress your denim, and you've got the perfect Madonna-inspired look.
The Perfect Denim
Distressed Boyfriend Jeans, $30, Forever 21
Costumes as easy and as comfy as a pair of jeans. Can't beat that.
Images: Courtesy Brands; Pexels