Is This Who Liz Taylor From 'AHS' Is Based On?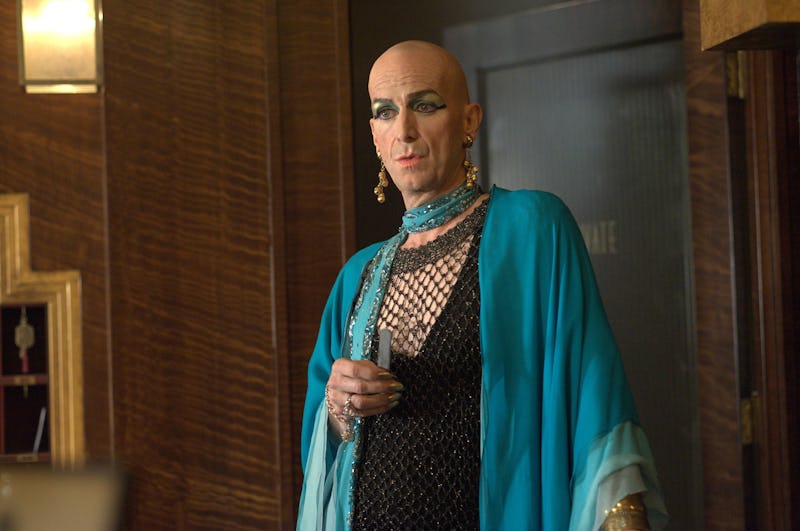 If you've watched this season of American Horror Story: Hotel , you know that the show is trying very, very hard to shock you — and it's likely working. From The Countess' daily blood baths to surprise visits from the vicious "Addiction Demon," the Hotel Cortez has already given us plenty of jaw-dropping moments. Shock is a part of the DNA of AHS: Hotel, but while the average viewer may be taken aback by the show's unrelenting brutality, the person most surprised by this season is the one who saw their apparent reflection on the television screen. That person is drag queen Constance Cooper, who looks an awful lot like Denis O'Hare's Liz Taylor — and may be the show's source of inspiration. He told Bustle about his reaction to learning about O'Hare's new character, and how much Liz Taylor looked like himself.
"[My reaction] was shock," Constance Cooper (known as Robert Sherman when not in drag) says of seeing a photo of O'Hare as Liz on Facebook. "It so looked just like me. And then when I looked at the bottom of the picture, at the description, which said that the character was a fixture at the hotel bar, then it was more than obvious."
Cooper himself is a fixture at the Bar Marmont, the bar connected to Los Angeles' infamous Chateau Marmont. You don't have to be a Los Angeles resident to know that name: It is the same place where John Belushi died and Lindsay Lohan got in plenty of trouble. Recently, Lana Del Rey name dropped it in her music, further solidifying it as an icon of Hollywood. Cooper has worked at the Marmont for 20 years, beginning with the opening of the Bar Marmont in 1995. The drag queen, who like Liz Taylor is bald but does not wear a wig, currently hosts Thursday nights at the Bar Marmont, where he immerses his guests in a warm-yet-glamorous environment — a place where, as he puts it, his older guests aren't "forced to listen to Rihanna." He is a memorable host, both for his hospitality and his style — a style that was seemingly paid homage to on American Horror Story: Hotel.
Bustle reached out to FX for comment and has not yet received a reply, but the proof seems to be in the picture. As Cooper puts it, "When was [the movie star] Liz Taylor bald, except for when he had cancer? I mean, how many bald drag queen hosts at a hotel bar have you seen?"
Cooper's profession puts his in contact with A-List celebrities, including some from the creative team of American Horror Story. Though he has yet to meet O'Hare, he has interacted with the person calling the shots on the series: "Ryan Murphy, the creator [of American Horror Story] has been going to the hotel for years. He's seen me forever," says Cooper when asked if there was any connection between his and the show. Discretion is crucial at the Marmont, of course — the place still has the air of "what happens here, stays here" — but ironically, that may not have been the case for Cooper's image.
That's not to say that he isn't flattered by the homage. "Artists are inspired by other people, that's how they make their art," says Cooper of the show's possible use of his image. Cooper himself knows that better than most: As Robert Sherman, he modeled for famed photographer Robert Mapplethorpe in the '70s and became a part of images that were celebrated by the art world. As the late photographer's former model, he took part in a symposium about his work, 25 years after his controversial exhibit The Perfect Moment. Perhaps it is these details about Cooper's life that made his such an interesting subject to replicate onscreen — assuming that is the case, of course.
Though we have yet to learn if the similarities between Liz and Cooper extend beyond than just their style and profession, Bustle had to ask if working at the Marmont was anything like the Hotel Cortez. The Chateau Marmont may not have a history quite as violent as the Hotel Cortez, but it does have a few legends of famous ghosts to compete with the Cortez. Cooper insists that he hasn't heard any stories of ghosts haunting the hotel, but did say that the Bar Marmont may be a different story:
"[I haven't heard] stories of John Belushi or anything in particular, but things like bottles moving, things falling over that are way in the back, just things like that," Cooper claims. Fortunately for Cooper, he hasn't seen anything firsthand — which, hopefully, remains the biggest difference between Cooper and O'Hare's character.
Want to see Cooper in action? Los Angeles residents can get their own dose of glamour at the Bar Marmont on Thursday nights. As for the ghost sightings, well... only if you are lucky.
Image: Suzanne Tenner/FX