This "Humans Of New York" Photo Is So Powerful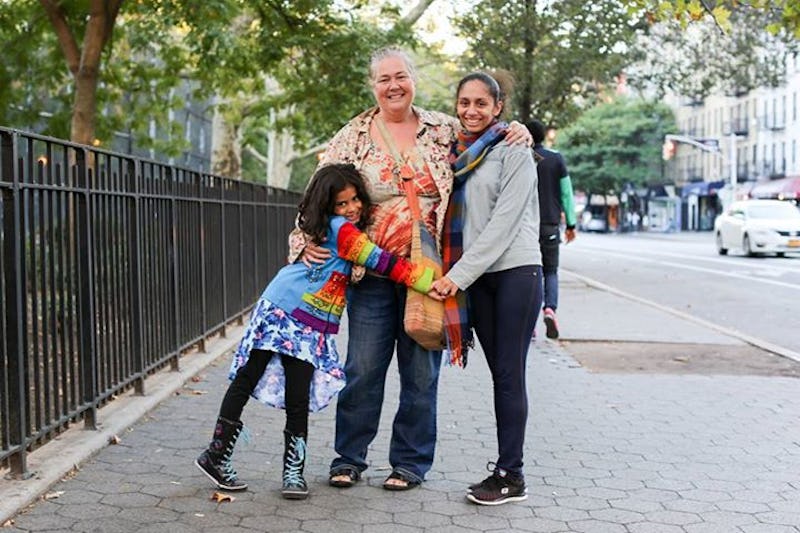 I know this will come as a shock to absolutely no one, but this "Humans of New York" photo of a foster mom and her two children hit me right in the feels. Being a mother can be the most frustrating and the most rewarding job in the world. I adore my children and I know I'm lucky to have them, but there are times when they push my buttons—lots of times. Pretty much every day, bless their hearts. Still, they are pieces of my heart, and I can't imagine the pain and emptiness they might feel if they didn't have my love.
Reading what this mother had to say about giving older foster kids a chance was important on so many levels. These kids are often taken out and then sent back into the system multiple times, by the time they are in their teens. Can you imagine how hard it must be on them, to face that kind of rejection? Hell, I grab a tissue and a cupcake when a piece of my writing is rejected, and these kids are being shut down for who they are. It's terrible, when you stop to think about it. Actually, it doesn't even require that much pause to realize how all-around tough their situation is.
That's why foster parents who take in and love these children—and keep them despite the button pushing—are such heroes.
This woman says something that is incredibly powerful and true:
"People expect foster children to be grateful and well behaved and respectful. But...They are going to push your buttons just like any other teenager, and they are going to force you to deal with your own issues."
Of course they are. I mean, it only makes sense, when you think about it. But how many people actually do stop to think about it? How many people, when they take these kids on, are really prepared for their buttons to be pushed? It must be hard, in fact, judging by the comments on this "Humans Of New York" photo made by other foster parents, even when they are prepared.
Even more touching are the testaments—from now-grown adults—of the transformative power of a foster parent's acceptance and love earlier in their lives. People sharing that, had they not been given that support from awesome people like the woman in this photo, they might not have grown up to be as successful as they are now.
According to the U.S. Department of Health and Human Services' Children's Bureau, approximately 415,129 children were in foster care, as of September 2014. Of that number, 38 percent are between 11-20 years old.
So cheers to the foster parents out there like this woman, who are telling kids that they matter, despite the rejection that they've faced; who are out there who are telling kids that they are loved, and worthy. You are making a difference.
Oh, you thought I was done slapping you with emotion? Nope. Here's the daughter:
OK, now I'm done.
Image: Humans Of New York/Facebook(2)