New 'PLL' Season 6B Spoby Pic Says A Lot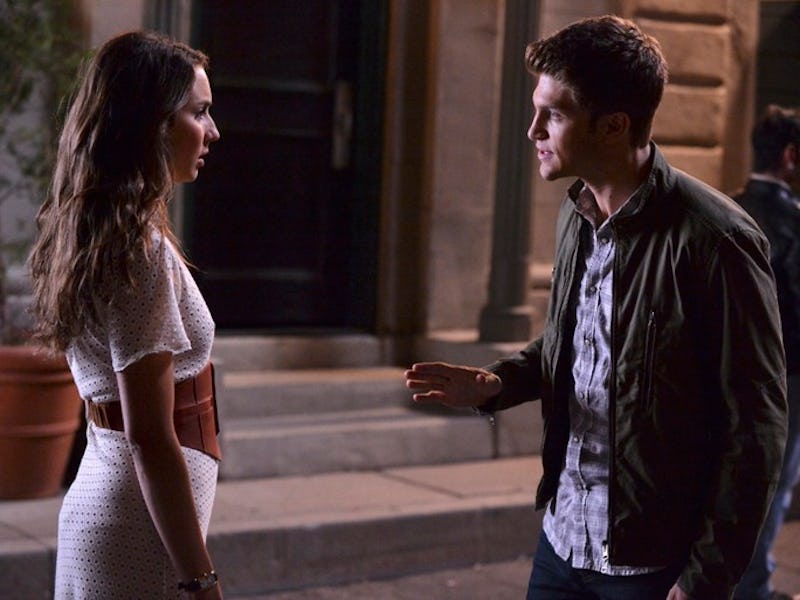 The Pretty Little Liars Season 6B premiere seems like forever away (FYI, it's Jan. 12, 2016), so when creator I. Marlene King posts behind-the-scenes pictures on Instagram of the new season, well, fans are very grateful — including myself. On Thursday, King posted a picture of Spencer and Toby from Season 6B. In addition to seeing Toby out of his police uniform (is he still a cop?) and Spencer sporting bangs and Converse, King captioned the photo as follows: "#TBT to a scene we shot for 6B. #sleuthing #prettylittleliars #fiveyearslater #Spoby."
Well, if fans should expect anything when PLL returns in winter, it's that Specer and Toby are sleuths and still doing the detective work they're so good at. With that said, just because the beloved couple is in the same room and seemingly working together to solve whatever mystery is ahead, that doesn't mean they're a couple.
The promo for the second half of Season 6, didn't show Spencer and Toby in any scenes together, which might mean they're no longer together. Seeing as there is a time jump of five years, a lot can change and happen in that time period, including Spoby exploring other romantic options, not to mention focusing on their careers.
Troian Bellisario teased Spoby spoilers to People and said, "You're going to have to watch and find out. Things are very different, I will say that." Hmm... just how different? Well, she also revealed that Toby is still doing police work, whereas Spencer attended Georgetown and studied abroad at Oxford creating a political career for herself. That could easily be enough to end a relationship or put a pin in it.
"He [Toby] is still a cop, but he lives in Rosewood, she lives in Washington, D.C., so there's a very complicated and long history between them," Bellisario told People about Spoby's relationship in Season 6B. "And that doesn't often lead to a very good relationship."
Whether they're still together, taking a break (hopefully it's not like Ross and Rachel), dunzo for good, or will be reunited in Rosewood, King told TVLine, "There's a fun 'Spoby' scene in the season premiere."
Regardless of what happens, It's good to know fans can still expect Spencer and Toby scenes.
Images: Eric McCandless/ABC Family