What Is Ezra Up To In The Time Jump?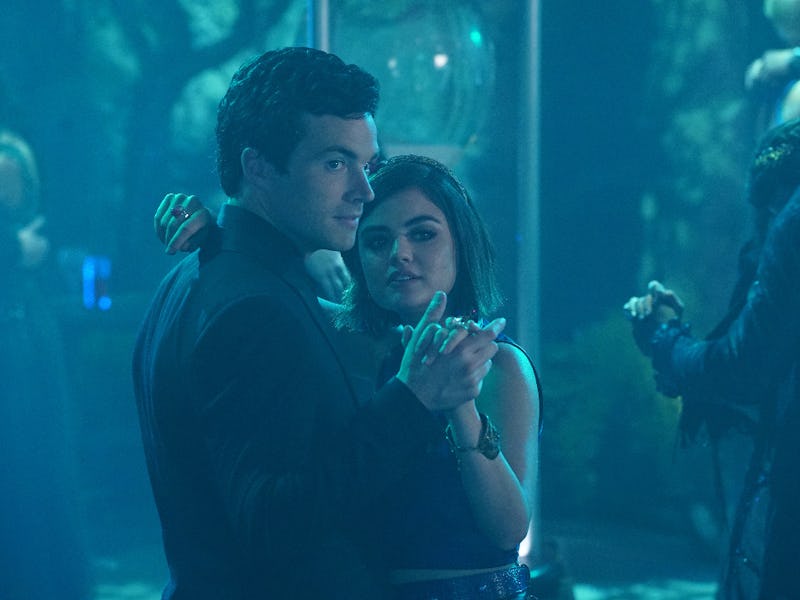 After that intense Pretty Little Liars finale and the fact that CeCe Drake is Charles DiLaurentis, there needs to be a discussion about the PLL time jump. If you happened to miss the 6B promo after the finale, then you need to watch it, stat. FYI, it's posted below. Also, pay attention very carefully, because, once again, Ezra Fitz is super sketchy in the promo for Pretty Little Liars Season 6B. Surprise, surprise. When isn't Ezra a suspect or coming off as a shady character? Remember that time he basically spied on Aria, aka the love of his life, and her friends to write a book? Yeah, that happened. Anyways, what exactly is Ezra up to in the time jump?
If you watch below, you can hear what appears to be Aria saying, "I know you did this to protect me." Then, there's what seems to be a surveillance camera zooming in on what looks to be Ezra and Aria. Most importantly, it also seems Ezra is sporting some scruff. I guess when you "grow up" on PLL that means it's time for a beard.
Anyways, the short snippet of Ezria is both a happy and an ominous moment. First, Aria and Ezra might be together in the future. Can Ezria fans rejoice that their favorite PLL couple are officially united as one? Eh. It's hard to say. Something sketchy seems to be going on and that doesn't bode well. What exactly did Ezra do to protect Aria? She seems pretty somber, so he may have done something as terrible as killed someone to help her out. (This show does love a good murder.)
Whatever it was, leave it to Ezra (and his beard) to cause all kinds of drama — and creepiness. For more on Ezra and his mysterious ways, check out Bustle's latest PLL podcast below:
Images: Eric McCandless/ABC Family