9 Awesome Fall Decorations From Your Yard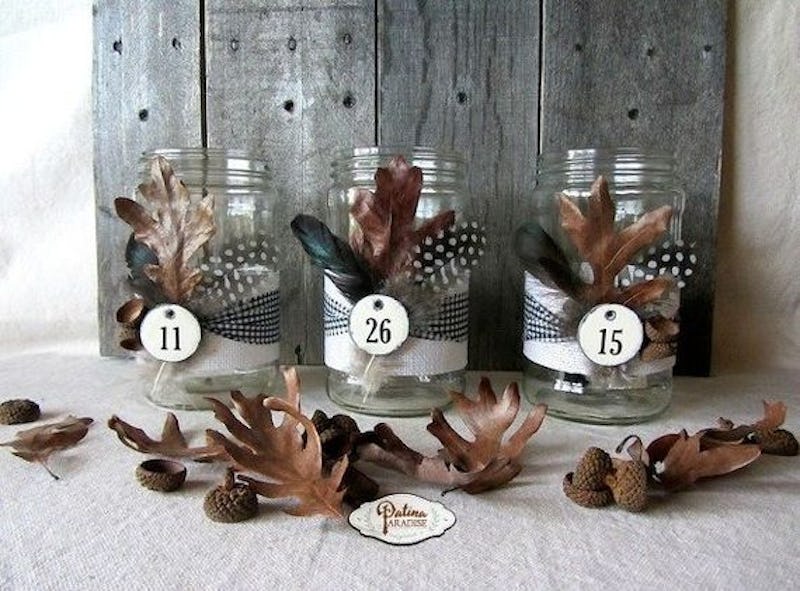 Aside from the food, Halloween, and pumpkin spice lattes, the best part of autumn is all of the fall decorating ideas at your disposal. The color scheme alone is enough to get you excited — all of those rich reds, yellows, oranges, and browns have magical powers to instantly make a small space feel extra cozy as the temperatures begin to drop. As for the other materials? It's time to get in touch with good old Mother Nature. One of the reasons why decorating for fall is so easy is because most of the things you need are readily available right outside your front door. Go ahead and grab those changing leaves. Hometalk has compiled the best autumnal DIY projects to make using stuff you will find in your backyard.
It's easy to go shopping for autumn decorations at the craft store or any home goods hub, but there is a much better space to stock up on fall decor — your backyard. The natural color and texture of pine cones, acorns, and bright leaves makes them the only fall frosting your home needs. Outdoor goodies are free, as close to home as possible, and can look amazing, once you try these brilliant DIY projects from Hometalk bloggers. It wouldn't be fall without colorful crunchy leaves everywhere, including inside your home.
1. Hang A Classic Colorful Leaf Hanging
Project via Patti @Garden Matter
Grab as many colorful leaves as your pockets can hold for this beautiful natural garland design. These bright decorations are perfect for framing windows, sitting across your mantel, or including in a dinner centerpiece.
2. Display Feathers In Vases And Centerpieces
Project via Chloe @Celebrate & Decorate
Don't forget — long pretty-patterned feathers are also a key part of any natural fall display. Keep an eye out for interesting feathers that you can add to your bouquet (after some cleaning).
3. Make A Sweet Sign With Gilded Acorns
Project via Bre @Average but Inspired
Acorns are everywhere, they're free, and they look great with a splash of gold or silver. Add some shine to a few, and then add them to a sweet autumn sign.
4. Put Together A Rustic Repurposed Centerpiece
Project via Angie @Knick of Time
You can get a perfect rustic-chic look without spending a dime by mixing natural elements with antique and vintage pieces. If you need some supplies, you can find old bedsprings, display bowls, and anything else you need at your local thrift store.
5. Make A Fallen Leaf Wreath
Project via Tara @Just Call Me Homegirl
Wreaths packed with berries, flowers, leaves, and more make a sparkling first impression, but you can create just as much autumn charm with nothing but a wire hanger and leaves.
6. Line Decorative Candles With Leaves
Project via Heather @New House New Home
Dress up chunky candles with bright fall leaves with this simple wax technique. It's an easy update, but displayed on the mantel or coffee table, they add just the right amount of fall flair.
7. Decorate Plain Glass Jars With Natural Elements
Project via Lucy @Patina Paradise
Instead of displaying flowers, branches, or acorns in plain old glass vases, cover jars in fun fall elements. They also make excellent place markers for your Thanksgiving table.
8. Combine Elements For A Farmhouse-Glam Centerpiece
Project via Roxanne @The Honeycomb Home
Mixing and matching pumpkins, branches, and any other treasures you find on your yard scavenger hunt is a great way to evoke some farmhouse style.
When it comes to fall, there's literally no better way to decorate your home.
9. Collect Pine Cones For A Makeshift Vignette
Project via Mary @In the Boondocks
You can use pine cones as free decor all autumn long, especially if you're looking for a quick crowd-pleasing vignette. For a bright twist, throw in a string of beads and a few white pumpkins.
For more incredible fall ideas from brilliant bloggers, check out this brand new fall home page on Hometalk!