The Parents On 'Supergirl' Are Familiar Faces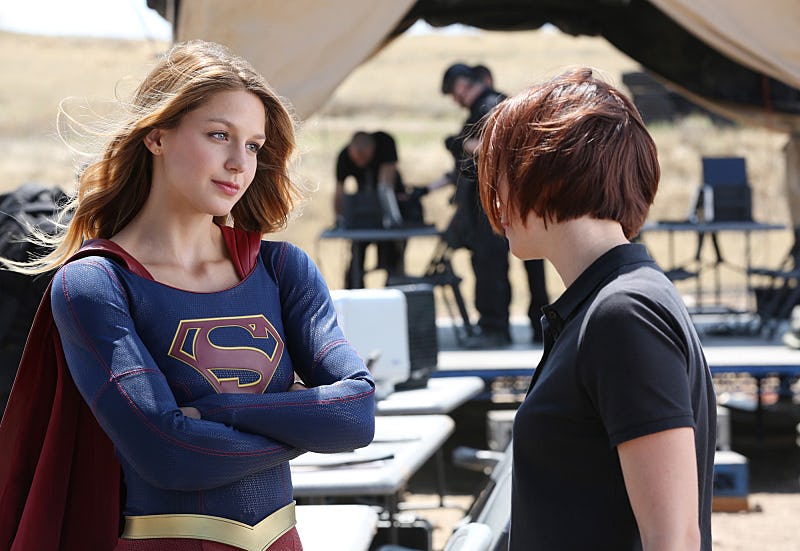 There are a lot of female heroes on television, including Emma Swan on Once Upon a Time and Daisy Johnson on Agents of S.H.I.E.L.D., who grew up as orphans in a foster care/adoption system. It's not out of bounds for a heroic origin story, but the new CBS series is putting an extra mythological twist on this trope with the casting of Kara Danvers' adoptive parents. Who played Jeremiah and Eliza Danvers on Supergirl , you ask? Why did your DC Comics-obsessed friend start screaming when they appeared on screen? The nice midwesterners who took Kara in are very familiar in a way that's so sweet and welcoming to this new series.
Kara's adoptive father is played by Dean Cain, who was Clark Kent/Superman himself in the 1990s television series Lois & Clark: The New Adventures of Superman alongside Terry Hatcher. His wife on the new Supergirl is played by Helen Slater, who was Kara Zor-El in the 1984 film Supergirl , and also played Superman's mother Lara-El on Smallville. Don't think two much about how Kara and Clark are cousins when it comes to this casting, because this is still super cool. The question now is, will they come back?
Having these two established actors in the Superman fandom is a nice Easter Egg that doesn't necessarily need to continue throughout the series, but it would be awesome if it did. I hope we see more of them. However, this casting was such a secret that the length of Dean Cain and Helen Slater's stay on the CBS series was not revealed. As guest stars, they are free to return, but we don't know if at all or for how many episodes.
If you ask me, there is definitely more to learn more about Alex and Kara's upbringing on Supergirl. I am very interested in their relationship as sisters, and the way that Alex's parents treated her after Kara came into the family could prove to be revealing. Still, even if their brief appearance in the pilot was all we get of the fellow members of the House of El, it was worth it.
Images: Cliff Lipson/CBS; Giphy (2)