8 Creepy TV Marathons To Watch On Halloween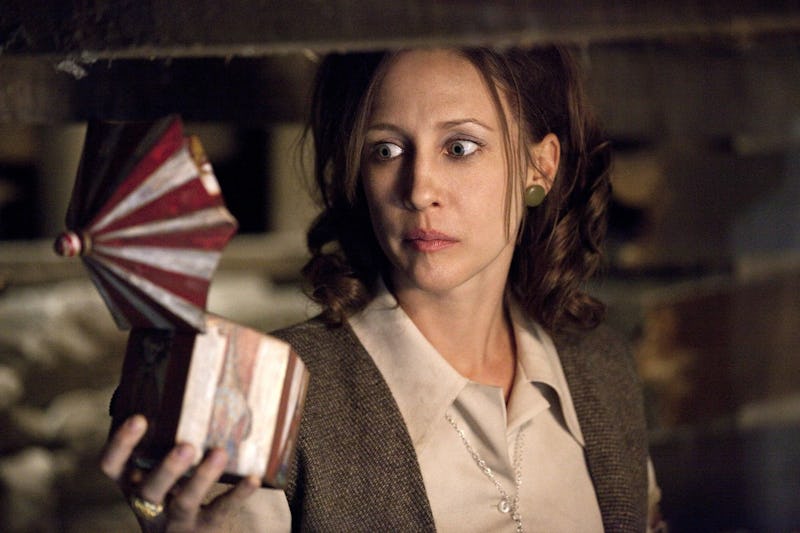 For those of us who love scary movies and TV shows, Halloween is the holiday of our dreams — and by dreams I mean nightmares, because those are just so much better. Although plenty of networks air creepy shows and horror films throughout the month of October, Halloween day will totally take it to the next level. There are multiple TV marathons on Halloween that will satisfy the needs of every horror fan. Whether you prefer supernatural thrillers, slasher films, or tales of real life hauntings, you can rest assured that there's a Halloween marathon for you.
In fact, I kind of want to cancel my Halloween plans and spend the night watching TV after looking at this killer line-up (pun intended — sorry, I had to). But, it looks like my TiVo will be having a busy night and I can spend Nov. 1 on the couch getting scared senseless. And, luckily, many of these marathons start early in the day so they can be watched as you get your costume ready and snack on fun-sized candy bars. Plus, if you're hosting a party, a lot of these would be perfect to have playing in the background for your guests to enjoy.
Here are 8 awesomely creepy Halloween marathons to check out on October 31:
1. Halloween Movie Marathon (AMC)
AMC's marathon of all the Halloween movies will kick off at 4:30pm with the classic 1978 film starring Jamie Lee Curtis. Is there anything creepier than a 6-year-old stabbing his sister to death? The answer is "yes," because he escapes from the mental hospital 15 years later just in time for a Halloween killing spree. AMC will also show the four follow-up films.
2. Stephen King Marathon (SPIKE)
Stephen King is basically synonymous with "scary," so it's fitting that SPIKE will show film adaptations of his books throughout the day. The marathon kicks off at 10:30 a.m. with It, and will be followed by the three-part miniseries Rose Red.
3. Scream Queens Marathon (FX)
If you need to catch up on Scream Queens (or simply want to re-watch every episode of this fun, kitschy horror comedy), FX will be showing every episode. The marathon starts at 6 p.m. with the pilot and concludes at midnight with the latest episode.
4. Movie Marathon (ABC Family)
We can always count on ABC Family to show our childhood favorites. Starting at 7:00 a.m., the network will air creepy movies all day long and the lineup includes Poltergeist, Sleepy Hollow, and of course multiple showings of Hocus Pocus.
5. Haunted History Marathon (The History Channel)
Do you prefer to get your scares from real life happenings? If so, you'll want to click on over to the History Channel marathon of Haunted History episodes, which begins at 10 a.m. The episodes airing on Halloween include explorations of the Salem Witch Trials, the Mad Butcher of Kingsbury Run, and multiple serial killers. The marathon ends at 6 p.m., but you can always stay tuned for the History Channel's special The Real Story of Halloween.
6. Most Terrifying Places In America & Ghost Adventures Marathon (The Travel Channel)
If you rise and shine by 7 a.m., you can start the Halloween scares while you drink your morning coffee. The Travel Channel is airing back-to-back episodes of Most Terrifying Places in America until 11 a.m., then switching gears to a marathon of Ghost Adventures that will continue all day and night.
7. Movie Marathon (Syfy TV)
Syfy TV's movie marathon kicks off at 8:30 a.m. with The Omen, and the network will show a variety of horror films all day and night including 1408, Insidious, The Texas Chainsaw Massacre, and The Conjuring.
8. Movie Marathon (MTV)
MTV will air The Craft at 4:50 p.m., followed by Scream 3, The Texas Chainsaw Massacre, and The Bride of Chucky.
With this wealth of options, I predict the horror junkies among us are gonna have a rough time choosing what to watch — and we may need to sleep with our lights on that night. Isn't Halloween just the best?
Images: New Line Cinema; Giphy (8)