'Nip/Tuck' Revival Would Have One Major Difference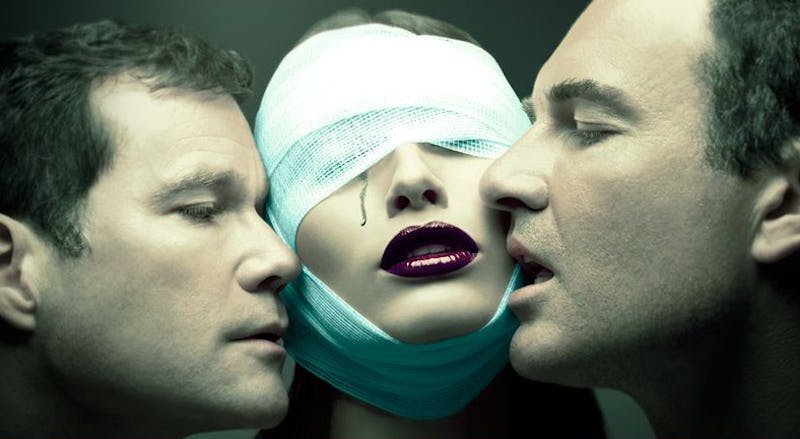 Ryan Murphy is probably one of the most prolific minds in Hollywood these days. The screenwriter, director, and producer behind the likes of Glee, American Horror Story, and the new hit series Scream Queens has certainly created some incredible shows that offer a little something for everyone, but there's one series of his I miss more than any others: Nip/Tuck. It ended back in 2010 after six seasons and 100 episodes, but even that was still too short a run for a show which dealt with the brutalities of plastic surgery and those who undergo the procedures in such painstakingly detailed ways that were also super addicting to watch. Now that some of audiences' favorite shows are getting reboots — The X-Files and Twin Peaks among them — could Nip/Tuck ever go the same way? It turns out, Murphy would consider a Nip/Tuck remake, but it would need one major change.
During a panel at Entertainment Weekly's EW Fest, Murphy admitted that he's open to the idea of a revival of the series, but there's one big difference we'd see the second time around: he'd do it with two women in the lead roles, instead. "I would get cool writers to do it, and I think I would redo that show now with two women," he said. "I loved the weird cases-of-the-week that were 99.9 percent of the time based on a real stuff. I love that. I miss that."
It's pretty exciting to imagine Dr. McNamara and Dr. Troy as women, and would likely give Nip/Tuck a whole new life while still remaining true to Murphy's original premise. Imagining a female McNamara trying to hold her family together and constantly being hit on by men, while Troy is the one using her charm to get new clients and also new bed partners is amazing, and I'd totally be on board for that show. The concept is far from dated and in fact is more vital than ever, so it could definitely work.
Of course, discussion about a Nip/Tuck reboot is purely theoretical, and given how full Murphy's plate is at the moment, I doubt it'll become a reality — at least not now. However, it's fun to think about, and if ever he's got a break in his schedule, I think we'd all be more than happy to tune in, right?
Images: FX (2)