'Supergirl' Doesn't Need Any Help To Be A Hero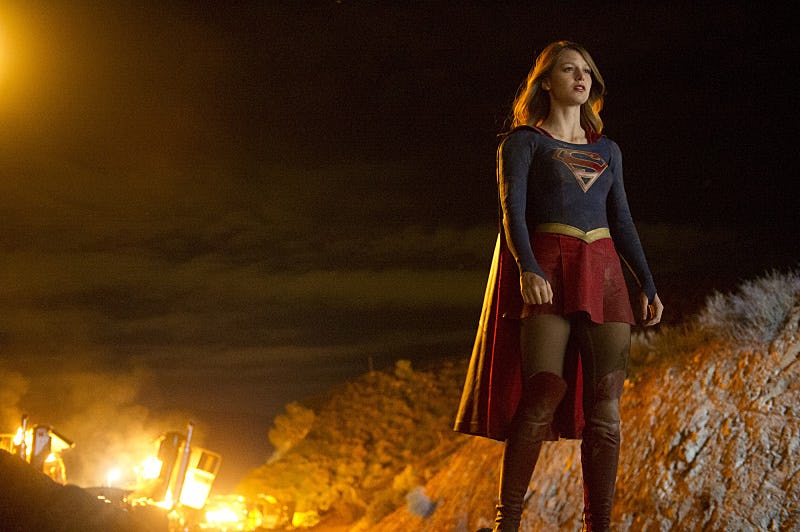 Does anyone else feel like they've been waiting for years to check out Supergirl on CBS? Well, the wait is finally over. The brand new cape-wearing heroine finally flies onto television this Monday night, and as far as we know, she's going to be the only cape-wearing hero on the screen. It's not a stretch to think that one day, Superman will appear on Supergirl , but actually, that's not the plan right now. For the time being, Supergirl will be saving the day without any help from Clark Kent.
First, I have to give a quick spoiler warning about the pilot of Supergirl. According to HitFix, Superman is "alluded to" in the series pilot, and DC Comics' Chief Creative Officer Geoff Johns told the website, "You won't see him exactly on screen. You will see him in the background, but he does play a part in her evolution of becoming a superhero." So Superman won't exactly be a character on Supergirl, it's more like viewers will know he's around, without ever really meeting him.
That seems like the right decision, because as the series' title tells you, this story is all about Supergirl, aka Kara Zor-El — not her cousin. In an interview with Entertainment Weekly, executive producer Ali Adler explained that Superman will be treated like the President on HBO's Veep, in that he is discussed, but never seen (though Kara will probably never ask, "Sue, did Superman call?"). "It's certainly [inspired by] so much of what Julia-Louis Dreyfus' character goes through," Adler said. "Ultimately, this is a show about Supergirl and we really want to see it through her lens."
Of course, this doesn't mean that Superman will never show up. Supergirl could run for many seasons and, once Kara is a firmly established character, bring in Clark Kent for a special episode two. Just don't look out for that to happen anytime soon. In the meantime, I'm sure we'll hear Superman talked about on Kara's series. Don't forget, one of his BFFs, Jimmy Olsen, plays a huge role in Supergirl, so he'll have to come up in conversation from time to time.
But if you look up in the sky, it's not a bird, and it's not a plane. For right now, it's only going to be Supergirl.
Image: Darren Michaels/CBS