18 Halloween Costumes For Lazy Couples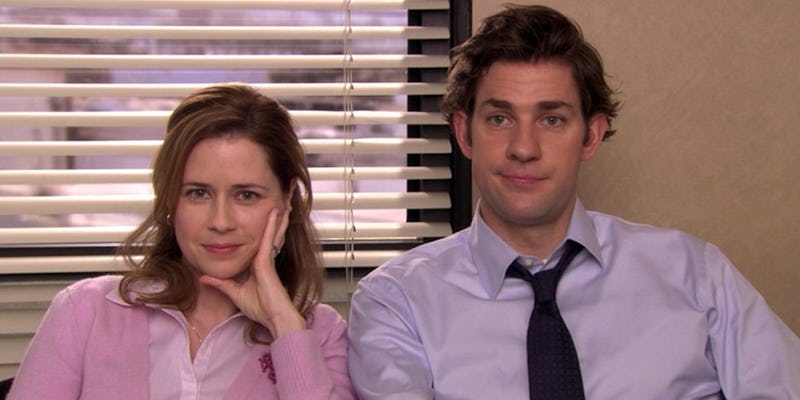 Halloween takes a lot of work. It's a blast to get dressed up and party with friends and significant others and eat as much candy as you please, because you're a grown-ass woman who can make her own choices. But in general, a Halloween costume is a chore to assemble — unless you're rocking one of these lazy Halloween costumes for couples. If you're trying to think of something clever and cool, then you need to decide if you want to be the sexy half of that costume, and then you need to put it together. It needs to be a costume that works for both of you — otherwise, one of you will be annoyed the whole night.
Coming up with a couples costume that takes close to zero effort isn't impossible, though. You can even create a DIY costume with fewer than five pieces that you'll both be comfortable in, and which won't cost much. The best part is that you can be lazy in the planning process and still look good. If you don't want to do much, then you don't have to. Isn't that wonderful? Here are Halloween costumes that are perfection for lazy couples. Because Thanksgiving and Christmas are much better holidays, anyway.
1. Cat And Mouse
What you'll need: All you really need for this is a pair of cat ears, mouse ears, and some eyeliner to add whiskers on your faces. Then you're good to go.
2. Iced Tea And Cocoa
Nope, not these two.
Lipton Iced Tea, $6, Amazon | Nestle Milk Chocolate Hot Cocoa (Pack of 2) , $15, Amazon
What you'll need: I'm talking actual iced tea and cocoa. Trust me, everyone will get the reference. You need whatever you feel like wearing, a tea bag taped to one person's shirt, and a box of instant cocoa taped onto the other's.
3. Greek Emperor And Empress
What you'll need: Really, you're just getting dressed up like it's a toga party. So grab two white sheets, safety pins, and rope, and tie the sheets around your bods however you like.
4. Salt And Pepper
What you'll need: A white T-shirt, a black T-shirt, and the letters "S" and "P" written on each. Annnnnd you're done.
5. Sports Fans
What you'll need: If you or your S.O. have two jerseys with the last names of pro athletes on the back, then you're all set. You can be fans of the same team, same player, or shake things up with rival teams. Really, whatever jerseys you have in your closet will do.
6. Lumberjacks
What you'll need: My husband and I are insanely lazy when it comes to Halloween. I wanted a new pair of boots and a puffy vest, so I suggested we go as lumberjacks. We both already had flannels (because we're awesome), so two toy were was our only costume expenses.
7. Ron Swanson And Bacon
What you'll need: Does Ron Swanson love anything more than bacon? Aside from whiskey, I'd say no. So this is the perfect costume coupling. You'll need a fake mustache and a long-sleeved polo for Ron, and bacon anything for bacon, obvs.
8. Lazy Couple
What you'll need: Just come together in your sloppiest lounge clothes, rock some slippers, and cover yourselves in chip crumbs, and you'll look lazy in love.
9. Cop And Robber
What you'll need: For the cop, you'll need a police cap, a fake badge, and any kind of shirt. I like the one above, because it really makes the outfit obvious. For the robber, you need a black beanie, black-and-white striped shirt, and an eye mask to match. Then you can have fun chasing each other around all night.
10. Old Couple
What you'll need: Gray wigs, old ratty sweaters, canes, and glasses.
11. Peanut Butter And Jelly
What you'll need: A tan shirt and tan shoes for the PB, and a purple shirt and shoes for the J. Then use the black marker to indicate who is who on the shirts.
12. Bad Doctors
What you'll need: Two lab coats. Splatter some fake blood or red paint all over them. Disturbing? Yes. Awesome? Indeed.
13. Katniss And Peeta
What you'll need: Katniss and Peeta have always preferred function over fashion, so all you really need for this one are dark, outdoorsy clothes and a mockingjay pin. And make sure the Katniss costume includes a rad braid.
14. Ghosts
What you'll need: Two white sheets with eye holes cut out. It doesn't get much easier than that, you guys.
15. Stereotypical Nerds
What you'll need: Black-framed glasses, suspenders, and plaid accessories, pants, or whatever bottoms you wear. Then add a notebook, and boom, nerdsville.
16. Jim and Pam
What you'll need: It doesn't take much to rock the Jim and Pam look. You need dull office attire, and endless giggles and inside jokes told between the two of you all night long.
17. Zombies
What you'll need: Whatever clothes you're currently wearing. Just rough 'em up with some tears, dirt, and fake blood. Then add pale zombie makeup and walk like you're wearing your least comfortable heels.
18. King And Queen
Adjustable King Crown (Set of 3), $10, Amazon
What you'll need: A crown for you, a crown for your mate, and you two can rule anyone or anything on Halloween night.
For more Halloween ideas, check out Bustle on YouTube.
Image: NBC, Amazon (2), Polyvore (17); Giphy (9)