Don't Count Carlos Penavega Out On 'DWTS'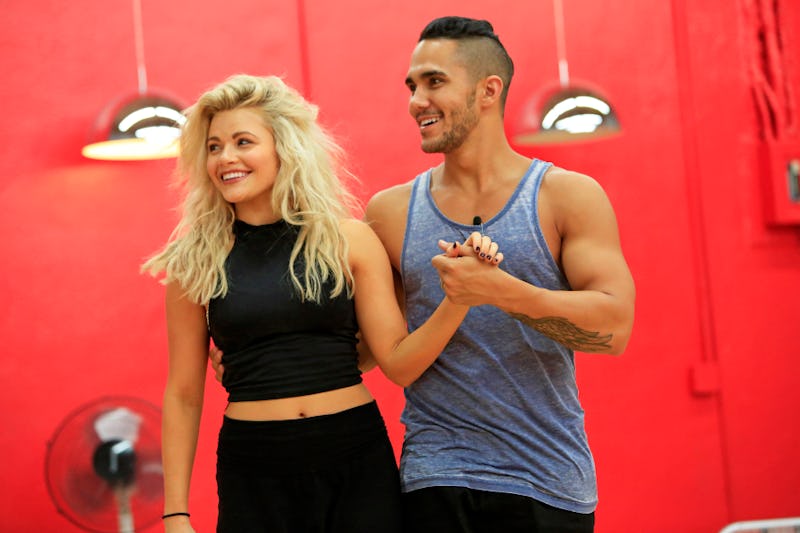 A lot of the buzz on this season of Dancing With The Stars has gone to the more recognizable names — Bindi Irwin, Hayes Grier, Paula Deen (though she's not the best dancer), and even Andy Grammer. Unless you're a fan of tween music or you have a child that listens to Big Time Rush, you probably don't know Carlos PenaVega. And that's a shame, because Carlos PenaVega has a shot to win Dancing With The Stars . He was originally positioned as part of the first-ever married couple to compete on the show with his wife, Alexa PenaVega, and not much more than that. But really, Carlos is the one to watch out for.
When he was first cast on Dancing With The Stars, I was sort of ambivalent about him, as I didn't know much about him and instead had decided to focus on the lovely and charming Alek Skarlatos. But, now, as I'm watching Carlos' transformation week after week, I'm kind of obsessed with him. I mean, that smile, those dimples, that style, that skill? I'm all in with Carlos, and I think that the judges are, too. He's come so close to a perfect score that it's obvious that they, too, are recognizing his drive. Here's why Carlos PenaVega has a great shot to win Dancing With The Stars.
1. He Has Built-In Support With Alexa
Even though Carlos and Alexa are technically competing against each other, there's something to be said for having someone who knows what the whole crazy Dancing With The Stars experience is like. He or she can empathize with the frustrations of a certain dance, and you can go to couples' massages together to soothe tired limbs. Sounds like a win-win, right? When it comes down to the nitty gritty of competition, having a support system is key, and Carlos totally has that.
2. Witney Carson Is His Partner
Witney Carson is an incredible dancer, and she's by and large my favorite dancer on the show. She turned Alfonso Ribeiro from a great dancer into a fantastic one (and a Dancing With The Stars champion), and with her tutelage, patience, and choreography skills, Witney can absolutely do the same for Carlos.
3. He Is No Slouch In The Looks Department
I know that you don't have to be an attractive person to be a good dancer, but damn, does it sure help with the Dancing With The Stars voting. Who didn't have a flutter in his or her heart (and maybe other places) when Carlos did his Magic Mike-inspired dance to "Pony" by Ginuwine? Being charming and handsome definitely helps in the viewer votes department, OK?
4. He Knows When To Go For It
And, speaking of the Magic Mike dance, Carlos was pretty divided about performing it. He made a point to talk about how he has a special faith in God and in his religion, and he was having an internal struggle about whether performing such a sexy dance would be against his moral code. Carlos ended up doing the dance, deciding that it was just a performance and had really no bearing on his own moral compass. I think he was totally right, and it turned out to be one of the best performances of the night. When it comes to giving the people what they want, Carlos definitely knows how to turn it up.
What do you think, Dancing With The Stars fans? I'm putting my eggs in Carlos' basket.
Images: Greg Zabilski/ABC; Giphy (4)