Why Amy Vachal Deserves To Win 'The Voice'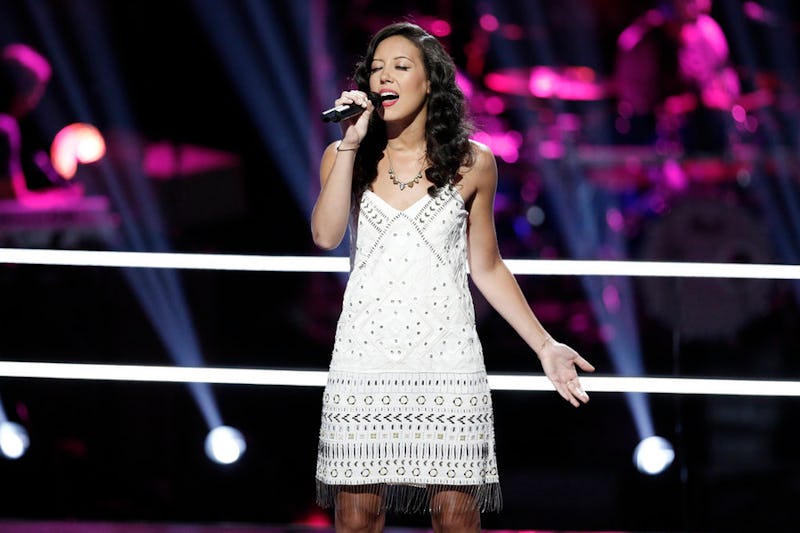 The Voice Season 9 has just completed its Battle Rounds and it's becoming apparent that there are many talented singers — including a few who I could definitely see winning it all. Coach Adam Levine made the bold claim during the Blind Auditions that Amy Vachal could very well win this season and he's right. Amy Vachal deserves to win The Voice for Pharrell Williams' team, because her angelic voice is so memorable. I mean, just last week, she bested the duo of Jubal and Amanda during their Battle Round performance of the Bee Gees' "To Love Somebody."
"Once we started digging into it I realized just how challenging it actually was going to be, especially because not only [is there] two of them and one of me, but we come from very different backgrounds and our styles are very different," Vachal told Star Pulse. "But, I eventually came to embrace the challenge, and I think we all realized that this was an opportunity. It was a little bit weird that we were paired together. It was an opportunity to make something unique and new." Vachal got three chairs to turn around during her beautiful cover of "Dream A Little Dream" during the Blind Auditions — only because Levine's team was already full and he admitted he would've turned around, too, if he could.
Here's why I think Vachal should win it all on The Voice.
1. She's Got A Competitive Spirit
Vachal played varsity women's soccer and lacrosse for Swathmore College. As an athlete, she received All-Centennial Conference honors in lacrosse and always had a solid performance on the field, according to the college's athletics department. "She was a talented athlete who could run the midfield forever, be a constant threat to score, and was a solid and poised defender," her head lacrosse coach Karen Borbee said.
According to Music Times, Vachal turned to music after getting injured with a serious concussion during her senior year, but still, she's that competitive fire that sports gives you, and it won't go to waste on The Voice.
2. She Grew Up Singing
Vachal called herself a "secret singer" while growing up, according to Music Times, and she wrote her first four songs after her concussion. "I loved to sing growing up," she said. "My friend actually told me that it cracked something open in me that I probably wouldn't have tapped into if it weren't for the injury."
3. She's Recorded An EP
Last year, Vachal released an EP called Crinkle Bloom on Rockwood Music Hall Records. She told Music Times that the songs were written primarily as she was living in New York City and Texas. " I've just been growing up as a person and as an artist," she said. "And these songs really come from a very real place of growing up in a sense. You know, they're not perfect, and I think walking into the studio we really wanted to keep just a rawness and realness combined with a studio-polished sound."
4. She Is A True Songwriter
Vachal puts a lot into her songwriting — including leaving New York City to write and get inspired in Texas for a writing residency, according to Music Times. "Out there I was the only human being in a 30-mile radius, and when you're in that kind of situation you just are confronted with all these questions that can get lost in the mix of New York," she said. "That was a pivotal moment for me. It just made me revisit all of these questions of what do I really believe in? None of us really know why we are here."
5. She Has A Lot Of Experience Performing In New York City
Vachal told Music Times that she started out traveling to New York City from Pennsylvania to perform on weekends and began playing regularly at Ken Rockwood's Rockwood Music Hall. Rockwood would go onto work on Crinkle Bloom with Vachal.
6. She Sounds Even Better With Her Guitar
Those strings and that voice? Gold, especially in this angelic cover of "La Vie En Rose." She's a Season 9 frontrunner for sure.
Image: Tyler Golden/NBC