Videos Of 'The Voice's Blind Joe Singing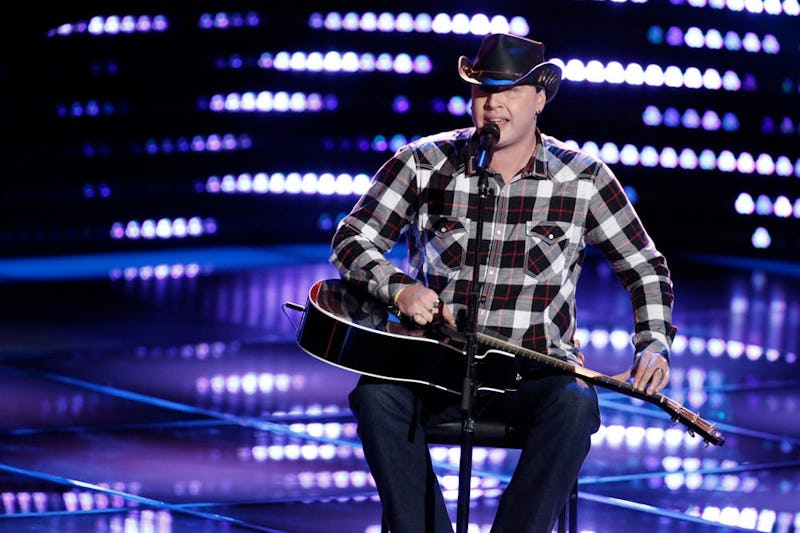 The Voice Season 9 has the potential to crown some atypical contestants as winners. This season so far has featured a number of duos and Blind Joe, who is indeed blind, but also has an amazing voice and some pretty awesome guitar skills. Need proof? There are plenty of videos of Blind Joe singing that prove he should win The Voice this season for Blake Shelton's team. Though he may not be able to strut around the stage, his killer voice commands your attention and that was definitely apparent in his Battle Round victory against Blaine Mitchell as they covered the song "Old Time Rock and Roll."
"As far as winning the battle is concerned, Blaine and I never really looked at it as a battle, like as against each other," Blind Joe told the Grand Rapids Herald Review. "When we met to discuss the song and rehearse, we basically came to the agreement, 'Alright, man, we both aren't leaving. We're going to take this song and just really kick its butt, put all of our energy into it, and really rock the house.'" And that they did.
But that Voice performance isn't Blind Joe's only one. Here's some video proof from YouTube that he has been made to win the show.
1. "Fool Me Again"
Proof that Blind Joe is determined and doesn't give up — this video was intended to be his audition for The Voice in 2013. Two years later, he'd be featured on the show.
2. "Pity Don't Get Ya Paid"
Blind Joe can certainly hold his own against a noisy crowd with his original track at Bar Nine in West Fargo, North Dakota.
3. "Lindsay's Song"
He opened for country singer Collin Raye earlier this year in Grand Rapids, MN., and, though the video is from far away, Blind Joe's voice is powerful enough to take on the whole venue.
4. "Don't Give Your Heart To A Rambler"
This cover of a Travis Tritt country song shows Blind Joe getting down with his guitar and loving it.
5. "Mind Your Own Business"
Blind Joe conquered this classic by country royalty Hank Williams for his 2013 The Voice audition and he even gets some of the noisy bar to clap along, too.
6. "Music City USA"
Another original song, this time performed as Blind Joe opened for Raye, and it comments on the state of the music industy: "Someone took the music out of Music City," he sings.
And there you have it, definitive proof that Blind Joe deserves to win the whole thing.
Image: Tyler Golden/NBC