Blind Joe Proves He Came To Win 'The Voice'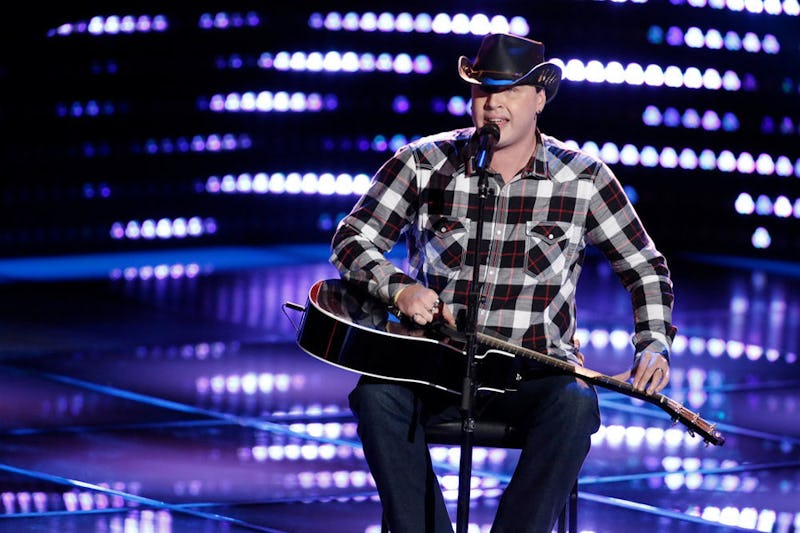 The worst thing about The Voice Battle Rounds is that someone has to lose. Fortunately for fan favorite Blind Joe, he avoided that fate. Blind Joe battled it out with fellow Team Blake member Blaine Mitchell to "Old Time Rock and Roll" in The Voice Blind Auditions. Mitchell definitely put up a fight, but in the end it was Joe who reigned victorious — and for good reason. Blind Joe dominated the stage with his strong stage presence and killer guitar skills. While he was already a favorite, Blind Joe really proved himself as a threat tonight and it's safe to say that he'll be in this game for a while.
It's easy to discount Joe because of his handicap, but he proved tonight that you don't need perfect vision to have a stellar sound. His performance was pretty near perfect. His voice filled the room and his personality took over the stage. Though I knew Joe could sing, he impressed me with the intense soul sound that came out of his mouth. That, paired with his playful on-stage charisma, made for a performance that won't easily be forgotten.
While Joe had tough competition in Mitchell, it was pretty clear from the minute they started that Joe had this one in the bag. Joe carried the performance with his guitar playing and mid-song banter with Mitchell. Mitchell, on the other hand, gave it his best shot by trying to take over the stage, but his efforts came up short. It's just impossible to compete with a man who can sit in a chair and fill up the entire room with just his voice and personality.
Luckily for Mitchell, he was stolen by Adam Levine and will remain in the game. But he better watch out for Joe. Blind Joe proved tonight that his handicap isn't going to keep him from pursuing his dream. He's in it to win it — and he definitely has a good shot in this game.
Image: Tyler Golden/NBC