Tinder Trolls Have An M.O., And It Looks Like This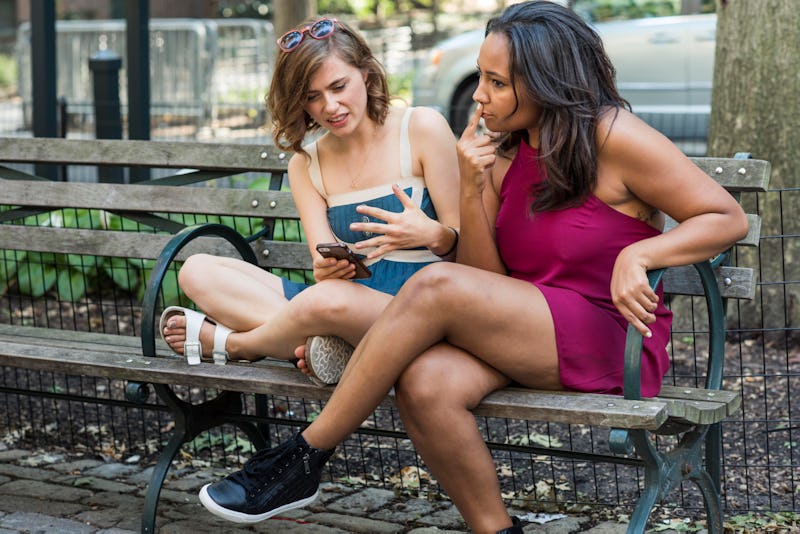 You've likely either heard of Tinder by now or are using the app to meet prospective new romantic partners — and if it's the latter, chances are good you've experienced the particularly vile, yet often unspoken of form of cyberbullying that is Tinder abuse. Since first launching in the fall of 2012, the popular dating and hookup app has grown exponentially, with a 5,000-fold increase in daily matches being made in the last two years alone. Given that meteoric rise and a gender imbalance skewed heavily in men's favor, it's not entirely surprising (albeit still disheartening) to learn that the number of women reporting Tinder trolls is on the upward swing as well. As for the type of abuse female users of Tinder and other online dating sites and apps are exposed to, well, brace yourself. It's not pretty.
To illuminate this pervasive problem, Instant Checkmate CrimeWire blogger Amy Lane analyzed content from Bye Felipe, an Instagram account that chronicles the type and degree of abuse women on Tinder face. They Instant Checkmate team compiled the most common insults and threats into one handy-slash-haunting infographic. "Online dating has become one of the top ways that busy singles get together," explains Instant Checkmate's Jessica Ruane. "But for some, searching for the man of their dreams can quickly turn into a nightmare. Women in particular experience fare more harassment on these sites than their male counterparts."
In fact, according to Instant Checkmate's Playbook for Winning Love Online, 42 percent of female online daters have been contacted by someone in a way that made them feel uncomfortable or harassed. Underscores Ruane, "Tinder can be an exceptionally treacherous place for women."
Lane's findings revealed "whore" and "slut" on the list of the top 10 insults lobbed at female Tinder users on the regular. Seriously, guys, can't a girl just get her swipe right on without blatant misogyny or fear of being bombarded by dick pics?
Apparently not, judging by Lane's research.
In creating the infographic, Instant Checkmate hopes to make more people aware that, yes, women experience a ton of abuse while online dating, and moreover, it's a huge problem. Women should be able to meet men in a non-threatening manner online without being subjected to such trolling. "It's time for the Tinder trolls of the world to be exposed," says Ruane, "and we hope that this infographic will shine a light on the dark topics of Tinder abuse." If you're looking for an alternative, check out the dating app created by ex-Tinder co-founder Whitney Wolfe. Called Bumble, it lets women hold the cards — once an opposite-sex match is made, men aren't allowed to message unless their match messages first.
Here's a quick breakdown of Instant Checkmate's findings — scroll down to check out the full infographic.
1. Tinder Trolls Aren't the Most Original Bunch
When it comes to the most common insults women on Tinder receive from men on Tinder, the list is pretty formulaic. Being called ugly, fat, a bitch, etc? Yeah, been there and done that, boys. Women have been subjected to this kind of witless, derogatory language for ages — perhaps it's time to learn a new trick.
2. Tinder Trolls Like Making Idle Threats
When angry, emotionally stunted men can't get their way and hurling sexist invective doesn't do the trick, they resort to more dramatic measures. Namely threats, such as a classic choice of dillholes the world over, "I"m going to beat the sh*t out of you."
3. Tinder Trolls Tend to Take It Too Far
For every run-of-the-mill male abuser on Tinder, there's that special breed of hateful fellow who unleashes a more colorful tirade upon his unwittingly female victim that is truly horrifying.
4. Tinder Trolls Do Not Play Well with Others
The abuse women on Tinder experience isn't relegated to one category or type. Actually, Lane found that put-down women most often experienced insults ranging across six spectrum: Personality, sexuality, looks, hygiene, intelligence, and wealth. The heaviest percentage of insults, though, fall under the umbrella of personality (i.e. "stuck up") and sexuality (i.e. "whore"). Most of the abuse, though, is perpetrated by one of three types: the sexter (aka unsolicited dick pic sender), the hunter (aka promises to "find you"), or the desperate dater (aka tells you "you're just a hole"). Charming.
Images: Andrew Zaeh for Bustle; Giphy (2); Courtesy of Instant Checkmate