'Supergirl' Should Be Careful Around The DEO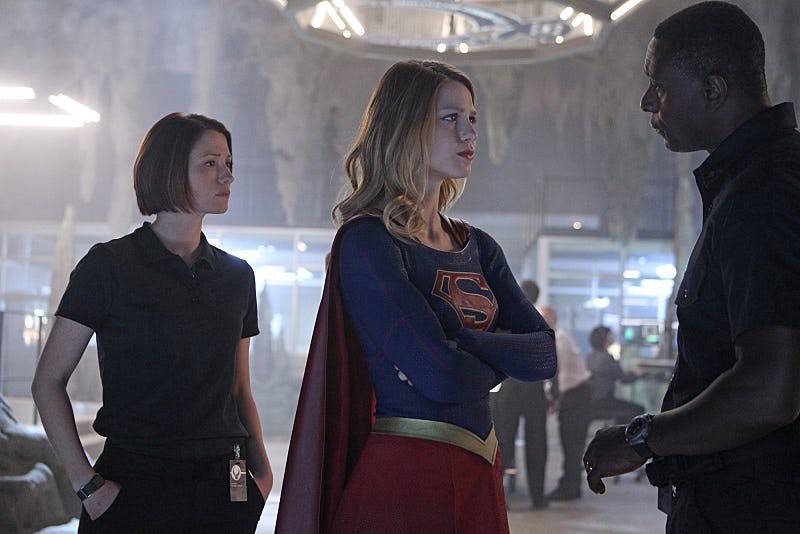 CBS is finally getting in the superhero game, following the lead of its sister station The CW with the upcoming Supergirl. Serving as a reboot/soft origin story, this new show stars Melissa Benoist as Kara Danvers, aka Supergirl, the cousin of Superman. When we begin, Kara is already well aware of her powers and what she can do, she has simply been ignoring them in favor of living a nice normal life in National City. All that comes to an end to save the life of her foster sister Alex — played by Grey's Anatomy's Chyler Leigh — and after donning her signature cape for the first time, she decides that the city need her to be a hero like her cousin. Like most superheroes, she winds up living a double life, working as an assistant at CatCo by day and fighting crime by night (and on lunch breaks, before work, really whenever she needs to). However Kara isn't the only one working to protect the city, as the government has established the shadowy Department Of Extranormal Operations, or the DEO.
So what exactly is the DEO? This organization was created after Superman made himself known to the world and it's entire purpose is to monitor extra-terrestrials on earth and (I'm guessing) step in when things get out of hand. Think of it as the DC version of S.H.I.E.L.D.
On Supergirl, it turns out that Kara's sister Alex works at the DEO, and while the department doesn't fully trust Supergirl, they end up working together. In an interview with Parade Magazine executive producer Andew Kreisberg discussed the DEO and the duel role it plays in Kara's life.
I think one of the fun things about the show in the beginning is Kara does have very differentiated parts of her world. She has the DEO, led by Hank and where her sister works, where she works as an unofficial agent of the DEO as Supergirl ... With the DEO, her sister and Hank, she learns to hone her powers and become an even better superhero, but from her friends at Cat Co, she learns the importance of being Kara Danvers, being a woman and a human being, and staying grounded and tied to the people she is sworn to protect.
So she will eventually work with the DEO saving the city, putting away bad guys, and learning about herself in the process. It seems like a good relationship, but I would not expect it to last. Normally, this is where I would turn to the comics to glean some insight into Kara's history with the DEO, but unfortunately, this time they don't give much information about what's the come. The DEO does exist in DC universe, appearing first in 1998's Batman and later in Young Justice, however there isn't much history between them and Kara Zor-El.
Superheroes working alongside law enforcement has always been a tenuous relationship, and I doubt this agency will be comfortable letting an alien fly freely indefinitely. My working theory is that it's only a matter of time before Kara's powers develop even further and the DEO turns against her.
Images: Sonja Flemming/CBS; Giphy