7 Common Eyeliner Mistakes You're Probably Making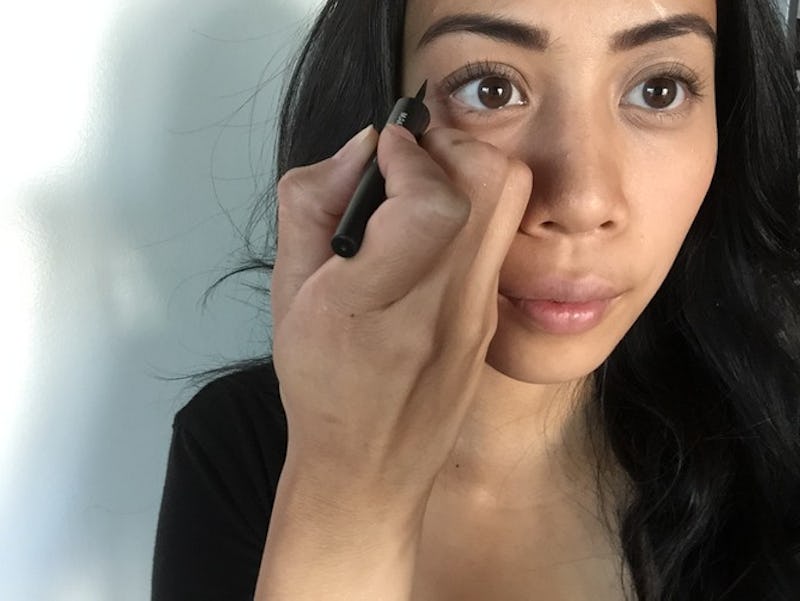 I'm going to guess that eyeliner is likely the first thing you reached for when starting your makeup journey. We all have those throwback images of raccoon eyes — when we were dark, rebellious, and declaring our adultness to the world. Now, we are grown and the subtle art of eyeliner is respected. Still, you manage to make these common eyeliner mistakes, but it's never too late to learn how to avoid them.
Consider eyeliner the contour of eyes. There are endless things you can do with it to change up your look. You can enhance the shape you have or completely change it based on the eyeliner technique you use, while a day look can transform into nighttime appropriate with a little bit of liner. No matter what look you're going for, lining your eyes takes practice and patience. As makeup artist and beauty vlogger Patrick Starr once said, "The most important thing in doing a winged liner...is to pray." Can I get an amen?! Liner is hard, but not impossible.
Eyeliner can be dramatic, dark and bold, but the techniques below are tricks to keep the look soft, wearable, and flattering no matter your style or skin tone. They're really meant to clean up your application and create a more flattering look no matter your eye shape.
Below are some of the most common eyeliner mistakes made and how you can avoid them.
Estée Lauder Little Black Liner, $31, Estée Lauder
Harsh liner on the lower lid can make your eyes look droopy and tired. Instead, only line the upper lash line. If you want to line the lower as well, soften the look by buffing out the black liner with a soft brown eyeshadow using a pencil brush. To ensure everything stays put, I like applying waterproof products to the lower lash line.
Clinique Skinny Stick in Olive-Tini, $17, Sephora
Pulling at your eyelid to get the pencil closest to your lash line is a bad idea. It can cause premature aging and skin sag. Instead of tugging, position your mirror at chest level or lower, and look down into it. You'll get better visibility that's easier on the eyes, literally.
PhotoReady Kajal Matte Eye Pencil, $9, Revlon
Creamy pencil liners are considered the best, and for good reason. Using an old, dry pencil can result in pulling at your eyelid (a no-no!) and sloppy application. If your go-to pencil is old, throw it out. If it's simply dry, try heating it up with a lighter before application, so it's warm and easy to work with.
Sport Waterproof Eyeliner, $22, Eyeko
Curl lashes before you apply liner and shadow, so you don't smudge the product. And using waterproof is always a good idea!
Maybelline Gel Liner, $7, Amazon
Maybe you've been sticking with a smudgy kohl pencil, or a gel pot. Whatever your current routine, don't be afraid to switch it up! This applies to both colors and formulas.
Urban Decay Eyeliner, $20, Sephora
Blending is always important, no matter what product you're using. Too many times I see people with a gap between the liner on their upper lash line and on their lower lash line. To prevent this, buff a complimenting shadow on top of your liner and go back and forth on the outer corner of your eye. This will create a seamless look that enhances your peeps!
Images: Danelle Sandoval; Courtesy of Brands