Briana Reveals Brooks Hit On Her On 'RHOC' Reunion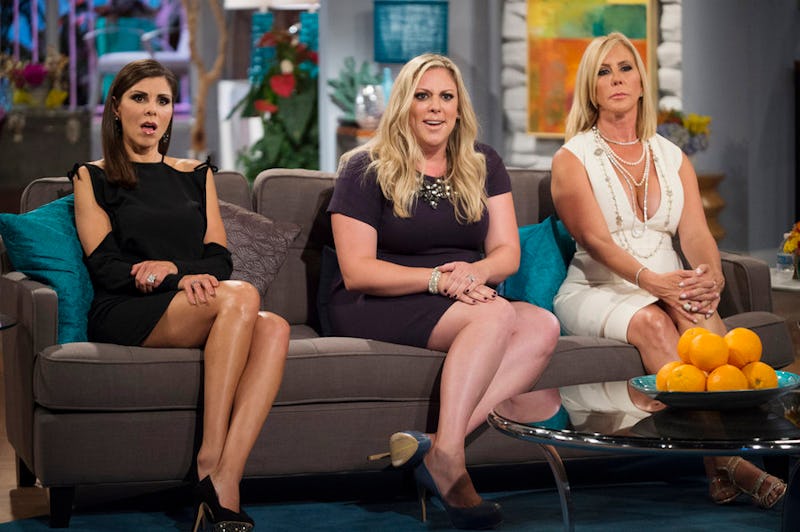 If it weren't official already, I think it is safe to say that Briana and Brooks are never going to be friends. On the second part of the revealing Real Housewives of Orange County reunion, Briana reveals that Brooks allegedly hit on her while she was pregnant and even offered to expose himself to her, which is just a million more strikes against the former boyfriend of her mother. Briana and Brooks have a shaky past, and the two never seemed to get along. From the very beginning, Briana worried about the authenticity of Brooks' relationship with her mother — as a concerned daughter does — and has been very vocal about how she will never let him into her life.
(Update: On Tuesday, Brooks Ayers denied Briana's claims in a statement to E! News: "It's a typical Briana move, creating a 'He Said, She Said' scenario that once again puts her mother in the middle of a no-win situation. I'm glad that I no longer have to deal with this unnecessary drama. I categorically deny having said anything like that to Briana.")
That didn't seem like it was going to be an issue when Vicki and Brooks broke up earlier this year. The two had been through a lot, most recently, the accusations that Brooks was faking cancer this entire season. The truth of that never really came out, but Briana told Tamra during the season that Brooks had confessed to her that he only had pancreatitis. Brooks has previously made clear that he does have cancer. In a recent recent interview with E! News, when asked if he was "sticking by" the claim that he has cancer, he responded, "Absolutely. I'm still sticking by that."
But on the RHOC reunion, Briana revealed that Brooks hit on her while she was pregnant. It was, in general, a huge shock, and extremely disgusting. According to Briana, Brooks hit on her at Vicki's birthday party, even asking if he could expose himself to her. (According to Briana, Brooks called himself "Girth Brooks." EW.) Briana says that when she told her mother, Vicki said that Brooks would never want her and that she was a liar. Again, EW. Now, Vicki says she does believe the accusations. Vicki says she didn't want to believe that it was true at the time.
The other women reacted accordingly. This is a pretty repulsive claim, and I'm shocked that it didn't cause Vicki to kick Brooks' butt to the door. But, as Briana says on the reunion, she really wasn't her mother's priority during the last four years while she dated Brooks.
Brooks wasn't there to defend himself against the claims, but if what Briana says is true, then it really is for the best that Brooks and Vicki are no longer together. These allegations speak a lot towards the character of the person that did it. I, sadly, can't say that I am surprised by the accusations. Briana seems like someone who is a good judge of character, and she always seemed to have a very good reason for not liking Brooks. I'm just shocked that after all of these things came out, that Vicki still stayed with Brooks. Hopefully, Vicki now sees the flaws in Brooks and realizes she is better off without that drama in her life.
Editor's Note: A previous version of this article failed to mention Brooks Ayers' response to allegations about his health.
Images: Nicole Weingart/Bravo