'Wicked City's Kent Grainger Is Scarily Seductive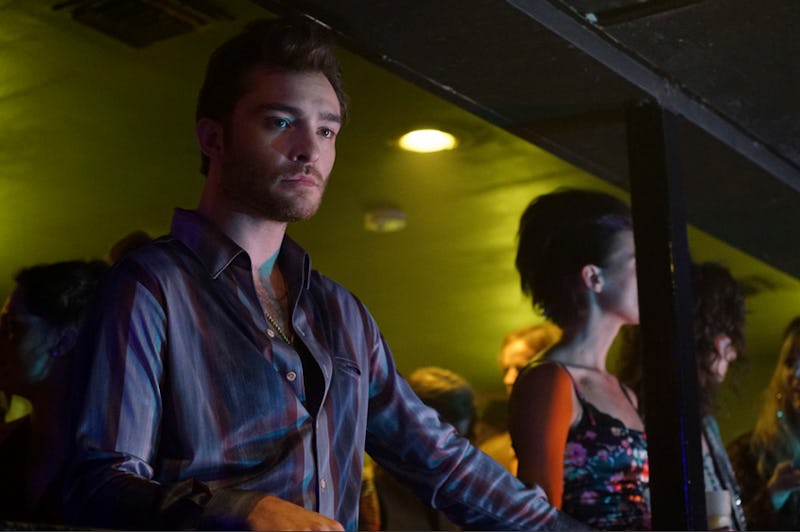 Have you been sitting in your "C+B Forever" T-shirt and drinking from your "XOXO, Gossip Girl" mug just waiting for Chuck Bass to make his return to TV? Wait no longer. Ed Westwick is back in primetime on the new ABC thriller series Wicked City; and if the show can live up to its potential, it's bound to be killer. Westwick is teamed up with Parenthood star Erika Christensen to play an infatuated couple who get their kicks from torturing and murdering victims they find in '80s LA, on the seedy Sunset Strip. Westwick plays Kent Grainger, who the ABC website describes as "handsome, sexy, [and] charismatic;" all the better to lure his victims. But is Westwick's Wicked City character a real person?
ABC told Bustle that Wicked City is not based on real events. However, there are certainly realistic elements to the series. The time and setting, for example, are no invention, and heavily integrated into the series' plot. The most believable part of Wicked City's whole synopsis is that people would be drawn to a character played by Westwick. I'm looking forward to watching him turn on the charm as Grainger, who joins this group of stylish serial killers who give you some very conflicted feelings.
Patrick Bateman
Image is everything to the subject of American Psycho. Well, that and dismemberment. Psycho shares Wicked City's time period, but takes place on the other coast, in the fast-moving and stiflingly materialistic world of Wall Street. Bateman is a broker who takes pride in his impeccable grooming regimen, elegant business cards, and talent with a chainsaw. And he's played by Christian Bale, so he's frighteningly attractive.
Hannibal Lecter
Anthony Hopkins' scinematic take on the literary cannibal is polished enough, but then came the NBC series Hannibal and Mads Mikkelsen in his fitted, three-piece plaid suits. The urge to eat people never looked so chic, which may be why fans rooted for Lecter through all three seasons of the new horror classic.
Dexter Morgan
Perhaps I should not judge Dexter on its series finale, but instead on the Southeastern serial killer fashion that Dexter Morgan rocked throughout its entire Showtime tenure. Dexter's closet consisted of tropical-hued button-downs for his work as a forensic analyst and muted, form-fitting henleys with cargo pants for his messier late-night activities. One does want the right ensemble for any occasion.
There's something tempting about these psychopaths, no? With Westwick bringing this fictional character to life, Kent Grainger is bound to be just as seductive on Wicked City.
Image: Eric McCandless/ABC; Giphy (3)