Will Lady Gaga Join 'Scream Queens' Season 2?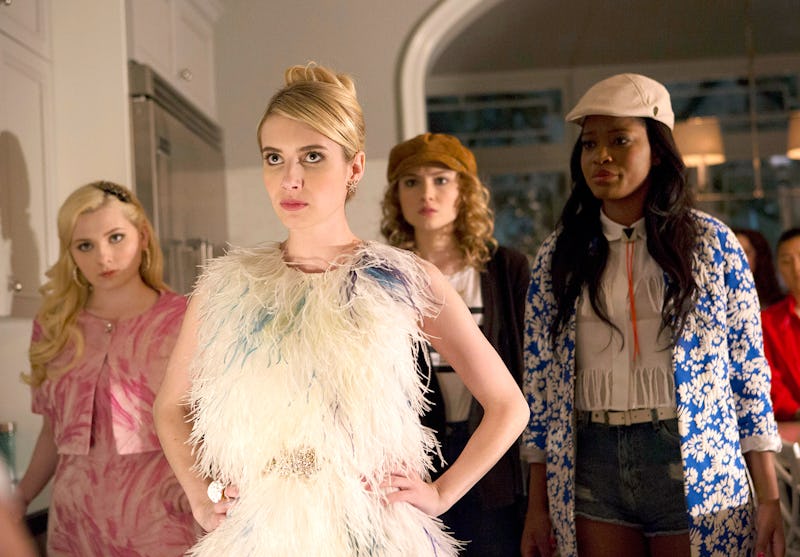 There's been no official announcement regarding a Season 2 for Scream Queens, but, if the ratings are any indication, we're about to see a whole lot more from the mind of Ryan Murphy. At a live Q&A from the Fan Fright Fest in New York, Murphy teased what Scream Queens Season 2 would look like. American Horror Story: Hotel fans/little Monsters can now rejoice, because there's possibility of Lady Gaga making it on the delightfully campy horror show.
American Horror Story: Hotel star Lady Gaga has already impressed (but probably not surprised) fans with her terrifying but nuanced performance as Elizabeth Bathory. To say that she would be welcomed on Scream Queens, a mostly female comprised ensemble cast, would be a vast understatement. When questioned about his AHS Hotel lead, Murphy revealed that the songstress "watches it," "loves it," and wants to be on [it]." Do I even need to say it? OK, fine. YAAAS, Gaga. Gaga is not the only AHS cast member interested in joining the series though. Evan Peters recently told Vulture, "I'd love to be on [Scream Queens.]"
According to Murphy, the idea for Season 2 is "three or four of the cast members [from season 1] survive," and "go off to a new venue" complete with "a new killer, a new villain" and a "new threat." After hearing that only three or four of the members survive, all I can do is speculate (read: obsess) about whose joining the show, so we might as well open up the door: What AHS characters of seasons past and present, would make scary/good/scary good additions to Scream Queens Season 2? (Besides all of them, obviously). Let's inquire.
1. Jessica Lange
I mean, she's an actual legend. Scream Queens would be a perfect reprisal role for her after her nonexistence (tears) on AHS: Hotel. Bring back Lange! (Side note: a Lange vs. Jamie Lee Curtis showdown would be epic.)
2. Matt Bomer
Unsure on whether or not he would have the kind of comedic timing Chad Radwell does, but Matt Bomer would definitely make a solid possible love interest.
3. Taissa Farmiga
A sassy/dark/misunderstood young female person? How does that not fit in with Scream Queens? If Farmiga's run as Violet Harmon doesn't automatically secure her as part of the Scream Queens cast, I don't know what would.
4. Sarah Paulson
Need I remind you that Paulson played conjoined twins Bette and Dot in Season 4 of AHS? I didn't think so, because the performance was so incredible. I envision her as a previous Kappa, or perhaps Gigi's sister.
5. Kathy Bates
TWO WORDS: Annie. Wilkes. Let's just say Kathy Bates is a pro at holding knifes.
6. Angela Bassett
Because Stella getting her groove back = always a good idea. Also, I wouldn't be mad if Murphy brought a witch into this mix, just sayin'.
Alright, Murphy. Now we know you have a lot on your plate, but make it happen. Counting on you.
Images. FOX; Giphy (6)