"Hello" Vs. "Bad Blood': Which Is Better?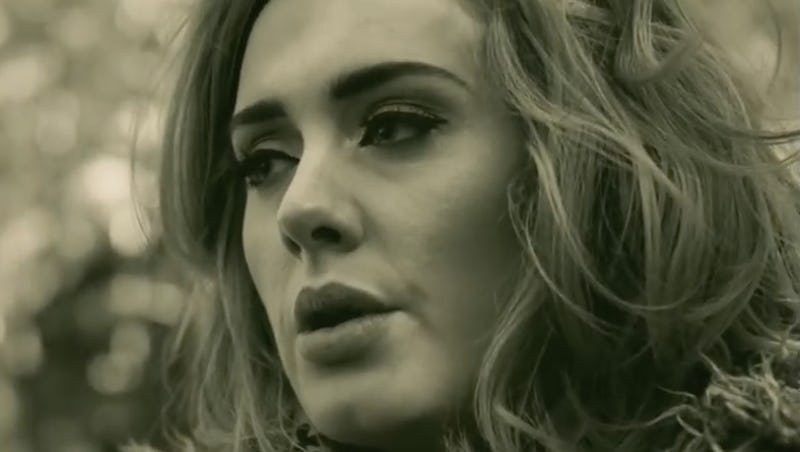 "Bad Blood" on the horizon? Apparently you guys have rewinded Adele's new music video "Hello" so many times that it's setting records. In fact, "Hello" has just surpassed Taylor Swift's "Bad Blood" for most viewed video in a 24 hour span. Heart-wringing and record breaking? I expect nothing less from the British songstress. But let's get introspective for a second... is "Hello" really a better music video than "Bad Blood?" I mean, we all remember the collective heart attack we had when "Bad Blood" debuted at the 2015 Billboard Awards. It was Peak Taylor time, and all of us were eager to join her girl gang. But is Adele's gorgeous song enough to truly dethrone "Bad Blood?" Or are we just over Taylor? Or do we just miss Adele? Or is it all of the above?
I'm not sure, but I did my best to weigh the two videos back and forth, presenting arguments for both "Bad Blood" and "Hello." After careful analysis, I hope to bring to light both the good points and the weaknesses of each video. And, then, maybe you can judge for yourself which is the stronger pick. Get you rocket launchers and nunchucks ready, because we're about to battle.
Argument: "Bad Blood" Is A Playground Of Special Effects
"Bad Blood" is practically cinematic in its delivery... in fact, it was advertised as such with all those fabulous posters. Is this the Matrix, or is it a pop music video? When you consider all the visual work in "Bad Blood," it seems unfair to even place it in the same category as "Hello," which basically just utilizes the sepia tone on iMovie.
Counter-Argument: "Hello" Is More Impactful Because Of Its Minimalist Lens
Um, Adele's gaze at the beginning of this video is practically iconic at this point. I saw it in a thumbnail the other day and almost instantaneously started bawling, like on impulse. Little actions, like expelling the dust from the house, become magnified. It's a less is more thing.
Argument: "Bad Blood" Has A Sicker Beat
Every time "Bad Blood" comes on, the knee-jerk reaction is a definitive "Yaaaaaaas." And, I mean, would you rather listen to a remix of this and dance, or would you rather listen to "Hello" and stay in bed all day sobbing?
Counter-Argument: "Hello" Is Melodically Beautiful
Ummmmm, first of all "Bad Blood" is no "Shake It Off," and it sure as hell isn't "Blank Space." In fact, "Bad Blood" is the single that rides on the success of the rest of the album. Like, if "Shake It Off" is *NSYNC and "Blank Space" is the Backstreet Boys, "Bad Blood" is like, 98 Degrees. So that, and as a song, "Hello" is almost majestic-sounding. There's no comparison.
Argument: "Bad Blood" Gives Me #SquadGoals
Yeah, dude, I'd totally love to throw on some leather everything and train as assassins with my best gal pals. That sounds way cooler than book club. The only reason this hasn't come to pass is because everyone lives in different states, but yeah, I'd love to be hot and dangerous like Taylor's girl gang.
Counter-Argument: "Hello" Gives Me #RelationshipRealities
Flip phone aside, Adele's "Hello" is the E! True Hollywood Story of what happens when your ex-boyfriend won't return your calls. It's a sucker punch to the emotions, yeah, but it's relatable.
Argument: Taylor And The Gang Look So Powerful, Though
And, even if I don't look like Gigi Hadid, it makes me feel strong to witness all that slow motion strutting.
Counter-Argument: Adele's Voice Is So Powerful, Though
No amount of explosives would destroy me half as much as Adele's voice, let's be honest.
Verdict: They're Both Delightful In Their Own Way & I'm Not About To Fan The Flames Of Another Pop Music Feud
Off the top of my head, I feel like more people are going to "Bad Blood" for the fanfare, and "Hello" for the actual song, but that doesn't make one better than the other. There's room for everyone at the top, and hey, maybe Taylor has room for Adele in her squad.
And, if Taylor's lucky, maybe Adele has room for Taylor in her squad.
Images: Giphy (10)