'Brooklyn' Isn't A True Story, But These Films Are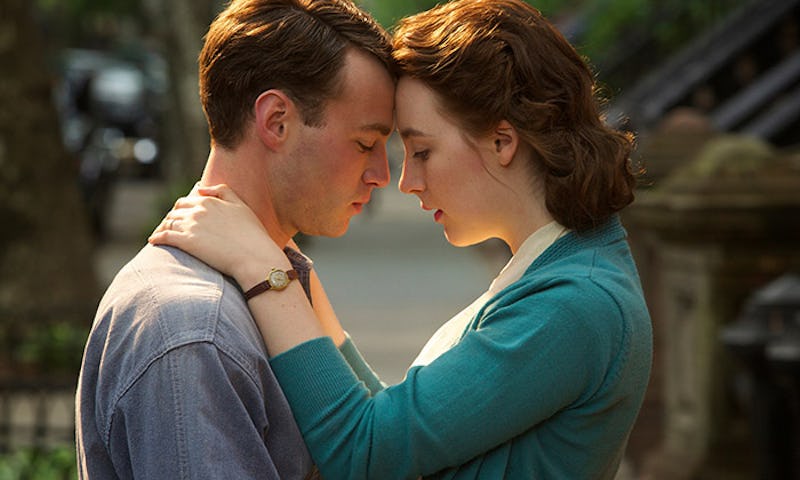 A huge number of people emigrated from Ireland to American in the 19th and 20th centuries, and the story of one such immigrant is told in the new film Brooklyn. The character's name is Eilis, and she is played by Saoirse Ronan (of Atonement and The Lovely Bones fame). Ronan herself is Irish-American, and Eilis' journey is reminiscent of that of many foreign citizens who relocated to New York City within the past 200 years. But is Brooklyn based on a true story?
The film is actually based on a novel of the same name, but both the book and the movie itself are works of fiction. Irish author Colm Tóibín created the narrative based on a story he heard in his childhood. The writer explained to The Guardian, "people used to call at the house and this woman was telling this story about her daughter [which] was all Brooklyn, Brooklyn, Brooklyn." This occurrence planted a concept in Tóibín's head for a story about an Irish woman's emigration to New York, and that story developed into the plot of Brooklyn. Despite the work's fictional status, though, reviewers have commented that the period piece has a "universality" and a feeling that is "genuine and impressive." The same genuine feeling can be found in numerous other works that take place in the famous outer borough (which has been the subject of many book and films). Some of these works are fictional narratives like Brooklyn, but some are in fact based on true events. Here are a few movies that take place in Brooklyn and are based on true Brooklyn stories.
Goodfellas
This famous Martin Scorsese film is an adaptation of the book Wiseguy, a nonfiction biographical work about mobster Henry Hill. Author Nicholas Pileggi and Scorsese cowrote the screenplay for the film, which takes place around the East New York neighborhood of Brooklyn.
42
The number 42 refers to the number on Jackie Robinson's MLB jersey, and the film chronicles his ambitious quest for greatness as a baseball player amidst rampant racism in the 1940s. The movie revolves around the 1947 baseball season of the Brooklyn Dodgers and includes many scenes in their namesake borough.
Dog Day Afternoon
Al Pacino starred in this 1975 crime drama, which unbelievably was based on real bank robbery that happened in Brooklyn in 1972. The movie was nominated for six Oscars, including Best Actor and Best Picture.
Brooklyn is home to a wealth of history, so it's understandable that it would be the location for many cinematic stories. Although Eilis' Brooklyn tale isn't based on an actual person, it is nonetheless an important reminder of the significance of immigration in American history. The story is as rich and textured as the city in which it takes place, so it's definitely worth checking out Brooklyn in a theater near you.
Images: Fox Searchlight Pictures, Warner Bros. (3)