Sundance Film Festival Films Reviewed in Emojis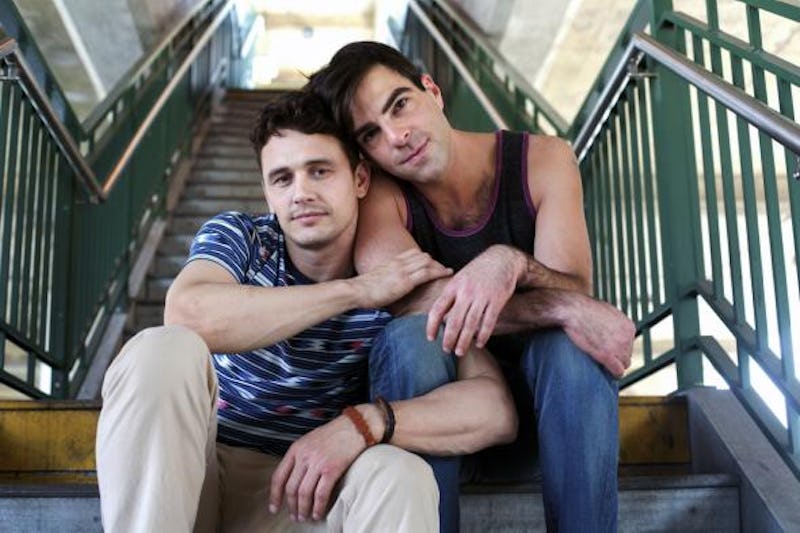 The 2015 Sundance Film Festival has already come and gone, leaving behind a smorgasbord of exceptional cinema. While some films have yet to be picked up by distributors, many of the A-list starring films were snatched up before the festival even began. This is great news for audiences everywhere. But for those of you clamoring to get your hands on the festival's best films, it might be a while before these independent movies are showing at the local AMC.
So, while we wait, here are a brief synopsis of the 17 films I caught at the fest, and an emoji review (because why the heck not?) to boot. This year's big hitters include James Franco, with two films (True Story and I Am Michael), Ron Livingston with three films (The End of the Tour, James White, and Digging for Fire), and the Swanbergs. The filmmaking couple, Kris and Joe, both have a film premiering at the 11-day festival. Ranging from coming-of-age movies to sweeping European epics and plenty of "based on a true story" tales, this year's brood is nothing but impressive. Take a look.
Brooklyn
Translation: A young Irish girl in the 1950s has to choose between staying with her family, struck by tragedy, in Ireland, or traveling to America for a better future and the love of her life. Starring Saoirse Ronan, this beautifully shot film is sure to tug at your heartstrings.
Diary of a Teenage Girl
Translation: The Diary of a Teenage Girl follows a 15-year-old girl in 1970s San Francisco, who dabbles in drugs, finding her sexuality, and is secretly sleeping with mother's boyfriend. Starring newcomer Bel Powley in the titular role, Alexander Skardgard's epic mustache, and an American Hustle-esque clad Kristin Wiig, this film depicts teenage sexuality with brutal honesty.
Digging for Fire
Translation: A couple with a smile child go on separate adventures over the course of a weekend. When the husband finds a rusty gun and a bone in the backyard of the house they're staying, his curiosity won't let him stop digging until he finds answers. With an incredible ensemble cast — Jake Johnson, Sam Rockwell, Anna Kendrick, Brie Larson, Ron Livingston, RoseMarie DeWitt, ORLANDO BLOOM, and more — this film is worth seeing for many reasons, including Chris Messina's full-frontal nudity.
The End of the The Tour
Translation: The true story of Rolling Stones journalist David Lipsky's five-day interview with David Foster Wallace, the film pits one journalist against the famed author in a battle of control: Who owns this story to tell? Starring Jason Segel and Jesse Eisenberg, this film is one not to miss — boasting quick-as-lightning dialogue and killer performances.
James White
A tragic tale of one man suffering from constant anxiety and depression who has to hold strong in the midst of his mother's battle with cancer. Not for the faint of heart, James White offers little levity. Starring Girls' Chris Abbot and Sex and the City's Cynthia Nixon, this film is well-acted and will leave you in a puddle of tears.
I Am Michael
Translation: I Am Michael is the true story of Michael Glatze, a gay activist turned self-proclaimed straight pastor. The film itself has a paint-by-the-numbers feeling, but the story is riveting, and James Franco and Zachary Quinto play their roles with heart and honesty.
I Smile Back
Another heartbreaking offering, this story is about a seemingly perfect housewife and mother who turns to drugs and alcohol to remedy the plethora of inner demons that haunt her. Starring Sarah Silverman in a transformative role, this movie is nothing but depressing, but Silverman will leave your mouth agape with her unparalleled performance.
It Follows
Translation: The story of one girl who has sex with a boy and is subsequently followed by a demon-like creature only she can see, it is an odd mixture of horror and commentary on female sexuality. Set in a timeless world of '80s soundtracks and puka shell necklaces, Maika Monroe slays as the teen protagonist of his innovative thriller.
Me, Earl, and the Dying Girl
Translation: The best film I saw at Sundance 2015, this film follows two friends who navigate senior year of high school while befriending a classmate with leukemia. I don't want to give too much away, other than to say film lovers will appreciate the multitude of tiny, remixed films present in this charming picture.
Mistress America
Translation: A story about two friends — an 18-year-old college freshman and a 30-year-old wanna be restaurant entrepreneur in NYC, Mistress America is a sweet film about growing up and female friendship. Starring Greta Gerwig and newcomer Lola Kirke as the unlikely friends, Noah Baumbach's latest is the Frances Ha! of 2015.
Take Me to the River
Translation: A gay teen is forced to spend the summer at a family reunion with his conservative relatives. A mistaken event charges him with an unthinkable crime he doesn't commit, and this coming-of-age tale is darker than most.
The Overnight
Translation: Adam Scott and Taylor Schilling star as a couple who recently moved to East Los Angeles and are looking for friends. Jason Schwartzman and Judith Godrèche play the couple who invites them over for a dinner date that turns into an increasingly ridiculous and sexual evening. Hysterical on all accounts, see this film to witness Schwartzman and Scott donning hilarious anatomical prosthetics and dancing naked around a pool.
True Story
Based on the true story of fired New York Times journalist Mike Finkel and the serial killer that assumed his identity, this cat-and-mouse game between the two men is fascinating, and even more so with James Franco and Jonah Hill starring in the somber roles. The film itself is good, not great, but the real life story is enough to keep your attention captivated for the two-hour running time.
Results
Starring Cobie Smulders and Guy Pearce as fitness obsessed personal trainers, this off-the-wall romcom leaves a lot to be desired. I couldn't help but think crucial scenes had been cut, and friendships had been formed off-camera that didn't quite compute. Not my favorite film, but one that will certainly motivate you to get moving. Guy Pearce's six-pack and Smulders' perfect running form are instant motivation.
Slow West
A modern western made by a British filmmaker, the unlikely circumstance of this film oddly works perfectly. A story about a young man traveling to America from Europe in search of the woman he loves and the outlaw he meets along the way, this shoot-'em-up drama is complete with Michael Fassbender and Kodi Smit-McPhee.
Unexpected
Another Cobie Smulders starring film, this one follows a high school teacher who disovers she's pregnant the same time as her soon-to-graduate student. Perhaps the festival's sweetest film, this one tackles perceptions of working mothers, race, and female friendships.
Z for Zachariah
Based on the 1980s novel, the film adaptation takes liberties in adding a brand new character to its landscape. In the future, young Ann (Margot Robbie) is the only human left surviving on earth, or so she thinks. She is eventually joined by John (Chiwetel Ejiofor) and Caleb (Chris Pine), two strapping men who both want to build a life with her (or at least take her to bed). Gorgeous scenery and an astounding performance by Robbie make this quiet film worthwhile.
Image: Gotham Group