'Love The Coopers' Spreads Early Holiday Cheer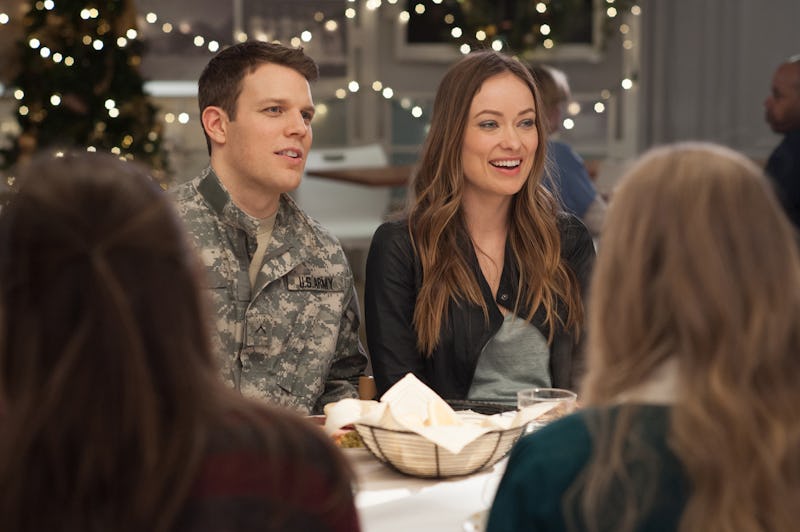 What happens when Amanda Seyfried, Diane Keaton, Olivia Wilde, John Goodman, Ed Helms, Marisa Tomei, and Jake Lacy gather under one roof? Holiday antics ensue as the ensemble cast of the new holiday comedy Love the Coopers unites for a memorable Christmas.
"I want the perfect Christmas!" exclaims Cooper matriarch Charlotte (Keaton) in this exclusive 60 second teaser for Love the Coopers , below. As the one time of year that the family's disparate branches congregate for a celebration, it's essential to her that everything go according to plan, and her plan is to host the extended Cooper family with her husband, Sam.
But who are the Coopers? Charlotte's daughter Eleanor (Wilde) recruits a wide-eyed Jake Lacy, who she meets at the airport en route to the celebration, to play the role of her boyfriend (just for the night, a well-worn rom-com trope that recalls The Proposal, Picture Perfect, and The Wedding Date). Son and brother Hank (Helms), a single father, pleads with his parents (Keaton and Goodman) not to laugh when his elementary school-aged daughter Madison repeats, "You are such a jehhrk," in an exaggerated BBC-British accent. Sister Emma (Tomei) is something of a holiday kleptomaniac, arrested searching for the perfect gift. (She stuffs a brooch in her mouth, telling police officers she "thought it was a lozenge.") This, though, leads to her fateful encounter with Anthony Mackie, who plays a cop involved with her case. And Charlotte's father (Alan Arkin), who frequents the same diner each and every morning, encounters a charming young waitress in the form of Amanda Seyfried.
For many, winter holidays represent a renewed effort to bring family and friends closer. (Though, realistically, we all know having that many relatives under one roof is often a recipe for disaster.) That's the premise that Love the Coopers builds on — a trailer begins with a narrator sighing, "Ah, the holidays; that magical time when everyone comes together to give thanks." But from there, the film shows, rather than tells, how those high expectations of family reunion and harmony can often lead to chaos.
"Who said you can schedule happiness?" Goodman's character narrates in the trailer.
Love the Coopers owes a lot to other films of its ilk, including perennial classic Love, Actually, Nancy Meyers' The Holiday, and Queen Latifah's Last Holiday. According to USA Today, it was originally titled Let It Snow , though this was changed in order to give it a more universal appeal. Still, the title is drawn from something distinctly December — how the Coopers sign their Christmas cards, "Love, The Coopers."
In just 60 seconds, this exclusive teaser encapsulates the trials and tribulations, as well as the rewards, of family gatherings. It's humorous, yet endowed with moments of high drama; it recycles romantic plot conventions, yet employs them in perhaps novel ways.
"They all bring their dysfunctional lives to our house for dinner," Goodman said of the family's holiday spread, according to the same USA Today piece. This first look at Love the Coopers shows that it might earn a spot place among those movies you watch again and again, year after year.
Images: CBS Films/Lionsgate