Brooks Ayers Denies Hitting On Vicki's Daughter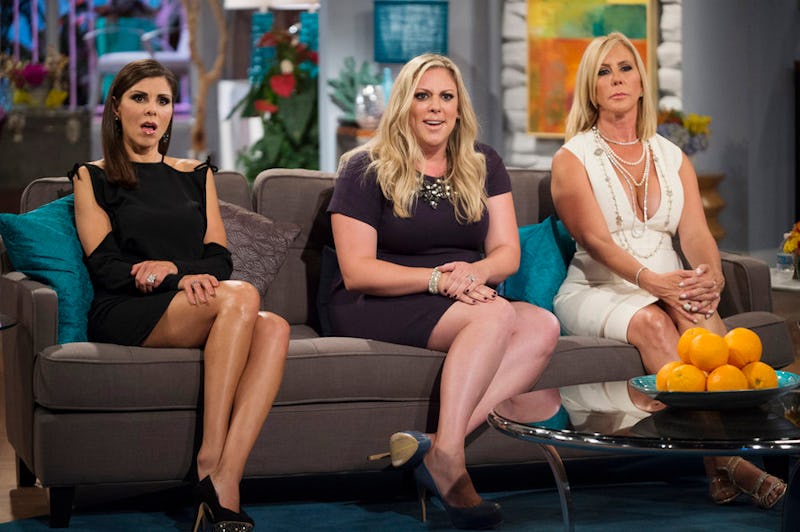 In some unsurprising news, the drama surrounding The Real Housewives of Orange County is continuing off-screen. Brooks Ayers denies hitting on Briana, despite the claims Vicki Gunvalson's daughter made during Monday's second part of the RHOC reunion. In an exclusive statement given to E! News, Ayers said:
It's a typical Briana move, creating a "He Said, She Said" scenario that once again puts her mother in the middle of a no-win situation. I'm glad that I no longer have to deal with this unnecessary drama. I categorically deny having said anything like that to Briana.
For those who missed the reunion or have yet to watch it, Vicki's daughter Briana made an appearance, during which she revealed some alleged (and quite disturbing) details about Vicki's former boyfriend. She claimed that Brooks hit on her while she was pregnant and wanted to expose himself to her. She also claimed that he referred to himself as "Girth Brooks." She also claimed Vicki didn't believe her and took Brooks' side. However, at the reunion, Vicki said she now believes Briana's accusations.
Brooks wasn't at the reunion to defend himself, but in a separate interview with Andy Cohen recorded in New York and shown during Monday's reunion, Brooks called Briana a manipulator and even blamed the other Housewives for the downfall of his relationship with Vicki.
I know Real Housewives reunions are bound to get heated, and disturbing claims and details are sometimes made, but here's hoping all this drama with Brooks goes out the door just like his relationship with Vicki. With that said, there's always a chance Brooks and Vicki will reunite, so if that happens the Brooks Ayers drama will most definitely continue to be a part of RHOC.
Images: Nicole Weingart/Bravo; realitytvgifs/Tumblr