12 Must-Have Beauty Products From The Early 2000s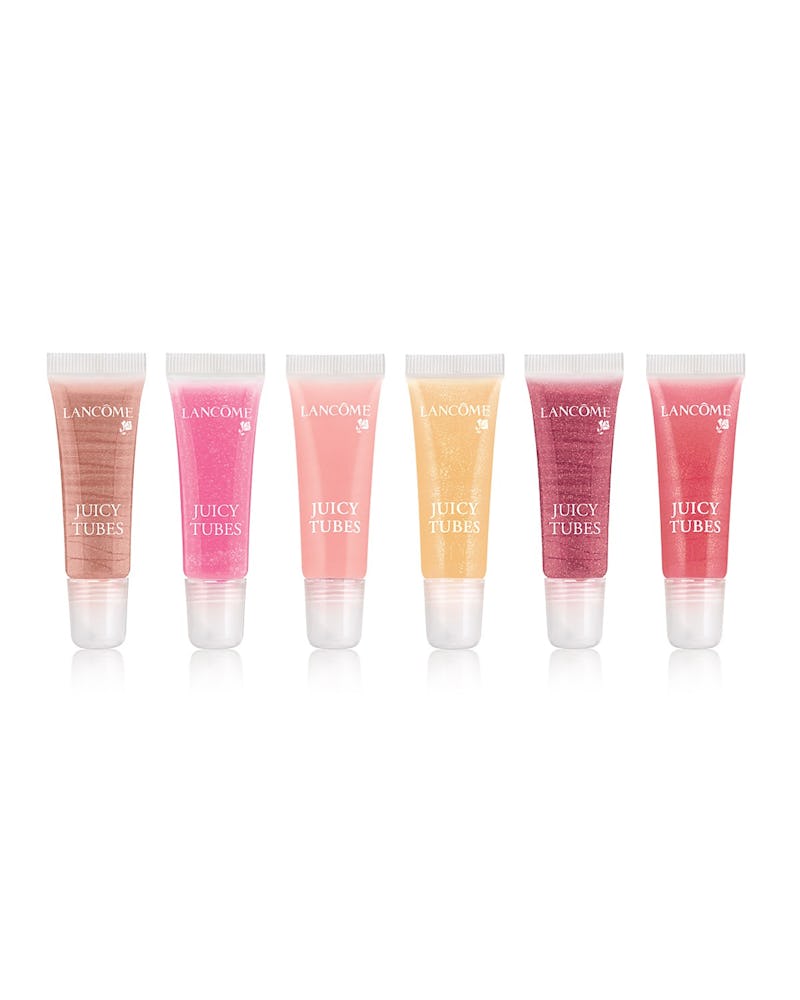 The early 2000s were a great moment in history: Britney Spears and Justin Timberlake wore matching denim formalwear, Harry Potter movies began production, and, y'know, the world didn't end with Y2K. Yup, it was the best of times, and that goes for beauty products, too. For many of us millennials, our love of all things beauty was sparked by some pretty iconic makeup drawer mainstays around this time, from lip balm to fragrance. Here are 12 beauty products from the early 2000s you just had to have.
Even if you don't know what you were thinking at the time (bright lilac eyeshadow, really?), you've got to admit the trends back then carry some serious nostalgia. People have pretty amazing memories for scents, and just a whiff of something familiar can take us back in time. And the beauty products of the early 2000s were all about crazy scents in everything. Maybe not always the best call for our skin, sure, but at least we looked and smelled good.
Here are some of the beauty products your younger self was all too familiar with. Even though there are some pretty fantastic products out there right now, it kind of makes you wish for a throwback, right?
Lip Smacker Dr. Pepper Party Pack, $10, Amazon.com
Dr. Pepper was clearly the most prized flavor in everyone's extensive collection.
Stargazer UV Hair Mascara , $5, Amazon
Before we had hair chalk (which, let's be real, we might think that's pretty ridiculous 10 years from now), there was hair mascara, the OG of temporary rainbow highlights.
MAC Clear Lipglas s , $16, Macy's
Can you see yourself in the reflection of my lips yet? No? Time for another coat.
Lancome Juicy Tube Ultra Shiny Lip Gloss , $19, Nordstrom
Sure, you were constantly pulling your hair out of your lips' sticky trap, but this stuff was grown-up AF.
Scented Roll-On Body Glitter, $5, Party City
It may have taken you a good seven minutes to get two square inches of your body all glitzed up, but man, was it worth it.
NYX Cosmetics Roll-On Shimmer , $4, Ulta
The only thing better than roll-on body glitter was roll-on shimmer eyeshadow. Roll-on anything, really.
Juicy Couture fragrance , $76, Sephora
What other fragrance were you supposed to wear with your Juicy velour tracksuit? (I admit, I still have a bottle of Viva La Juicy at my parents' house. And do I wear it when I go home? You betcha.)
Did we care that our manicures were already chipped messes within approximately two days of paining our nails? Nah.
Wet N Wild Shine Nail Color , $1, Walgreens
I was totally oblivious to the raunchy undertones of the products' names back then — "Juicy", "Creamy", "Taste Delicious"... oh, Jess. RIP Dessert Beauty. (P.S., Why were they edible?)
( Jessica Simpson Dessert Treats Kissable Lip Plumper , $15, Amazon.com )
Urban Decay Electric Pressed Pigment Palette, $49, Macy's
Yeah, the eyeshadows themselves were crap, but what 2000s girl didn't need six different shades of lime green shadow?
Hard Candy Eye Shadow Quartets
Hard Candy Old Skool Eyeshadow Quartet, $60, Ebay
Once you moved past the giant, useless palette phase, it was all about the Hard Candy Eyeshadow Quartets. Minus those sub-par eyeshadow applicators that came with them, you couldn't go wrong.
Japanese Cherry Blossom Body Lotion , $12.50, Bath and Body Works
Bath and Body Works was the mothership back in the day. Thick body creams, hand sanitizers, body washes, sprays that faded in 15 minutes... what's not to love? The real mark of womanhood was graduating from Art Stuff to the regular lines. Hello, Japanese Cherry Blossom, Warm Vanilla Sugar, and Sensual Amber. I can smell it now.
Images: Courtesy of brands