DIY Pumpkin Face Masks You Need To Try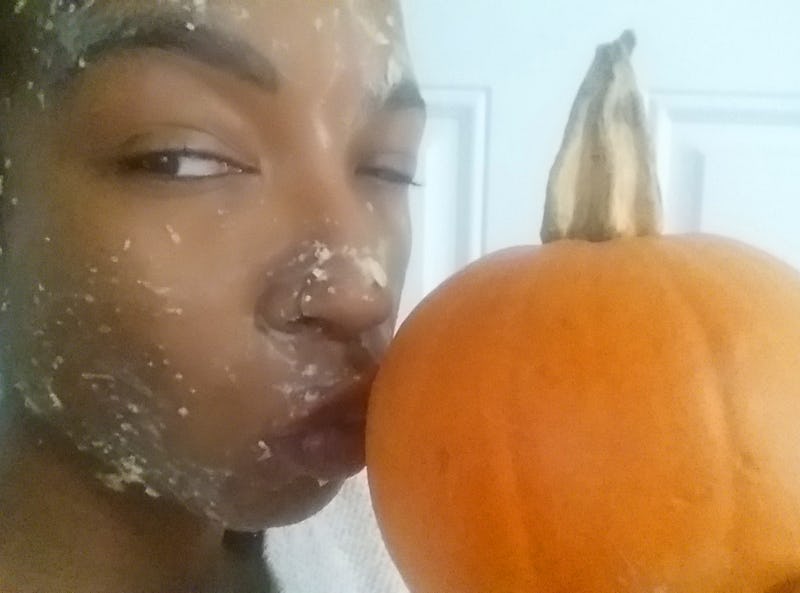 It's pretty hard to escape the love of pumpkins during pumpkin spice season (aka fall). While baseball may be the fave American past time, it's only overshadowed by our insane love of all things pumpkin. My love of the orange gourd is directly attributed to my love of pumpkin facials. Up until this fall, I really only delved into pumpkin seed oil. However, a kick-ass pumpkin spiced foot scrub made by yours truly had me ready to start my own cult to worship the ridiculously nourishing qualities of pumpkin. As someone who's typically not one to worship anything aside from my hair, I decided to take that obsession and make several pumpkin facials.
Let me just say that after five days of the stuff, my face is soft and a recent cluster of pimples have finally become a problem of the past. I'm definitely reconsidering that pumpkin cult after all. Pumpkins are rich in vitamin A which is known to regenerate skin cells. According to sources at Prevention.com, foods rich in vitamin A are proven to fade dark spots and smooth wrinkles. Pumpkins are also a great source of linoleic acid, antioxidants, and fatty acids — all of the things that turn dull skin into a vibrant glow.
I tried each of these scrubs and saw results only after a few days, using ingredients I knew wouldn't cause irritation on my face. Before you delve into these yummy facials, be sure to do a test patch and feel free to substitute with similar ingredients that you know won't cause any yucky skin reactions.
How To Get Pumpkin Pulp And Seeds For Your Facials
To extract your own seeds and pulp, simply cut a square into the top of the pumpkin, with the stem in the middle of your square with a super sharp, sturdy knife. Next, use a sharp spoon or an ice cream scoop to extract the seeds and pulp. Then, get to masking.
1. Pumpkin Oatmeal Mask
I'll start with my favorite pumpkin facial. After a weekend of boozing and snackin' like I was a 21 year old who didn't have to worry about wrinkles or my liver, I was in desperate need to erase those life decisions. I blended about about two and a half ounces of plain, organic oatmeal, a tablespoon of organic milk, and an ounce of pumpkin pulp. After about seven minutes with the mask on, I rinsed with lukewarm water and I looked like a well-moisturized human again.
2. Pumpkin Coffee Exfoliate
This pumpkin coffee exfoliate knows you need to pretend you got eight hours of sleep most nights. But first, a coffee scrub tip! If you grind your coffee, make sure you grind it finely or else you may irritate your face with the coarse texture of the grinds. Use about one ounce of brewed coffee grinds, one tablespoon of fresh pumpkin pulp, and one teaspoon of raw pumpkin seed. Blend your ingredients together and apply on make-up free skin, gently massaging the face and neck.
3. Pumpkin Banana Cream Wash
Here's a face wash that almost had me rushing out to snatch up all the pumpkins before they vanished for the next 12 months. This is a gentle wash you can use daily to control oil, breakouts, and your beauty budget. I used one tablespoon of pumpkin pulp, one half of a ripe banana, and one teaspoon of organic heavy cream. Apply on a damp, makeup-free face and rinse with lukewarm water. I left this wash on for five minutes and loved how soft my face felt.
4. Pumpkin Honey Tea Facial
This is the most gentle of the pumpkin facials on this list: Made with pumpkin pulp, organic raw honey, and chamomile tea, this mask is great for sensitive skin because of chamomile's calming properties and the moisturizing, pH balancing benefits of honey. Of course, you'll still want to try a test patch if you've never used these ingredients before. Apply on makeup-free, damp skin and leave on for up to five minutes.
5. Pumpkin Seed Clay Mask
My weekly face routine consists of using green clay at least once a week, however, I know many people who find the clay can be drying even if they leave it on for only a few minutes. Well, fortunately, pumpkin seed oil can solve that problem. After you dilute your clay of choice with water, simply add a few drops of pumpkin seed oil and then apply on damp, clean skin for a mask that tightens without drying out.
Image: Kristin Collins Jackson (8)